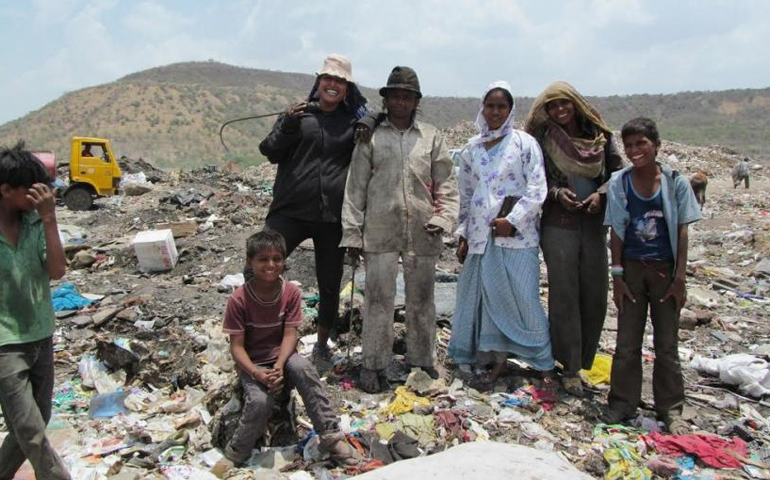 Sr. Sushila Toppo, third from right, visists with some waste pickers at the Indore landfill. To her right is Pinki Goswami. (GSR/Saji Thomas)
Indore, India — June 27, 2016
Global Sisters Report is publishing a special series about how trash is managed in the world and how sisters are helping people affected by landfills. We start this project to mark the one-year anniversary of Pope Francis' encyclical, Laudato Si', about climate change, pollution and waste, which warns that: "The Earth, our home, is beginning to look more and more like an immense pile of filth."
---
Sarika Dhamke was only 10 when the onus of looking after her seven-member family fell on her shoulders.
Her mother, the family's only breadwinner, had fallen ill, and Dhamke, being the eldest of three girls and two boys, had to take up the challenge.
The only apparent option for the illiterate, untrained girl was to join hordes of slum children who scavenged in the streets and landfills of Indore, a central Indian city of 1.5 million.
That was 12 years ago. Now Dhamke owns a three-room house in the same slum where she grew up in a tiny hut. A year ago, she married a truck driver; one of her younger sisters also was married, and the youngest siblings now attend school.
"What I am today is because of the sisters. They helped me save money and get a proper price for the waste materials I collected. They also trained me to lead a better life," Dhamke told Global Sisters Report as she squatted with her siblings in the front room of her 350-square-foot house.
Dhamke is among some 2,000 women in the Indore slum who credit Catholic nuns for the drastic changes in their lives.