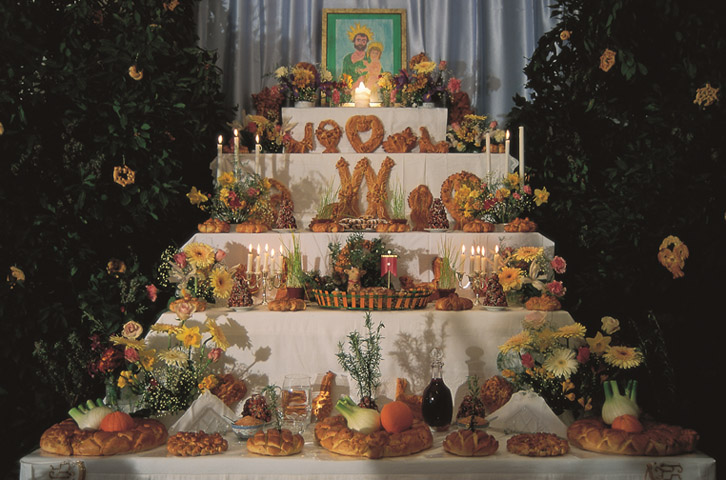 St. Joseph's altar 2003, Bisaquino, Sicily (sicilyroutes.com)
Editor's note: Below is a reprint of a 2016 article about St. Joseph Day altars and how a generations-old Italian tradition lives on in the U.S.
---
The snow falls in layers outside, one upon the next until the streets are blanketed in white. New Year's Day has come and gone, and Chicagoans know that mid-January is only midwinter and spring is many long days away. But inside her apartment near the city's Northeast side, signs of spring are appearing for Connie D'Agostino.
For D'Agostino, spring -- and the promise of rebirth it brings -- is marked by a generations-old Italian tradition, the St. Joseph Day altar. And D'Agostino needs two months of preparation to fulfill her promise to keep the altar alive.
St. Joseph's Day altars -- often referred to as tables in the U.S. -- are triple-tiered displays laden with sculpted bread, fresh fruits and vegetables, Italian pasta and seafood dishes, and sweets, and can be found in homes and parishes throughout the U.S. and Sicily on March 19, the Feast of St. Joseph.
D'Agostino is one of thousands of Italian-Americans who celebrate St. Joseph's Day. Most recount the same story: "My family is Italian, and since I was born, they have been going to the St. Joseph's table," said D'Agostino, a native Chicagoan and member of Santa Maria Addolorata Parish. "It's been continuing on and on, and St. Joseph continues to intercede for people."
In exchange for prayers answered, most have made promises to a relative or to St. Joseph to keep the tradition alive.
Catholics who are unaware of the feast day probably don't have a history of Italian-Americans in their community. Some of the biggest altars in the country, for example, are in New Orleans -- a gateway into America from Sicily in the late 1890s and early 1900s.
The tradition, told by Italian-Americans, dates back to medieval times in Sicily. The legend says that a drought came to the island -- the largest in the Mediterranean -- in the 1600s and created a great famine. With no rain, no crops and no hope, Sicilians turned to St. Joseph. They prayed to him and promised that if he ended the drought, in return, they would dedicate a feast day every year in his name.
St. Joseph, the protector of the family and the patron of carpenters, answered their prayers.
"Crops were planted when the miracle came and they were able to rise up and thrive again from this rain," said Gabriella Mileti, director of programs at the National Italian American Foundation in Washington, D.C. "They prepared a grand feast from their crops, and they would invite the less fortunate and the homeless and the sick to eat at the table and they would feast together."

St. Joseph's table 1960 at Santa Maria Addolorata Catholic Church in Chicago. (Santa Maria Addolorata Catholic Church)
The altars were filled with mainly peasant food, said Mileti, like fruits and vegetables, and bread braided into shapes to symbolize St. Joseph.
"Bread is a symbol of life and abundance, and the most important symbol of the feast," said Mileti. "You might be poor, but as long as you have bread, you will survive."
Sicilian immigrants initially built the altars in their homes and invited locals. But over time, they began hosting them in local parishes that offered more space.
St. Joseph's altars symbolize an offering to St. Joseph in gratitude, and those who host the altars invite locals to feast free of charge. The altar — by definition — means no one involved is to incur financial gain. Instead, most parishes ask for contributions, and in return, donate to local charities. Leftover food is also sold for charity or donated.
The altars vary from city to city, and each adds its own spin, like the crawfish dish at St. Francis Xavier Church in Metairie, La. But each must contain certain items to be considered a true St. Joseph's altar: three tiers to represent the Father, the Son, and the Holy Spirit; bread, fruits and vegetables; and, in the U.S., a St. Joseph statue and the fava bean, which Italian-Americans say was the only crop able to grow during the famine.
In fact, many consider the fava bean the most prized possession of the feast day. Most parishes distribute goodie bags containing the bean, along with a St. Joseph's prayer card and medal.
House Majority Whip Steve Scalise (R-La.) never leaves home without a fava. "Still to this day, I always carry around a fava bean with me everywhere I go to remind me of my faith and Italian heritage, so proudly displayed every year at St. Joseph's Day alters throughout the New Orleans region," Scalise told NCR.
Because the feast day falls during the Lenten season, meat dishes are not permitted. Instead parishes serve pasta Milanese — a dish with olive oil, garlic, fennel and anchovies — sprinkled with breadcrumbs, a symbol of St. Joseph's sawdust. Tables are also filled with homemade Italian cookies, cakes and sweets, including the zeppole, fried dough sprinkled with powdered sugar. Egg dishes are often present, and flowers and candles are also staples at most altars.

Seafood display at the St. Joseph's table 2015 at Holy Rosary Parish in Kansas City, Mo. (Francesca Cuccia)
In Italy, St. Joseph's Day is known as "Festa di San Giuseppe" and is also celebrated as Father's Day. Most towns in Sicily still devote the weeks leading up to the feast day for preparation, but the tale they tell is strikingly different from the one celebrated in the U.S.
"This tradition is not the result of the famine legend that you know, but rather stems from a pagan tradition used by the ancient Greeks and then by the Romans, in honor of Ceres, goddess of agriculture but also of prosperity," said Sicilian-born Nellina Salvaggio, 74.
The tradition was then adopted by the early Christians, said Salvaggio, who dedicated the prosperity to St. Joseph.
St. Joseph's altars in Sicily are similar in design, each with three tiers and each filled with bread, fruits and vegetables, sweets, and flowers, but instead of a St. Joseph statue they display a picture of the Holy Family. And in Poggioreale, a town of about 1,500 people, women spend the weeks leading up to March 19 sculpting squartucciati, a dough shaped into crosses and other symbolic figures using special instruments and filled with dried figs. A basket with a handle, for example, "contained the fruits that served as sustenance to Persephone in the long journey from the underworld to the land," said Gaetano Zummo, Salvaggio's husband.

"Gli squartucciati", dough shaped into symbolic forms, seen at the 2015 St. Joseph's altar in Poggioreale, Sicily. (Sandro Ippolito)
The art form has been passed down for centuries, and represents the Sicilian Baroque style. Salvaggio has been creating the pieces for 40 years to place on the altar.
And like most feast days in Italy, a statue of St. Joseph is carried in a procession through the town's main streets, while locals chant hymns in Poggiorealese dialect.
Cakes, plants and flowers also fill the altars, as well as a pasta dish served with a special sauce made with cauliflower, fennel, asparagus and daffodils and covered with breadcrumbs. But bread still holds the most significance.
"In a rural culture, such as ours, the bread takes on a deeper meaning," Zummo said at a 2012 St. Joseph conference in Poggioreale. "It is a basic component of a people, a community, achieved through hard work, through toil and sweat, thus becoming an almost sacred element. Therefore, it is inconceivable to throw away."
Poggioreale hosts five altars in town – both in their homes and in the local churches – and about 1,200 locals visit the altars.
In the United States, almost a century has passed since the high point of Italian immigration here, but Italian-Americans still cling to their dear St. Joseph.
D'Agostino, like many others interviewed for the story, promised a relative — usually mothers or grandmothers — that they would continue the tradition of sponsoring a table in gratitude for an answered prayer.
When D'Agostino's brother was sent to Iraq during the Desert Storm War, for example, her mother, Grazia, prayed for his safe return. Grazia also prayed to St. Joseph to heal her husband, who was having heart trouble. In return, she promised to dedicate an altar in his name every year on March 19 at her parish. The D'Agostino family has been helping create the St. Joseph's Day altar in Chicago ever since.
"My brother came home and my father is still living today. ... He is in his 90s right now," said D'Agostino.
Many altars include personal prayers and petitions to St. Joseph. Others display memorabilia or pictures in honor of the deceased.

St. Joseph's table 2016 at Holy Family Parish in South Pasadena, Calif. (Gina Sabatella)
Some parishes, like St. Francis Xavier in Metairie, La., feed up to 2,000 people on St. Joseph's Day. Jack Siciliano, a parishioner and an altar volunteer, said they cook 140 pounds of pasta to feed the crowd.
Others continue the traditional altars in their homes that immigrants first made when they arrived to the U.S.
"My grandmother had a big influence on me, so when she passed away I promised her every year that I would carry on the tradition. So I've tried to honor her by having the St. Joseph's table, even if it's just a small altar with three tiers," said Sheryl Fava, 49. "It just makes me feel like she is here with us."
Fava will host a table this year at her aunt's home and invite friends and family. In 2006, she fed 200 people at her home in Bryan, Texas.
"I think for Italians, tradition is everything," said Theresa Shaw, a volunteer at the St. Joseph's table at Holy Family Church in South Pasadena, Calif., who has been attending altars in the state for 25 years.
Shaw says they receive 600-700 people every year. All proceeds go to the Society of St. Vincent de Paul and the Holy Family Giving Bank, which provides one week's groceries to 300 families a week.
"It's important for us to tell our story to keep them alive because one day people are going to ask you, 'What does it mean to be Italian?', and if you don't know those answers, then we're in big trouble," Mileti said of the tradition.
To ensure the tradition is passed on, Angela Babin makes sure the children are included at St. Peter Parish in Covington, La. Babin, a New Orleans native whose relatives came from the Sicilian city of Palermo, spends the three weekends before St. Joseph's Day baking cookies using her grandmother's recipes. Joining her are the 800 children in the parish from first through seventh grades.
Babin says they made 14,060 cookies this year, and talking about it gives her goosebumps. "A lot of the children want to come up and make the little bags," she said. "It is a part of their life now and it's a part of the school year now."
March, she says, is the happiest time of her life.

Cookies children made for the 2016 St. Joseph altar at St. Peter School in Covington, La. (St. Peter School)
And what began as an Italian-American tradition has evolved into a multicultural event, a reflection of the United States' melting pot effect. D'Agostino's parish, Santa Maria Addolorata, has become a predominantly Latino church. "Even though [the feast day] is not really recognized in Mexico, they recognize who St. Joseph is as a protector of family," D'Agostino said. "They do know that they can turn to him."
Consequently, Mexican food like meatless Spanish rice and flautas has been added to the Italian food on the tables at Santa Maria Addolorata so that Latino families feel included
"Everyone is welcome to the table," she said. "It's heavenly... This is something that we should all enjoy."
[Traci Badalucco is an NCR Bertelsen intern. Her email address is tbadalucco@ncronline.org. Follow her on Twitter: @tracibadalucco]