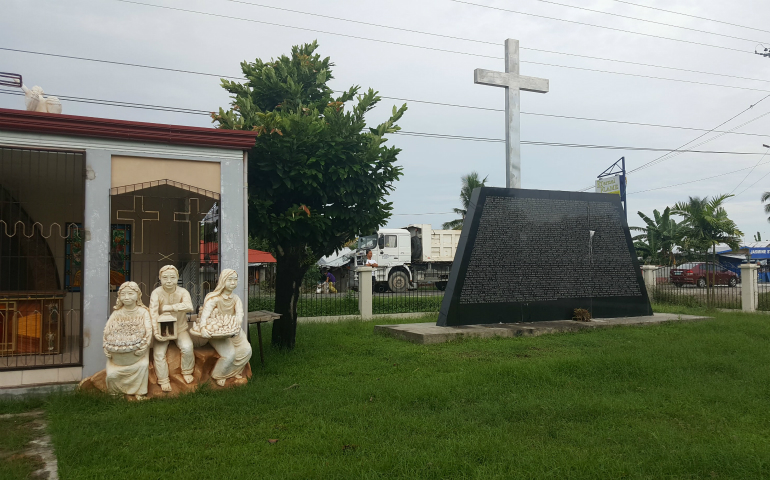 one of several memorials in Tacloban and throughout the island of Leyte marking the mass graves that were needed after Typhoon Haiyan, locally known as Yolanda, swept through the central Philippines on Nov. 8, 2013. (GSR photo/Gail DeGeorge)
Tacloban, Philippines — October 5, 2016
In Tacloban, the Robinson shopping mall has reopened, offering a department store, an arcade and food court with U.S. fast food brands alongside squid balls and shawarma, a Middle Eastern way of preparing meat that is sometimes wrapped up like a burrito.
The hull of the ship M/V Eva Jocelyn has been turned into a memorial honoring hundreds of residents who died in the area where the ship was pushed ashore by the storm surge. Other memorials mark the mass graves for the more than 6,300 people -- some estimates say it's more than 10,000 -- who were killed Nov. 8, 2013, in the strongest recorded typhoon in the world to make landfall.
Locals uniformly say they underestimated the storm. Used to typhoons, they say they didn't understand the warnings about storm surges and how devastating the wall of water -- sometimes 20 feet high -- could be.
Now almost three years later, some streets sport freshly painted cement-block homes, next to skeletons of shacks and hastily reconstructed shanties with thin walls and corrugated tin roofs. Some evacuees continue to live in what was supposed to be temporary housing. The public market is being rebuilt with concrete stalls.
The privately run Divine Word Hospital, which remained open during the storm, has since recovered with new treatment rooms and equipment. Hospital administrator, Sr. Eliza Arpon, Congregation of the Missionary Benedictine Sisters of Tutzing, described how parts of the roof and trusses and air-conditioning units were flying off during the storm. She said, "We were all helpless. We had to be strong for our staff and patients." The hospital moved its emergency room to the second floor where they also had a makeshift kitchen to serve patients and staff who had nowhere to go for the duration of the storm.
Here are accounts from three survivors, in including how they've fared since the storm:
Narcisco Basas
Taxi driver Narcisco Basas, 38, protected his taxi at a school's covered driveway, knowing it would provide livelihood after the storm. Before the storm, he sent his four children to his sister's house and his wife stayed at their house.
When the worst of the storm passed, he tried to go home. "I was crying because I couldn't find my wife," Basas said in an interview. He eventually found her in a community hall where his neighbors had sought shelter.
Like a lot of islanders, he had been through typhoons before, but he wasn't prepared for the devastation left by Haiyan. In days after, he saw bodies in the streets. A friend and his entire family of 20 are still missing, presumed dead but not included in official casualty counts -- one reason for skepticism about official numbers. There was looting and widespread lawlessness in initial days after the storm.

"The smell of the town was not good because of the dead bodies," Basas said. He also remembers seeing people just walking around after the storm, "They didn't know what to do."
It took him a year to get the 30,000 pesos (about $622) of aid money promised to build a new house. That was not enough for a new house, he said, but enough to repair his damaged house, which is now stronger than the old one and big enough for his family of five children.
Life is returning to pre-storm normal. His eldest son is in college studying engineering. For months after the storm, one daughter was terrified of any strong wind, but she has overcome most of her fear. He is again active coaching youth sports.
"We already have recovered. We now have lots of investors here so people have jobs," Basas said. The storm has left a permanent mark on the community, he said. Now, when Basas gets passengers from out of town, especially tourists, he often brings them to the memorials for the mass graves aside from the usual tourist spots the city has to offer.
---
Related: Philippine church marks hurricane anniversary amid recovery
---
Melchor Esorcadas
When hotel worker Melchor Esorcadas, 27, finished his shift at 2 a.m. on Nov. 8, his supervisor offered to let him stay at the hotel because a typhoon was on the way. Esorcadas declined the offer because he had a wife, a 3-year-old daughter and 1-month-old son at home. Like many other residents, he and his family did not evacuate.
But when the storm hit and they were forced to leave, Esorcadas wrapped his son in a plastic bag with his head exposed, put him in a tote bag that he slung over his shoulder, and with his wife and daughter climbed on top of the roof of their house. They hopped from place to place, until they found safety.
The family of four was eventually helped by a neighbor who allowed Esorcadas 's wife and children inside her home. Esorcadas and his brother-in-law had to either stand guard or sleep outside under a tarp. "We were scared because it was so dark at night. We heard stories of people going to houses looking for anything they could get," he said.

He added that, "The barangay officials said we had to maintain a wall around the barangay to make sure no one came in. We had a system of knocking on the walls to signal that a thief was entering," he said. The barangay is the smallest political unit in the Philippines. In the immediate aftermath of Typhoon Haiyan, there were multiple reports of looting and other crimes.
Esorcadas said his family survived on food and other items provided by the Philippine government and non-government agencies. It took several months before power was completely restored in Leyte. He and his family did not qualify for housing because they did not own the land they were living on. He has since moved his family inland. He went back to work in February 2014 when the hotel where he worked called back its staff.
Mimosa Merguita
Church worker Mimosa Merguita, 37, says she still remembers how the typhoon's winds whistled and violently shook the roof of her cousin's house where she was staying. Merguita didn't evacuate because she felt confident that her cousin's house was on higher ground and wasn't worried about her mother and her 10-year-old daughter who were in a different location.
But when the storm was at its strongest, Merguita, her cousin and her cousin's husband had to climb over a wall to their next door neighbor's second floor for safety. When the storm passed, they all rode on a motorcycle driven by her cousin's husband to her mother's home. The trip normally takes 45 minutes but now took them three hours because of debris. At one point, they had to leave the motorcycle altogether and walk.
"Along the way, we saw bodies lined up and mountains of garbage. Left and right I saw dead people. I tried to just look straight because I didn't want to see anymore," Merguita said in an interview. When Merguita was reunited with her mother and her daughter, they decided to make the long trip back to her cousin's home because it was nearer the distribution of relief goods, especially food.

What makes Merguita's story different is that she was able to find regular work because of the typhoon. She had been unemployed before Haiyan hit her province and only did clerical work on a contract basis a few times in Tacloban City. She heard on the radio in December about a job opening and applied.
"Maybe it was God's will that I got the job," Merguita said. She was hired by World Vision for its relief operations to distribute goods in nearby towns, then as part of its assessment team for beneficiaries of temporary shelters. When her contract ended, she found other work with Handicap International for two years before being hired as part of the Relief and Rehabilitation Unit of the Palo archdiocese.
"I am thankful because of God's mercy, my experience of Yolanda [Haiyan] had a positive outcome," she said. "I've dreamed of working with humanitarian groups, but I did not know how to make it happen."
Reflecting on the past three years, she said, "I am the kind of person who easily gets defeated by life's problems. But when I started working, I saw that other people have bigger problems than me but they don't give up. From them I get the strength to face my problems."
[Gail DeGeorge is editor of Global Sisters Report. Her email address is gdegeorge@ncronline.org. Charity Durano is a correspondent for GSR based in the Philippines.]