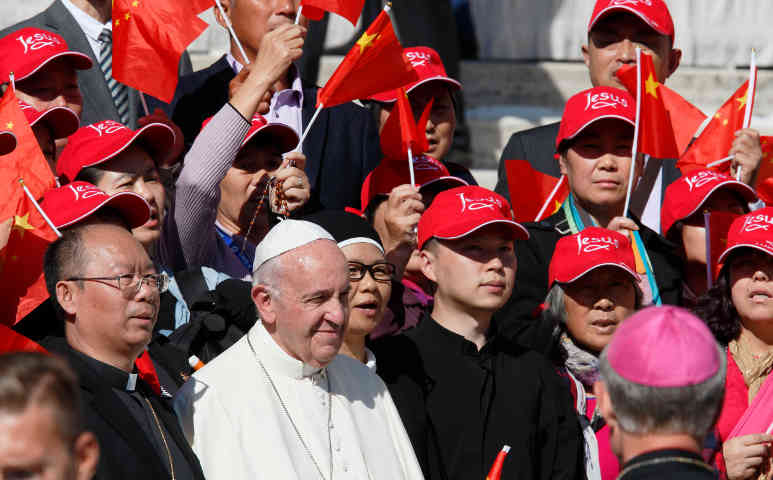 Pope Francis greets pilgrims from China in St. Peter's Square at the Vatican Oct. 5. (CNS/Paul Haring)
Vatican City — December 21, 2016
The Vatican said on Tuesday it hoped China's communist government would give Catholics there "positive signs" that would help them have faith in a push by Pope Francis to heal a decades-old rift with Beijing.
Chinese Catholics are divided between those who are loyal to the pope and those who are members of a government-controlled official church.
The Vatican has been seeking a compromise with Beijing on the appointment of bishops but some see that as selling out those who have remained loyal to the pope.
The Chinese government says bishops must be appointed by the local Chinese Catholic community and refuses to accept the authority of the pope, whom it sees as the head of a foreign state that has no right to meddle in Beijing's affairs.
A statement said the Vatican was "certain that all Catholics in China are waiting with trepidation for positive signals that would help them have trust in dialogue between civil authorities and the Holy See and hope for a future of unity and harmony."
In Beijing, Chinese foreign ministry spokeswoman Hua Chunying said China had always been sincere in wanting to improve relations with the Vatican and had worked hard to that end.
"We are willing to meet the Vatican half way to promote constructive dialogue so the process of improving bilateral relations can continue to make new progress," she told a daily news briefing.
The two sides have been at loggerheads since the expulsion of foreign missionaries from China after the Communists took power in 1949.
Prospects for a deal were set back this month after Lei Shiyin, a government-backed bishop excommunicated by the Vatican, participated in the ordination of new bishops. His presence angered and worried Catholics loyal to the pope..
The statement, its first official comment since the incidents involving Lei, said Lei had created anxiety and unease among many Catholics and that the Vatican "shared this pain".
(Reporting By Philip Pullella; Additional reporting by Ben Blanchard in Beijing; Editing by Angus MacSwan)