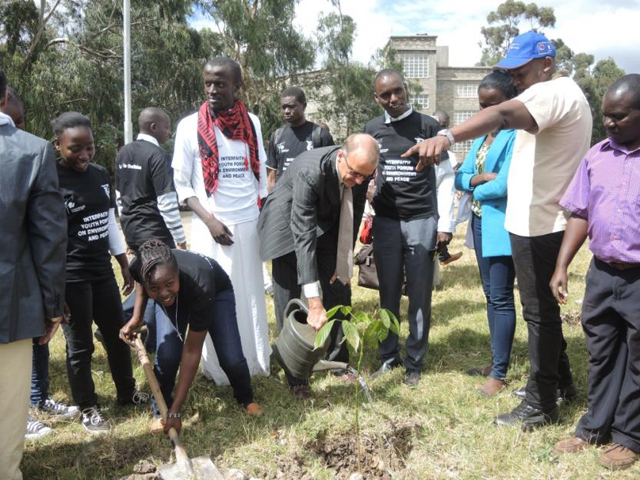 Participants at the second annual environmental awareness conference for Kenyan youth plant a tree together. (GSR/Melanie Lidman)
NAIROBI, Kenya — November 5, 2015
When Pope Francis released "Laudato Si', On Care for Our Common Home," the title of the encyclical emphasized a shared responsibility to protect the earth. Everyone is responsible, Pope Francis said, from the richest countries to the poorest, the biggest corporations to the person cooking for their family in a one-room hut, from the one billion Catholics in the world to Muslims, Jews, Sikhs, Hindus, Buddhists and atheists.
Franciscan Sr. Mary Francis Wangare was already preaching this concept as director of the Office of Justice, Peace & Integrity of Creation Franciscan Africa. Among her projects: the first interfaith environmental conference for Kenyan youth in 2014.
Then, in April 2015, Kenya suffered a tragic example of religious strife when radical extremists associated with Al Shabab killed 147 Christian students at Garissa University. Wangare lost her 20-year-old niece in the terrorist attack.
For Wangare, the tragedy underscored why interfaith work is so essential to try to heal some of the wounds between Christian and Muslim young people. She worked with Kenya Interfaith Network on Environmental Action, Global One Muslim Women's Organization, 350.org and other local organizations to bring the second annual event to life.
The environment is a neutral subject, Wangare explained. Everyone knows we must take action, so it is the perfect rallying point for interfaith work. "We are from all different faiths, but we want to show that if we work together, we can stop the radicalization of young people," she told more than 600 participants at Catholic University on Oct. 9 as she opened the two-day conference.
Global Sisters Report attended the conference and spoke to a number of leaders and participants about the importance of cooperation across religions when it comes to protecting the only planet we have.