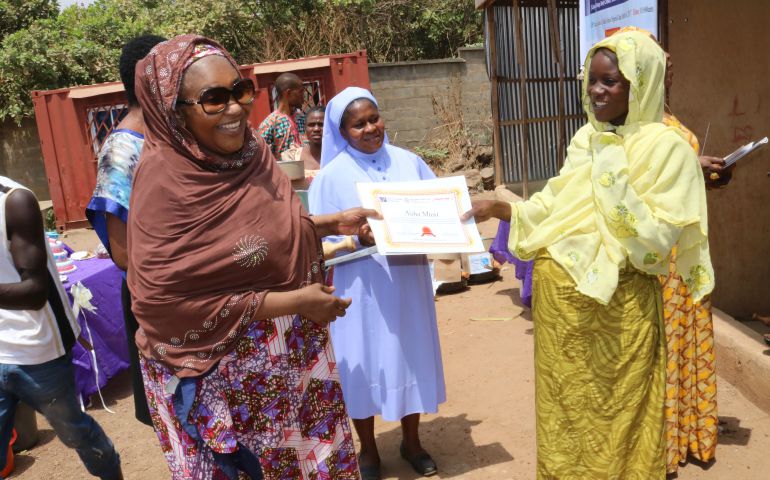 One of the participants in the Women of Faith Peacebuilding Network progam receives her certificate after the two-week empowerment course. (Courtesy of Sr. Agatha Chikelue)
Lagos, Nigeria — December 3, 2018
When Fatima Isiaka, a religious Muslim teacher, asked the cab driver to drop her off at St. Kizito Catholic Church in Abuja, the driver thought she was lost. "The cab man that took me to the church, a Muslim, was surprised to see me enter a church," Isiaka recalled of the summer 2014 meeting. "He told me, 'This is a church!' I said, 'Yes, I know.' "
Isiaka was part of innovative effort to bring Christian and Muslim women together in hopes of fostering religious tolerance and peaceful co-existence. The Women of Faith Peacebuilding Network was first started in 2011by Sr. Agatha Ogochukwu Chikelue, of the Daughters of Mary Mother of Mercy congregation, and local Muslim businesswoman Maryam Dada Ibrahim.
Isiaka, an observant Muslim who wears a grey jilbab, a long head covering and robe, the traditional dress of some Nigerian Muslim women, is a respected Muslim leader in Abuja. Today, she serves as deputy director in the network's Abuja branch.
She looks back fondly on her time at the St. Kizito Catholic Church. "It was an amazing experience and I loved every bit of my stay there," said Isiaka. "In fact, I found a place in the church where I performed ablution [ritual washing before Muslims prayer], to set up my mat and pray."
Since the group started in 2011, the Women of Faith Peacebuilding Network's activities have reached more than 10,000 Muslim and Christian women across the country through seminars, meditations, presentations by religious leaders, and dialogue.
The peacebuilding network also offers vocational training in catering, bead making, fashion design, and soap production to a smaller group of women who participate in the annual 21-day seminar. "The empowerment [training] serves as bait to lure more women to the network so that they'll learn peaceful coexistence," said Isiaka. The Swiss Embassy provided seed money to get the vocational training started in 2014. Cardinal John Onaiyekan's Foundation For Peace (COFP), an organization working for peace in northern Nigeria, has sponsored the vocational training in subsequent years.