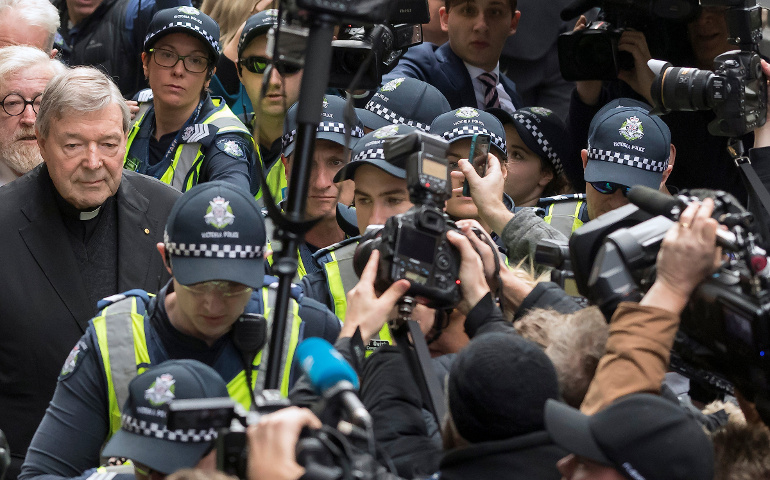 Australian Cardinal George Pell is seen after leaving the Melbourne Magistrates' Court in Australia July 26. (CNS/Mark Dadswell, Reuters)
Melbourne, Australia — July 25, 2017
The circus — as the media have been calling it — began around 5 a.m.* when a large CNN crew arrived outside the Melbourne Magistrate's Court, though the mass-circulation Herald-Sun already had reporters there to notice that.
By 6 a.m. dozens of local and international media had arrived, followed by supporters of clergy abuse survivors about 7 a.m. They were all hoping to be in Courtroom 2, which has just 37 seats for public and press, at 10 a.m. Security guards had reportedly been there since 9:30 the night before.
Just before 9 the focus of all the attention arrived at court, Cardinal George Pell, the highest-ranked Catholic prelate to face sexual abuse charges. He was flanked by his legal team — including Robert Richter, one of Australia's leading, and most expensive, barristers — and enclosed by a phalanx of about a dozen police.
At this point the inaccuracy of the epithet "circus" became apparent, for a circus is usually a highly choreographed and well-organized affair, and this was simply a heaving, shouting scrum. The cardinal, in a heavy black overcoat, remained silent as journalists fired a barrage of questions.
It was worse when the calm but grim-faced Pell left the court, with about 200 journalists, plus abuse survivors and people vocally supporting the cardinal, pursuing the police cordon about 100 meters (about 330 feet) down the road to Richter's office, knocking over cafe seats and tables on the sidewalk en route.
In a lovely example the irony such events can bring, some journalists complained about the chaos, apparently unaware of who had caused it: the media.
Journalists came from the U.S., Europe, Hong Kong, New Zealand, as well as Australian media groups, for the short court hearing.
Appearance July 26 was the first of several the 76-year-old cardinal, who has strongly rejected any allegations of abuse, will face. Its main purpose was to set out a timetable for future hearings.
The administrative hearing lasted mere minutes, and set a date of Oct. 6 for the committal mention, when a magistrate hears the evidence and decides whether there is a strong enough case to go to trial. Prosecutors must give their brief of evidence to the defense by Sept. 8.
Court officials said no special arrangements, apart from increased security, had been made for the cardinal. He entered the front door and went through the security checks like everyone else.
The charges have not been released and no formal plea was entered, but Richter told the magistrate, Duncan Reynolds, that the cardinal would plead not guilty to all charges. "For the avoidance of doubt ... Cardinal Pell will plead not guilty to all charges, and will maintain the presumed innocence that he has," Richter said.
The police have said there are multiple charges involving multiple victims of "historic sexual abuse." Police investigated for two years, including travelling to Rome to interview Pell, before deciding to charge him.
Background on this story: Headed to court, Cardinal Pell is no stranger to controversy
[Barney Zwartz was religion editor of The Age in Melbourne from 2002 to 2013, and is now a senior fellow with the Centre for Public Christianity.]
* Editor's note: The dates and times in this report are local times. This story was filed from Melbourne at 12:15 p.m July 26 and published at 9:15 CDT July 25 in the U.S.
A version of this story appeared in the August 11-24, 2017 print issue under the headline: Cardinal Pell appears in court on abuse charges.