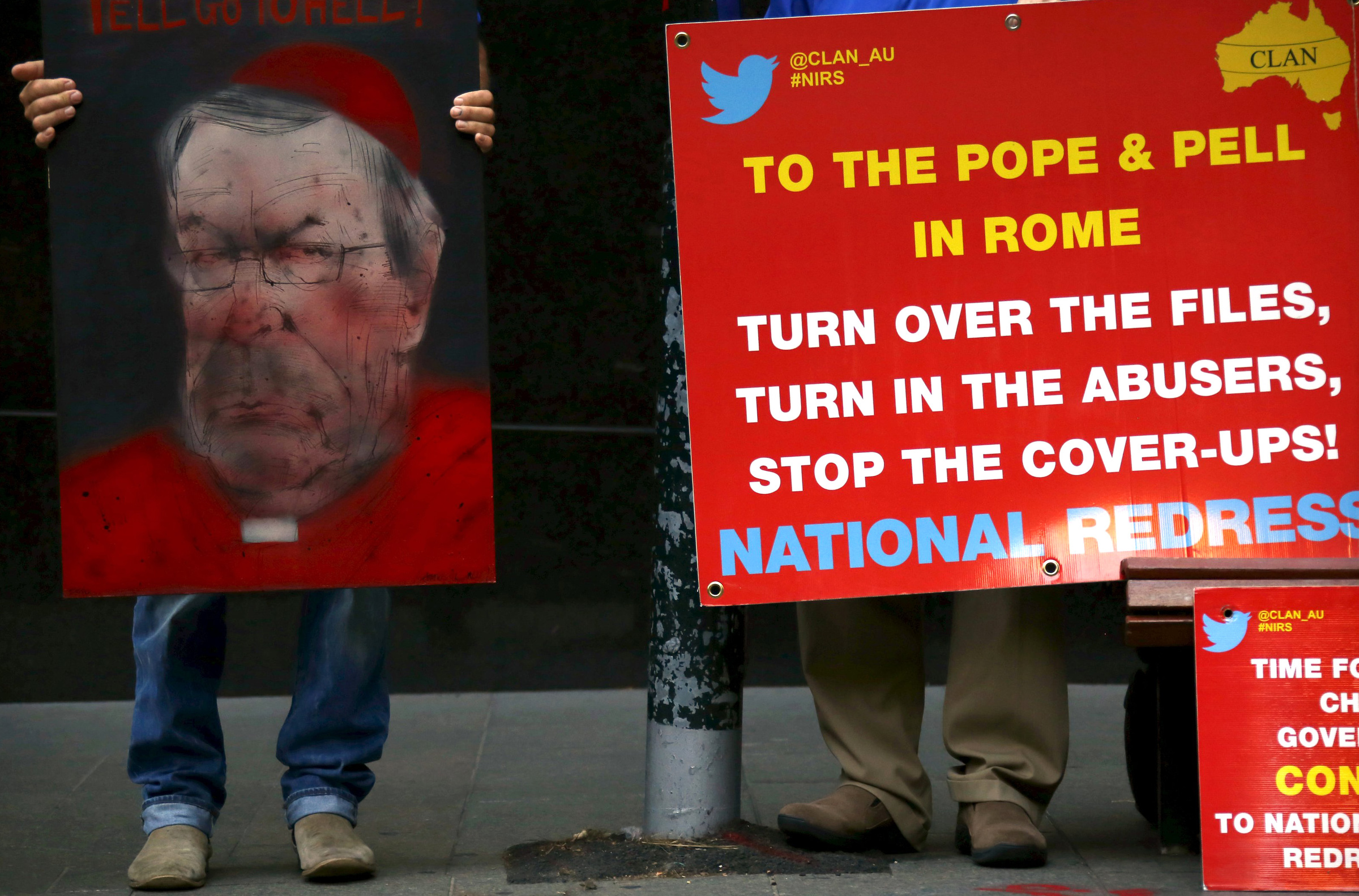 Victims and relatives of children who claim they were sexually abused by the Catholic clergy hold placards outside the venue for Australia's Royal Commission Into Institutional Response to Child Sexual Abuse in Sydney Feb. 29. (CNS/David Gray, Reuters)
One of Pope Francis' closest advisors, Cardinal George Pell, faced intense scrutiny over his actions as a diocesan priest* decades ago to prevent clergy sexual abuse in his home country of Australia during an Australian government hearing late Monday evening.
Pell, who now serves as the head of Francis' new centralized Vatican treasury department, was repeatedly asked about his role in the 1970s and '80s as an advisor to a bishop in rural southeastern Australia, where several notorious priest abusers were moved from assignment to assignment after molesting children.
The cardinal said that although he was a consultor to Ballarat's then-Bishop Ronald Mulkearns, the bishop misled and deceived him about why he had decided to move several priests, not mentioning they were accused of abusing children.
The testimony, given from Rome via video-link late Monday evening and early Tuesday morning to Australia's Royal Commission in Sydney, was extraordinary for the pressure placed on one of the Vatican's highest officials to explain his actions or inaction in face of abuse decades ago.
The lead counsel for the Commission, its presiding chair, and the cardinal became obviously agitated at moments, with Pell firmly denying any responsibility for the priests' movements.
"Cardinal, as I understand your evidence, the consequence is you say the bishop deceived you; is that right?" Commission Chair Peter McClellan asked at one point.
"Unfortunately, correct," Pell responded.
"It's hard to imagine a greater deception, isn't it?" McClellan asked back.
"Well, it probably would be possible to imagine a greater deception, but it is a gross deception," the cardinal answered.
Pell was being questioned late Monday by Australia's Royal Commission into Institutional Responses to Child Sexual Abuse about his knowledge of several abusive priests, including former Fr. Gerald Ridsdale, who is accused of misconduct by at least 54 children.
---
Related: Pell admits 'enormous mistakes' in church's abuse handling, calls it 'absolutely scandalous'
---
The line of inquiry pressed by the Commission was that Mulkearns and at least one other of the bishop's consultors at the time knew of abuse by Ridsdale as early as 1972, but continued to give him different priestly appointments.
Pell was appointed to Mulkearns' bishops' council in 1977.
Counsel Gail Furness asked specifically about a meeting of Mulkearns' bishops' council later that year, after Pell's appointment, when Ridsdale was reassigned. She asked Pell if he or others on the council knew of the reason Ridsdale was being reassigned, to which the cardinal said he was not told of the accusations of abuse.
"Obviously, there was a series of difficulties, but it certainly was not stated that those difficulties touched on paedophilia and crimes," said Pell.
McClellan then asked why Mulkearns would have deceived his council.
"He might have wanted to protect us from his wrongdoings," the cardinal responded. "He might have feared that if he told us the truth, that people like myself would have said 'Well, look, is that correct? I'm not sure we should be going in that direction at all.'"
"The reasons why he did these things repeatedly are a great mystery to me," said Pell.
Furness later pressed the point, asking the cardinal if he accepted any responsibility for Ridsdale's reappointments.
"Is it the case, then, that in your view, one, you were ignorant; two, your ignorance wasn't willful; three, your ignorance didn't represent you not doing your job or acting within your authority?" she asked. "Is that how you would describe your conduct as a consultor?"
"That is correct," Pell responded.
"Cardinal, do you accept any responsibility at all in the Diocese of Ballarat for Ridsdale being moved from parish to parish, particularly in the time when you were a consultor?" asked Furness.
"No, I don't," said the cardinal.
Later, Furness called that reasoning "implausible."
"I suggest, Cardinal, that it is implausible that those others, consultors at that meeting, including yourself, were not told why it had become necessary," she said.
Pell responded: "It would only be implausible if there was evidence that they had been told in some way or other."
"I suggest, Cardinal, that it is implausible, given the knowledge of three of those consultors and given the conduct of Ridsdale and the wording of those minutes, that the consultors, including you, did not know why it had become necessary for him to be moved," said Furness.
The cardinal responded: "That is a complete non sequitur. We can conclude about those who had that knowledge; we cannot conclude about the minds of those who were not privy to that knowledge."
Pell is being questioned by the Royal Commission via video-link from Rome for hearings through Wednesday night. The first hearing was held Sunday evening, during which Pell admitted the church "has made enormous mistakes" in its handling of dangerous priests.
This is the third time that the cardinal has testified before the Royal Commission. Pell, who formerly served as an auxiliary bishop and then archbishop of Melbourne and then archbishop of Sydney, has headed the newly created Vatican Secretariat for the Economy since 2014.
The Commission had asked Pell to come to Australia for the latest hearing, but the cardinal said he had become too frail at age 74 to make the some 20-hour flight.
About 150 people have been attending the hearings in Rome where Pell sits alone at a small table in the corner of a large hotel ballroom, testifying to a camera set up with a television screen.
Security has been extraordinarily tight, with Italian, Australian and Vatican officers scanning the crowd, and frisking everyone who enters the room.
Pell is expected testify via video link from Rome to the Royal Commission sitting in Sydney for at least two more nights.
*This story has been updated to include a clarification.
[Joshua J. McElwee is NCR Vatican correspondent. His email address is jmcelwee@ncronline.org. Follow him on Twitter: @joshjmac.]