A version of this story appeared in the Sept 23-Oct. 6, 2016 print issue under the headline: Beauty in sacred spaces offers call to mission.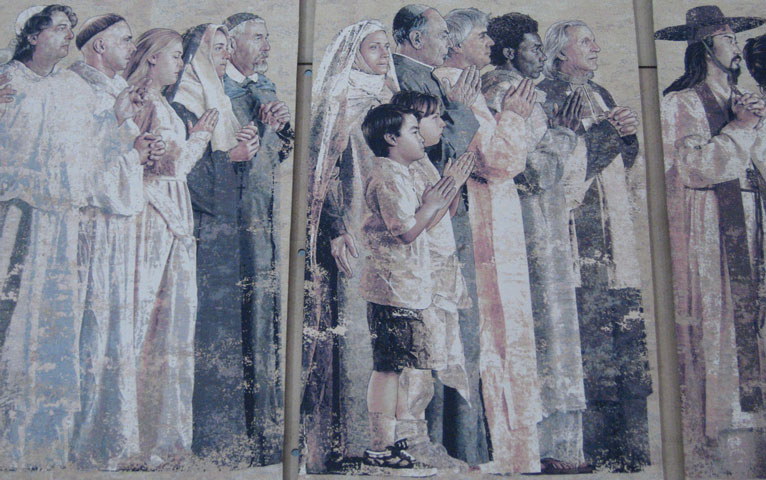 A detail from John Nava's tapestry of the communion of saints in the Cathedral of Our Lady of the Angels in Los Angeles (Wikimedia Commons/Adam A. Sofen)
Michelangelo's Sistine Chapel frescoes, Ghiberti's doors for the Florence Baptistry, Giotto's Santa Croce chapels, and Sainte-Chapelle's stained glass. Some of history's most beautiful and important works of art were designed for sacred spaces. But adorning the sacred isn't just about installing attractive props that are easy on the eyes. It can also be a mission of the church.
"The best evangelical strategy is one that moves from the beautiful to the good and finally to the true," Fr. Robert Barron, now auxiliary bishop of Los Angeles, wrote in a 2013 article. Evangelism is particularly tough in a culture dominated by relativism, which eschews moralizing and intellectualizing, but the beautiful is unthreatening, according to Barron.
Art, he adds, works "a sort of alchemy in the soul," which can awaken a desire to participate. "Hans Urs von Balthasar, one of the great advocates of the aesthetic approach to religion, said that the beautiful claims the viewer, changes him, and then sends him on mission," he wrote.
According to sacred space planner Fr. Richard Vosko, "Art serves the same purpose as a good homily -- it serves to remind the worshipers of their roots, their tradition as a religious people, and their mission in the world." A priest in the Albany, N.Y., diocese, Vosko's liturgical design work since the mid-1970s has included 15 projects for Catholic cathedrals.
Sacred spaces, which are set aside for worship, are expressions and extensions of God's overarching creative process, according to Vosko. "A sacred place for the worship of God provides beauty, security and purpose," he said. "These houses of prayer also call us to act with justice and humility in the public square."
That spatial mapping surfaces in the Eucharist, which directs the faithful to share what the sacrament stands for outside the church: feeding the hungry, clothing the naked, and housing the homeless. "The arts used in the act of worship or to embellish and enhance the actual space used for worship must also call the worshipers to respond to their vocations," Vosko said.
That means works of art of every genre that appear in places of worship or that serve liturgical functions must be Scripture specific.
"Like the words of the Gospel, they, too, summon us to be ambassadors of peace and justice in our communities," Vosko said. "Art transforms us, challenges us, and takes us in new directions. Art in church, during worship, does the same thing in calling us to tend to the needs of those people living on the fringes of society, those people who are abused and oppressed."