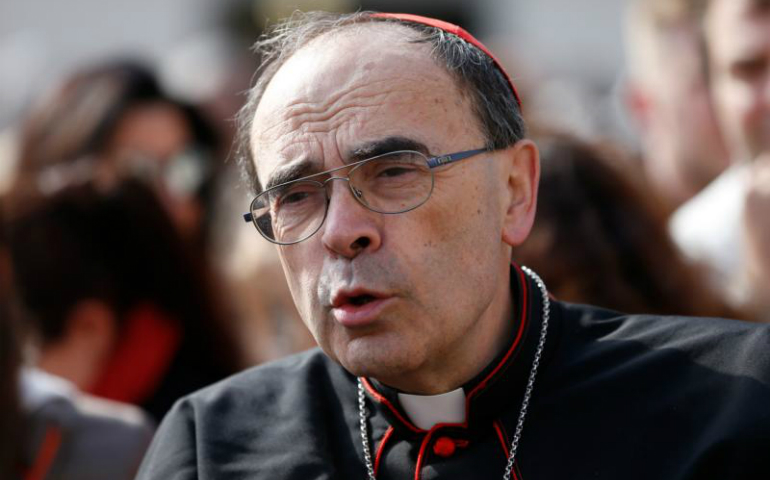 Cardinal Philippe Barbarin of Lyon, France, is pictured before the start of Pope Francis' general audience in St. Peter's Square at the Vatican April 26. (CNS photo/Paul Haring)
Warsaw, Poland — April 27, 2017
France's Catholic primate has condemned the current presidential campaign as his country's "worst ever" and urged Christians to help prevent democracy from "losing its sense."
"Left and right rivaled each other and had their radical wings, but there was also a center. Now, left and right have stepped back, and the main candidates are divided by other unclear criteria. I have the impression our voters are totally lost," said Cardinal Philippe Barbarin of Lyon.
In an interview with Poland's Catholic Information Agency (KAI), published April 26, Barbarin said France was witnessing "the twilight of its existing political system" as citizens sought out "leaders closer to the people in their economic and social realities."
"Democracy seems to be losing its sense and being cast adrift by media shabbiness," Barbarin added. "This has been our worst-ever election campaign, characterized by the unforgivable accusations, total critiques, violence, chaos and the misleading of voters."
In the first round of French elections April 23, Emmanuel Macron, founder of En Marche!, a center-left political movement, and Marine Le Pen, leader of the far-right National Front, emerged as the two top vote-getters. They will face off May 7, when voters will choose who will be president for the next five years. Candidates from the mainstream Socialist and Republican parties will not be in the final round.
Barbarin said the success of Le Pen, who has vowed to take France out of the European Union and give French nationals priority over foreigners in jobs, welfare, housing and education, reflected a "destabilizing trend" also visible in other parts of Europe and the United States. He spoke of a "form of democratic terrorism," which stripped candidates of their dignity by establishing a right "to know everything, whether proved or unproved" about them.
"It seems we're dealing with a democracy gone mad," the cardinal said. "Although statesmen still exist, they're unable to get through today's campaign mechanisms, where everything is decided by the art of winning. Those who win are just electoral animals, not competent, rational politicians."
Catholics traditionally make up two-thirds of France's 67 million inhabitants, although only a small proportion attends Mass.
In a book-length message last October, "Recovering the sense of politics," the bishops' conference said "weariness, frustration, fear and anger" in the country had fueled "profound hopes and expectations of change," but also cautioned against "a search for facile, emotive options."
Barbarin told KAI the Catholic Church should appeal to citizens not to vote "for people with pretty eyes, who can make stars of themselves with media support."
"This is a time of decadence, and decadence means certain forms and structures are nearing their end," he said.
"As Christians, we yearn for social order, peace and harmony — a state based on principles of welfare and participation, where all can make contributions and citizens are subjects of the political community," he said. "But the problem in today's France is the rising disappointment and anger of those who feel ill-treated, rejected and forgotten."