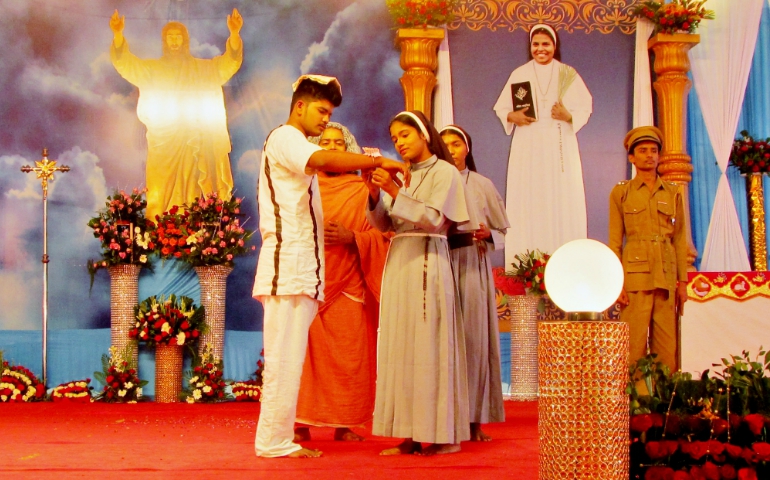 In a short play staged after the beatification of Sr. Rani Maria in Indore in the central Indian state of Madhya Pradesh Nov. 4, actors depict Sr. Selmy Paul, the younger sister of Blessed Rani Maria, tying a sacred thread on the wrist of Rani Maria's assassin, Samandar Singh, in jail in 2002 to accept him as her brother. (Saji Thomas)
Indore, India — November 8, 2017
The beatification of a martyred Catholic nun will help evangelization in India, where preaching Christ's message has become increasingly difficult, church leaders say.
Sr. Rani Maria Vattalil's beatification "is a major turning point in the history of Christianity in India, where peace-loving Christians face persecution," said Shibu Thomas, head of Persecution Relief, an ecumenical forum that records attacks against Christians in India.
Rani Maria, a member of the Franciscan Clarist Congregation, an indigenous order, was beatified on Nov. 4 in Indore, a central Indian city 560 miles southwest of New Delhi, the nation's capital. She is India's first female martyr on the road to sainthood.
The nun died on Feb. 25, 1995, when she was stabbed multiple times by an assassin hired by landlords who resented her work among landless laborers in Udainagar and surrounding villages in the Indore Diocese. Rani Maria, as she was widely known, had encouraged the laborers to demand fair wages and the right to a dignified life, showing them ways to avoid predatory interest rates on loans.
More than 15,000 people, including the assassin, Samandar Singh, attended the beatification ceremonies.