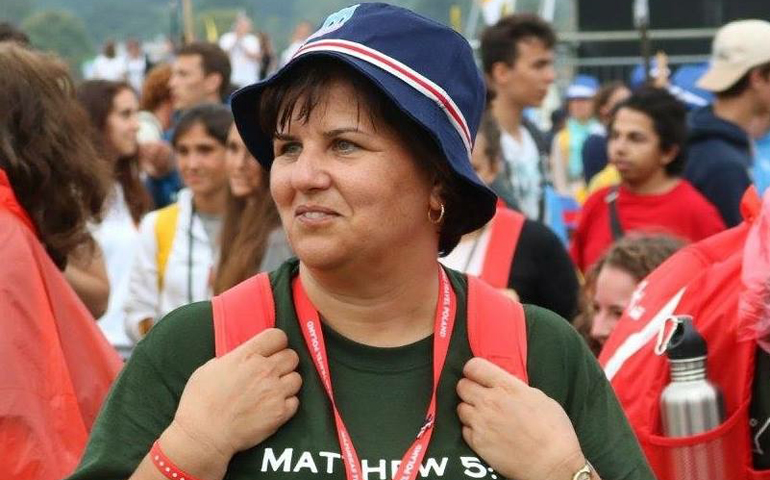 Diane DeBernardo. (Laura DePalma)
Diane DeBernardo
Age: 50
Lives in Brooklyn, N.Y. (same house her whole life)
Works at High School of Telecommunication Arts and Technology
Sr. Camille D'Arienzo: Diane, please tell us about the family in which you grew up.
Diane DeBernardo: I am the youngest of eight children. There's a span of 14 years between the oldest and the youngest, with a set of twins, so there was a baby every 2-3 years. My father worked for the NYC Department of Sanitation. He often worked nights, midnight to 8 a.m., so we did get to see him after school. My mother was home, as you can imagine putting dinner on the table for 10 people every night required some time and effort.
To whom are you closest?
We were all very close growing up and still remain close now as adults. I am closest to my sister Mary who is one year older than me. She also lives the closest to me as she is now also my tenant!
Where did you go to school?
I went to Immaculate Heart of Mary School along with all of my siblings. Then to John Dewey High School. I started college at SUNY at Albany, then transferred (and I graduated from) Brooklyn College.
Please describe your relationship with your church.
I am a member of Immaculate Heart of Mary in Brooklyn. I serve on the liturgy committee; I'm a catechist in the children's faith formation program. I'm also a lector and an extraordinary minister of Holy Communion. As I've grown older, church has become more and more important to me and I started to realize that it was my turn to do some of these things.
Who were your heroes or mentors as you grew up?
My parents, who worked very hard to build a loving family.
Where do you work?
I'm a teacher at the High School of Telecommunication Arts and Technology in Brooklyn. I teach all levels of high school Spanish; I've been teaching there since 1989.
What sparked your interest in teaching Spanish?
When I started high school, I had the chance to choose a foreign language. I chose Italian because of my family's heritage. I loved it from the start! It was so exciting, the sound of it, the new words -- I was very good at it since I liked it so much, and I put so much time into it. During my second year of high school, I started to teach myself Spanish. I studied the first year independently. Once a week I would meet with a teacher to review my lessons and practice pronunciation. Since the two languages are so similar, I did well in Spanish also. During the rest of my high school and college years, I continued with both languages.
Once I started teaching for the NYC Department of Education, I realized that Spanish was much more helpful to my career. So now, I am only teaching Spanish.
What do you consider the highs and lows of teaching?
The low would have to be the large classes that I teach. Students in the five classes I teach each day come to a total of 140-150 a day. Getting to know each one's needs and learning styles is a challenge.
The high is the students themselves. Some of them are very motivated and enthusiastic learners; others are less motivated and enthusiastic. The challenge is to reach all of them. I love the language, so I get to speak it every day and maybe inspire someone else to speak it.
Have you traveled much?
My first international trip was to Italy. I spent a semester studying at the University of Urbino while I was in college. That experienced boosted my confidence in speaking and understanding Italian. While I was there I had the chance to see several Italian cities, including Rome, Florence, Assisi and Milan. I even had the opportunity to visit the hometown of my paternal grandparents in Calabria; I spent the Easter break of that semester with relatives that my father had never met.
A highlight of my trip to the Holy Land was the VIP seating we had for the papal audience on Ash Wednesday. Being in the places where the stories occurred changed the way I listen to Scripture. The highlight of one trip was climbing to the top of Mount Sinai in the middle of the night to reach the peak to watch the sunrise. I'll never forget listening to people sing "How Great Thou Art" in many different languages.
What brought you to World Youth Day?
About three years ago, a group from a nearby parish came to Immaculate Heart of Mary to talk about their experience in World Youth Day in Rio [2013]. As a parish, we decided that we would send a group [this year], and I was hooked. As it turns out, from that original group who visited us, two of them were sisters and were former students of mine. Several participating parishes totaled 40 pilgrims, 14 from Immaculate Heart of Mary.
What helped you prepare for that?
Prior to the start of World Youth Day, we traveled to Warsaw, Czestochowa and Wadowice. We also visited the concentration camps of Auschwitz and Birkenau. We walked around the camps in silence, reading the descriptions of the different buildings there. While these were difficult places to see because of all of the suffering and death that happened there, it was important to see and pray at these camps. Then it was on to Krakow for the World Youth Day events.
What was that like?
It was unlike anything I had ever experienced before. The crowds were large but enthusiastic. We went to the official papal welcome ceremony in Blonia Park with about 2 million other people. One of the highlights for me was actually a smaller event held in an arena in Krakow. It was called the "Night of Mercy." It was a concert with some well-known Catholic musicians including Steve Angrisano and ValLimar Jansen. The concert was followed by Eucharistic adoration. I was at first skeptical as to how reverent the adoration would be given the fact that there were 18,000 people in the arena that night. As the Eucharist was brought in and was processed around the floor of the arena, 18,000 people were silent and on their knees. It was a very moving experience. It made me proud to be a Catholic.
What is your image of God?
God is loving, forgiving and merciful
What does God ask of you?
God asks me to be loving, forgiving and merciful
How has God blessed you?
I am blessed with good health, a wonderful family and friends, a job that I love doing and allows me lots of free time to pursue all of my interests.
What gives you joy?
Being around people, going to the beach, traveling to a new place.
What makes you sad?
Being lonely, watching others suffer.
Do you belong to any groups or organizations?
I am an associate of the Sisters of Mercy.
How many pilgrimages have you experienced?
I've been on four pilgrimages. The last three pilgrimages were organized by New Ways Ministry, an organization that ministers to LGBT Catholics and their families and supporters.
How did you get involved with New Ways Ministry?
Several years ago, our pastor at the time had the idea to start a LGBT ministry. He invited parishioners to a meeting to see if there was interest. The late Bishop Sullivan came to visit to offer support to this budding ministry. We had some other parishes visit to talk about their experiences with a LGBT group. I became involved because I knew of some gay and lesbian people in the parish and I wanted to help to make them feel more comfortable. Our ministry is still very small but we do have a table each year at the Brooklyn Pride Festival to let people in the area know that "All are Welcome."
Diane, the many ways in which you welcome others makes me proud to have you as a Mercy associate.
[Mercy Sr. Camille D'Arienzo, broadcaster and author, narrates Stories of Forgiveness, a book about people whose experiences have caused them to consider the possibilities of extending or accepting forgiveness. The audiobook, renamed Forgiveness: Stories of Redemption, is available from Now You Know Media.]
Editor's note: We can send you an email alert every time Sr. Camille's column, Conversations with Sr. Camille, is posted. Go to this page and follow directions: Email alert signup.