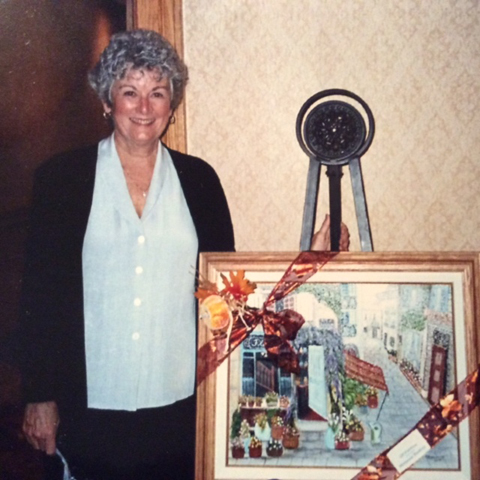 Marianne Sheehan (provided photo)
Marianne Sheehan, 73, Mercy Associate
Lives in Brooklyn, N.Y.
Please tell us about your birth family.
I am the eldest of seven children. I attended Holy Name Elementary and Catherine McAuley High School. After graduating from high school in 1961 I entered the Sisters of Mercy. As a vowed member I taught in several schools and served as principal in one.
What college did you attend and what degrees have you obtained?
I attended St. Francis College in Brooklyn, N.Y., under the administration of the Franciscan Brothers of Assisi, where I received a bachelor's degree in French with a minor in Spanish.
I was graduated from Fordham University with a master's in Urban Education. I am deeply grateful to the Sisters of Mercy of the Americas for their generosity in the attainment of my degrees, and for the six-week French immersion program at Laval University in Quebec. I am also grateful to the Brooklyn diocese which sponsored an intercultural institute at the Catholic University of Puerto Rico for those serving the immigrants from Puerto Rico in the diocese.
Where have you taught?
I have taught at St. Mary's in Roslyn Heights, Long Island, St. Brigid's in Ridgewood, St. Patrick's, Kent Ave., and served as principal of Fort Greene Catholic School (the former Sacred Heart School), and at Bishop Loughlin Memorial High School, under the administration of the Lasallian Christian Brothers.
Are you currently on any faculty?
I am currently serving as a Legacy Lasallian, in continuing the work of the Christian Brothers and those in association at Bishop Loughlin Memorial High School and ministries. I work as a substitute teacher at Poly Prep Country Day School.
You describe yourself as "semiretired." What does that mean?
Upon retirement, I worked as a student teacher supervisor at St. Francis College, taught English as A Second Language at the Maura Clarke Ita Ford Center in Bushwick and in PS 229* in Bensonhurst. I have substituted at Poly Prep Country Day School. I enjoy staying connected with students without the everyday demands of a full teaching program. I praise those who continue the demands of it on a daily basis. My 42 years of teaching and supervising were fulfilling, yet tiring at the last.
When did you leave the Mercy Community? Can you tell us why you did so?
I left the "formal" Institute of the Sisters of Mercy to pursue an independent lifestyle, as separate from my family and to understand the difficulties of managing finances and life without the strong support of a community. I have lived a faith-filled life within each, and dearly love my "second family."
You remain close to the Sisters of Mercy. Please describe your current relationship.
I have loved, and attempted to live the charism of mercy for most of my life. The change of life style hasn't changed that.
I am grateful for my past and present relationship with the Sisters and the men and women Associates with whom I share prayer and mission. I have been an Associate of the Sisters of Mercy for almost twenty years.
Where do you currently volunteer?
I have volunteered as a board member of the Dorothy Bennett Mercy Center since September 2001. I believe in the mission statement "to empower families in the urban community to overcome negative influences that impact their well-being and self-sufficiency." I volunteer with the Legacy Lasallians who have aged out of the formal mission and wish to continue the spirit and service of the Christian Brothers.
What do you have to offer?
I have more time to live out the spiritual and corporal works of mercy outside of the rigor of a teaching schedule. Gratefully, I have the energy to want to continue living it, and the belief that I am making a difference in some lives, as I did within the classroom.
What do you gain from this service?
I gain personal satisfaction, but more importantly, I feel that I am more blessed by the people whom I "purportedly" help. I have a deep belief that I am continually loved by God and it is in that presence among God's people that sustains me.
Where and with whom do you currently live?
I live in Brooklyn with a friend who shares my values of service. There is no need to describe why we each want to live these principles out in our lives. It is a "given."
How and with whom do you pray?
I pray with the Associates and Sister of Mercy and with the Associates and Brothers of the Christian Schools. We gather monthly to study encyclicals such as Laudato Si' by Pope Francis, and the lives of two founders of communities with outreach to the poor, Catherine McAuley and St. John Baptist de la Salle. We meet for retreats in Narragansett, R.I., and Syosset, Long Island, and in other places of worship.
What do you draw from your Catholic faith?
I have drawn strength from the Catholic faith of my childhood and have been open to its universality and ecumenical efforts to focus on what differing faiths have in common with each other, and how respect for each other is God's intent.
What or who inspires you?
When I was young I was inspired by a woman who lived down the street and decided to enter the Maryknoll Missionary Community. The book written about her, Bernie Becomes a Nun, inspired me to want to do the same. I loved the fact that she could fix the pipes under a sink! I am still in contact with Bernie Lynch.
I'm inspired by those who have given their lives to help others live better lives. These include Dorothy Day, Oscar Romero, Maura Clarke, Ita Ford, Dorothy Kazel, Jean Donovan, Daniel and Phil Berrigan, Cesar Chavez, and others whose dreams are altruistic and not self-serving.
What gives you joy?
Seeing people realize their potential. When a person listens with the heart and not merely with the ears. When people are happy for the success of others. Seeing he innocence in the eyes of young children, and having hope.
What makes you sad?
Revenge and non-forgiveness. People who would kill others for a "religious" reason. Poverty and unfair distribution of wealth.
How do you relax?
I enjoy long walks, music, nature, reading, painting, traveling, playing tennis, being with trusted friends. Breathing deeply in Pilates. Watching cloud formations, sun rises and sunsets, being at the ocean. If I had a hammock, I'd swing in it daily.
When did you begin to explore your artistic ability?
As a child, I loved coloring books and I still do, now that they are back in style! As an adult, I only discovered that I had some talent when I tried painting with oils and realized that mistakes were not serious and oils could be very forgiving. I like that aspect, about painting and about life in general.
What satisfaction does that give you?
It relaxes me because it requires focus and eliminates distractions. The canvas invites creativity and calm.
Do you have an unfulfilled dream?
Other than wanting to be able to sing in three-part harmony, to have knowledge and understanding of all the world's languages and to see peace realized on earth, there's not much more I desire.
*An earlier version of this story listed the incorrect public school, and has been updated.
[Mercy Sr. Camille D'Arienzo, broadcaster and author, narrates Stories of Forgiveness, a book about people whose experiences have caused them to consider the possibilities of extending or accepting forgiveness. The audiobook, renamed Forgiveness: Stories of Redemption, is available from Now You Know Media.]
Editor's note: We can send you an email alert every time Sr. Camille's column, Conversations with Sr. Camille, is posted. Go to this page and follow directions: Email alert signup.