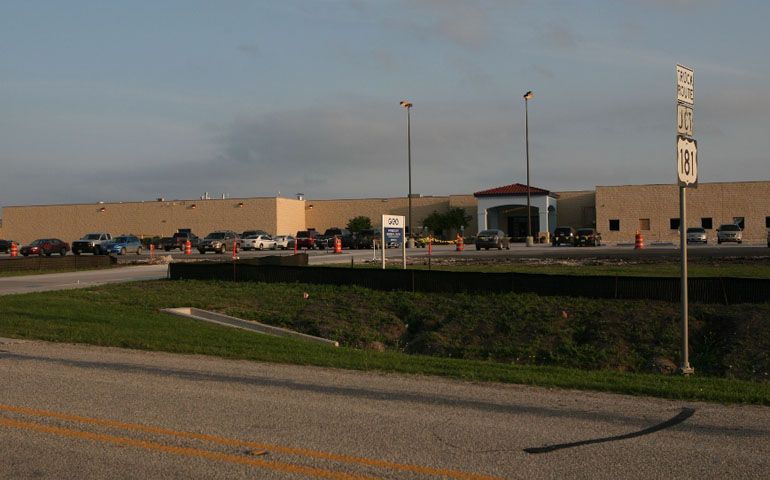 The Karnes County Residential Center in Karnes City, Texas (Nuri Vallbona)
The Obama administration's policy of detaining women and children seeking asylum in the U.S. could soon end after a federal judge tentatively ruled that the practice violates a previous court settlement, according to attorneys representing plaintiffs in the case.
The ruling is tentative, meaning it is a proposed ruling that has not been officially filed. Issued April 24 by U.S. District Judge Dolly Gee in California, it says that the detention policy violates the 1997 Flores v. Meese Settlement Agreement, which states that unaccompanied minors cannot be placed in restrictive lockdown facilities. Attorneys representing both sides have 30 days to reach an agreement on how to wind down family detention, according to two memos obtained by NCR.
"The court's tentative order indicated that the court agreed with plaintiffs that putting children in secure facilities that are not licensed by the state violated the language and spirit of the settlement agreement," one of the memos states. If an agreement cannot be reached on how to end family detention, attorneys "will ask the court to enter immediate injunctive relief."
Listing key points in the agreement, the memos were sent to attorneys and paralegals representing detained women and children so they could inform their clients of the pending ruling and their rights. NCR contacted four attorneys connected with the case, but each declined to be interviewed, saying they were not in a position to comment. The memos were not obtained from any of these attorneys.
Immigration and Customs Enforcement also said it could not comment on pending litigation.
Jonathan Ryan, executive director of the Refugee and Immigration Center for Education and Legal Services (RAICES), said he was not surprised by the tentative ruling.
"A prison company is not competent to run a day care, essentially a residential program for children," he said. "So we shouldn't be surprised. Prisons aren't for kids, and that's what this ruling says in a nutshell."
For-profit corporations run two family detention centers in Texas. Advocates and critics have maintained that these companies are in the corrections business and should not be running residential centers housing women and children.
"They're putting these kids in these lockdown facilities, unlicensed facilities -- they are run by correctional staff," clinical professor Ranjana Natarajan, director of the Civil Rights Clinic at the University of Texas School of Law, said in an April 14 interview. "They are not licensed by the state of Texas to work in child care."
While Natarajan was one of the attorneys involved in the case, she would not comment on the tentative ruling.
Family detention had all but ended in 2009. However, more than 60,000 unaccompanied minors from Central America flooded the southern border in the summer of 2014, according to Border Patrol statistics. Mothers and their children added to the numbers overwhelming the Border Patrol and immigration officials.
As a solution, immigration officials sent mothers and children to detention facilities in Texas, New Mexico and Pennsylvania. The facility in New Mexico was later shut down. Attorneys for the U.S. government then filed a motion in February to amend the Flores Settlement. The large influx of immigrants made it "impossible to mandate full and strict compliance with all terms of the nearly two decades-old agreement while expecting DHS to fulfill its core function of protecting the public safety and enforcing U.S. immigration laws," read the motion filed in a California court.
Lawyers representing detainees countered by filing a motion to enforce the settlement, which led to the tentative ruling last week. In the ruling, the judge said locking up mothers and their children violated the Flores Settlement because it denied minors the opportunity to be released to a parent, according to one of the memos.
"What it means for the future of family detention -- well, we hope now that a lot of the women will be released," said Michelle Mendez, an attorney with the Catholic Legal Immigration Network Inc. Her organization partners with other groups to protect the legal rights of immigrants and has clients in detention centers.
"We've already seen some of the women be released," she added, saying a group was released without bond from the Karnes Family Residential Center in Karnes, Texas, on April 29. RAICES spokesperson Mohammad Abdollahi confirmed that approximately 25 families were released from Karnes alone but said he was not sure if this was related to the ruling.
Ryan was less optimistic about the latest developments. "There is no champagne on ice in any nonprofit law office in South Texas right now," he said. "These facilities won't be shut down. They will find another purpose for these facilities; they will find people to put in these facilities."
While advocates for ending family detention are not sure how the ruling will affect their organizations, Mendez, whose network just hired a lawyer to work with women detained at a center in Dilley, Texas, hoped it would free up resources and manpower.
"Hopefully that just means that we can focus on other issues in immigration that warrant a lot of attention and a lot of focus and a lot of work."
But for one mother who had experienced detention firsthand, news of the ruling brought a sense of relief.
"I think that it's perfect that they stop detaining these mothers, but more important that they stop locking them up with their children," said Edith Osorto, a Honduran mother who with her son was detained three months at Karnes.
Describing her treatment in the center as "muy mal" ("very bad"), Osorto said workers in the facility frequently yelled at mothers, threatened them with deportation and served undercooked rice and foul-smelling meat that made their children throw up. "You suffer a lot when you're locked up in places like these."
Related on Global Sisters Report: Living like prisoners: Women talk about U.S. detention centers
[Nuri Vallbona is a freelance documentary photojournalist and is currently a lecturer at the University of Texas.]