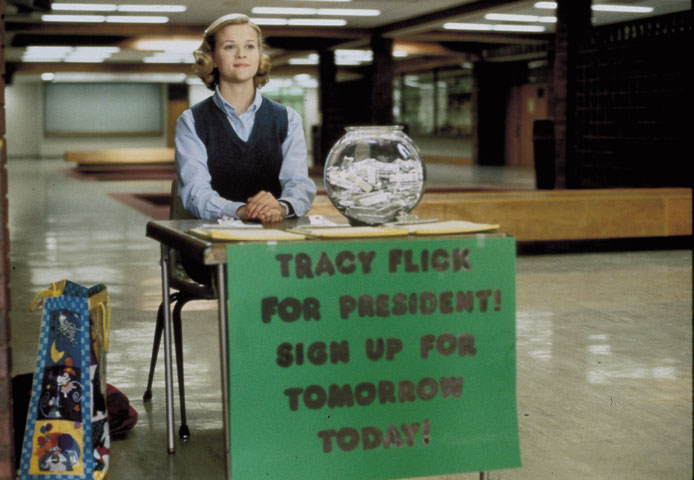 Reese Witherspoon plays Tracy Flick in the 1999 film "Election." (Paramount Pictures/Bob Akester)
My ears perked up back in March when Texas Sen. Ted Cruz defended his wife, Heidi, after Donald Trump threatened to "spill the beans" about her. Cruz came back with a threat of his own that sounded like it was straight out of the 1995 film "The American President" when President Andrew Shepherd (Michael Douglas) stood up for his girlfriend (Annette Bening) to his opponent Sen. Bob Rumson (Richard Dreyfuss) who had defamed her: "You want a character debate, Bob? You better stick with me, 'cause Sydney Ellen Wade is way out of your league."
"Last night, Donald threatened my wife. He went directly after my wife. ... She is my best friend in the world. And if Donald wants to get in a character fight, he's better off stickin' with me, 'cause Heidi is way out of his league," Cruz said March 29.
I don't mind that Cruz borrowed from Rob Reiner's "The American President," brilliantly written by Aaron Sorkin, because the film is a primer on democracy, White House political maneuvering, compromise and negotiation, and how to manipulate voters using nostalgia tactics and playing the family values card. But more than anything, "The American President" is teaching the audience that democracy is hard work and that being president is all about character.
But is it really all about character, or is being a person of integrity an impossible dream created by fictional movies? Do documentaries tell a different story? Does the current campaign process, for example, as raucous, mean-spirited and superficial as it is, support or subvert the ideal that our president and elected leaders be people of character who "do the right thing when no one is looking"?
I asked my Facebook friends for their favorite films about the presidency and compiled a syllabus to study as we discern voting come November. Every title on this list supports the idea that men and women of character are needed in a democracy, even as these narratives mythologize their subjects, real or imaginary.
Cinema and television engage us on the emotional level; it's up to us to reflect on what they mean in the here and now and how the stories might influence our discernment and decisions.
"Meet John Doe" (1941)
Frank Capra, the great American director also mentioned in "The American President," directed Gary Cooper and Barbara Stanwyck in a tale about a washed-up baseball player and tramp (Cooper) who gets hired to play a guy named John Doe after a fired newspaper columnist, Ann Mitchell (Stanwyck), gets mad and publishes his made-up tale of woe.
The newspaper's publisher, D.B. Norton (Edward Arnold), who has his own uniformed police force, takes advantage of the situation. He pays Mitchell to write John's speeches and a "Be a better neighbor" campaign is born while Mitchell maneuvers in the background.
Things go so well that John eventually becomes a presidential candidate but things fall apart at the convention. John runs away only, to be found by Ann on Christmas Eve as he prepares to take his own life because he has lied and been so manipulated.
"Meet John Doe" endures as cinematic Americana contrasting totalitarianism and democracy.
"Election" (1999)
Tracy Flick (Reese Witherspoon) is the ultimate high school overachiever who runs unopposed for class president. Jim McAllister (Matthew Broderick) is a teacher who intensely dislikes her for her enthusiasm and because she has a relationship with another teacher, who then loses his job.
When ailing football jock Paul Metzler (Chris Klein) and his sexual-identity-challenged sister, Tammy (Jessica Campbell), join the campaign, Tracy finagles a way to rig the election and McAllister fakes the ballot count.
The candidates have platforms and slogans that aren't worth much but are worth noting. Tracy: "When you cast your vote for Tracy Flick next week, you won't just be voting for me. You'll be voting for yourself." Paul: "We can all score a winning touchdown together." Tammy: "If elected, I will immediately dismantle the student government so that none of us will ever have to sit through one of these stupid assemblies again! Or don't vote for me! Who cares? Don't vote at all!"
The film is about winning and ambition -- or the lack of it -- and what people will do to get what they want.
I checked to see if any of the current candidates ever ran for student government. Hillary Clinton served on the student council of her high school and could be called an overachiever, as she was so involved in activities. Her ambition in high school was "to marry a senator and settle down in Georgetown."
Bernie Sanders ran for student body president but lost, coming in third. Trump attained the rank of captain in the military high school he attended but I didn't find anything about him running for office. John Kasich doesn't seem to have held any offices in high school but he did wrangle a one-on-one meeting with President Richard Nixon when he was in college.
The best is Cruz. He served as his high school class president twice, and vice president once. His ambition was laid out in a five-part plan while still in high school: go to Princeton, attend Harvard Law, become a lawyer, run for office -- and win the presidency.
"The American President" (1995)
This is my favorite film about the presidency. At first glance, it seems like a romantic comedy, but if you view it on a deeper level, it's about so much more.
"Dave" (1993)
President Bill Mitchell is a jerk (Kevin Kline) and his chief of staff, Bob Alexander (Frank Langella), hires lookalikes to stand in for him so he won't be inconvenienced and can go about philandering. When Mitchell has a stroke, Alexander hires Dave Kovic (Kline), who could be the president's twin and who impersonates the president to entertain people.
The lie eventually falls apart, but not before Dave gives a memorable presidential speech.
"Lincoln" (2012)
This film, for me, reinforced some President Abraham Lincoln myths while deconstructing others. It was hard for me to grasp that Lincoln deliberately extended the armistice with the Confederacy to make sure slavery would end; that he paid for the votes he needed for the 13th Amendment to end slavery by promising political favors. He exploited the law, or lack thereof, to carry out his role as president.
I saw the film twice because it fascinated me on a profound level. The language and manners of political infighting and nobility never sounded so fine as it did in "Lincoln."
"John Adams" (2008)
While I have not seen the miniseries directed by Tom Hooper in its entirety (it's on my binge list), it comes highly recommended from my Facebook friend Paul Jarzembowski as a major film about the American presidency: " 'John Adams,' played by Paul Giamatti, really captures the angst of our second president throughout his life, and that his greatness was unrealized in his own time."
Others have told me about Laura Linney's portrayal of Abigail Adams, whose support for her husband throughout their marriage was a committed partnership of equals.
"The Roosevelts: An Intimate History" (2014)
This miniseries, directed and co-written by Ken Burns, had me riveted throughout. President Theodore Roosevelt's life and accomplishments remain fascinating.
His cousin, Franklin Delano Roosevelt, was no saint and Eleanor Roosevelt must have been very unhappy, but her influence on her husband, and his leadership brought America out of the Depression with his New Deal and led the country through World War II. FDR signed the Social Security Act of 1935, the first president to advocate for economic security for the elderly. And on and on.
I couldn't have stopped watching if I wanted to. If you have to make a choice about what to see before you vote, choose "The Roosevelts."
"The West Wing" (1999-2006)
This series was destination television while it aired on NBC, as show creator and writer Sorkin taught us about democracy and the American presidency. Martin Sheen remains President Jed Bartlet to many people who also think he is still one of America's greatest presidents, even if he is fictional.
The episode about the death penalty with Fr. Thomas Cavanaugh (Karl Malden), or when Toby Ziegler (Richard Schiff) arranges for the burial of a homeless war vet at Christmas, or the death of Bartlet's longtime secretary remain favorites for many people.
One of my favorites is the episode about "Cartographers for Social Equality" who want global maps that proportionately represent the world to be mandated in schools so children will see and understand that there are many more countries bigger than America and that there are people and needs beyond those of the United States.
There are numerous other films about the American presidential campaign or that feature a character who is the president, such as "Amistad," "Primary Colors," "The Contender," "Air Force One," "Thirteen Days," "Young Mr. Lincoln," and "Independence Day" (even though actor Bill Pullman's main speech rips off Shakespeare's St. Crispin's Day speech in "Henry V"). The 1995 television movie "Truman" starring Gary Sinise highlights Truman's fateful decision to drop the atom bomb twice on Japan.
Being president of the United States is no joke. These films and television series show that it first demands empathy, the basic building block of a person of good character.
[Sr. Rose Pacatte, a member of the Daughters of St. Paul, is the director of the Pauline Center for Media Studies in Los Angeles.]
A version of this story appeared in the May 6-19. 2016 print issue under the headline: 8 films and television shows to see before you vote.