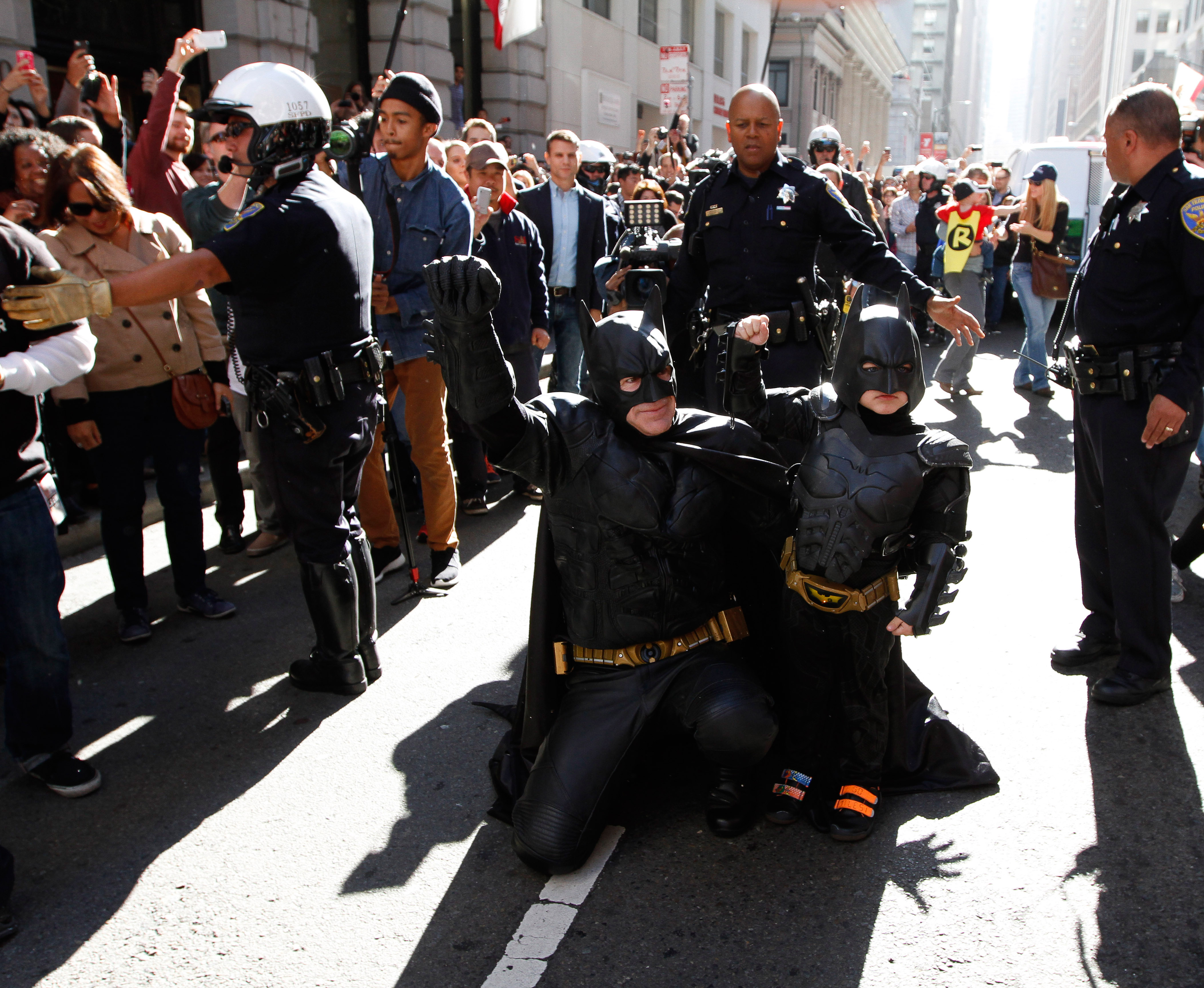 Eric Johnston as Batman and Miles Scott as Batkid in "Batkid Begins." (Warner Bros. Entertainment Co.)
As news of the terrible shootings at the AME Church in Charleston, S.C., broke Wednesday, a couple hundred people were gathered at the Landmark Theater on Pico Blvd. in Los Angeles for the premiere of the documentary film "Batkid Begins." "Batkid Begins" is the epitome of what a great community that America can be and is, the antithesis of the havoc a lone mass shooter wreaked on a group of people studying the Bible in their church.
"Batkid" is Miles Scott, a little boy from a small town in Northern California who was diagnosed with leukemia at the age of 18 months. From a very early age, his favorite characters were superheroes, especially Batman. Superheroes were fighters, who could overcome evil with good and always won. He loved to play dress up in superhero PJs and costumes — especially Batman.
Miles was a prime candidate for the Make-A-Wish-Foundation to grant a special experience to make up in some way for that part of his childhood lost during extensive medical treatment. His parents, Natalie and Nick, decided to wait until Miles was near the end of treatment to make a request to the Make-A-Wish Foundation; it would give him something to look forward to.
When Miles was five, the family applied and Patricia Wilson, head of the Make-A-Wish San Francisco Greater Bay Area chapter started working. First they interviewed Miles about everything from his favorite color to what he would like to do: dress up like Batman. Patricia first thought that they might stage a scene where Miles could rescue someone. That seed of an idea grew to include a daylong event at four different locations and rescue scenarios. It went from an expected crowd of 200 to an estimated crowd of 12,000 in the downtown San Francisco area.
"Batkid Begins" is a film filled with heroes, from the wonderful stunt man and acrobat Eric Johnston who played Batman to Miles' Batkid to Mike Jutan who played the Penguin, to the mayor, Ed Lee to the police chief Greg Suhr and all the cops who worked overtime without pay to make sure everyone was safe, and to the thousands of people who skipped work that day to help make a little boy fulfill his dream. A local San Francisco actor, Philip Watt played "The Riddler," and the mascot of the San Francisco Giants is played by, well, Lou Seal.
But the surprise of "Batkid Begins" is this: the overwhelming emotion the film evokes comes more from these incredibly kind, generous, and anonymous people than Miles by himself. That so many people of every age and background would show up to play the fans of a small superhero says so much about their goodness that when bad things happen we know that the heart of America is decent and even noble.
I was especially impressed by Sue Graham Johnston (Eric's wife) who plays the damsel in distress, tied to a bomb on a streetcar line, that Batkid rescues. She spoke of the atmosphere of benevolence that swept the city that day and how she left her purse, sweater and iPhone on the corner while she was "tied" to the track for a long time because Batkid was late. Even among hundreds, if not thousands of people there, all her things were exactly as she left them when it was all over.
Miles' parents admit that Miles probably could not appreciate what happened in San Francisco that day, but the people who came from all around the Bay area and as far away as Philadelphia and Ohio, surely did. One retired couple from Akron, Ohio, said when they heard about the day, "We have to be there, we have to be part of this."
So many people contributed to making Batkid day possible on Nov. 15, 2013. The night before, when Eric Johnston wanted to give Miles some superhero training at a circus school, all the trapeze artists coming into practice wore superhero costumes. Miles was in awe.
When the announcement for the day went out from the Make-A-Wish Foundation asking for some volunteers to show up, it was picked up by some bloggers and then the mainstream media. Clever Girl Collective, a "social media influencer agency," saw a small post on a blog and volunteered to help create the social media plan; Twitter helped secure accounts (and one employee tweeted out the entire day as events unfolded), and Microsoft sent in a communications team to help organize. The phenomenon of how social media galvanized the Bay area community in particular is told well in the film. Even President Barack Obama tweeted a video to #SFBatkid, "Way to go Miles! Way to save Gotham!"
I cannot count the times I started tearing up during the film. The audience clapped as though we were there on streets of San Francisco with Miles and the crowd. It was the most participatory film I've ever had the absolute joy of being part of.
In several scenes a large, decorated Christmas tree appears in the background. After all, it was mid-November and the shopping season had begun. But the tree made me think of the spirit of Christmas and how good people are.
As for Miles, his treatments are finished and things are going well. He set out to save Gotham and his wish made superheroes out of every person there.
"Batkid Begins" is a marvel of editing. The narrative is paced just right, the interviews just long enough, and the whole thing builds to the final event in front of City Hall when Batkid received the keys of the city. Somehow Miles thought the key would be made out of chocolate. Mayor Lee recovered quickly and promised it was coming. The film was funded by online sources and then picked up by New Line Cinema and Warner Bros.
When incidents like the shooting in Charleston happen, (and if we do not act, more shootings and deaths will occur), watching a film like "Batkid Begins" can rouse into action the faith, hope, and love that is in each one of us.
The message of "Batkid Begins" is, to me, "Cynics of the world? You lost."
("Batkid Begins" is for the whole family and is rated BK — bring Kleenex.)
"Batkid Begins" opens in Los Angeles, New York, and San Francisco on June 26 with a national rollout to follow. So far, the film has won several awards, notably "The Truly Moving Picture" Award from the Heartland Film Festival and Best Documentary Feature from the Dallas Film Festival.