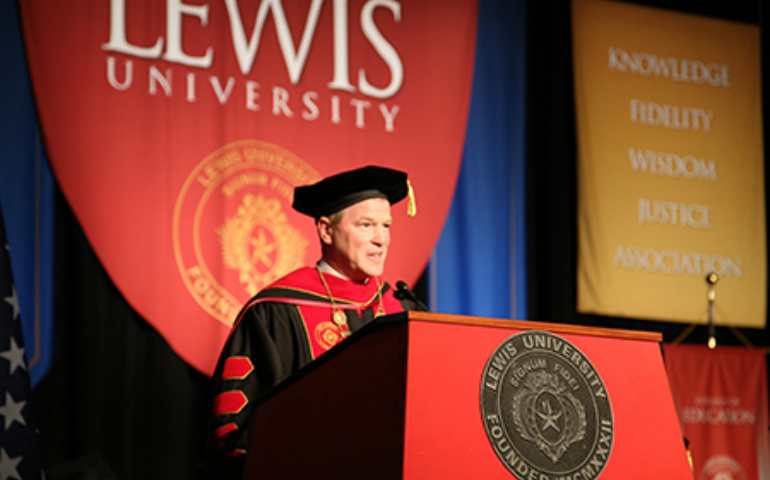 Lewis University inaugurated David Livingston as its 10th president following Mass on April 7. (Courtesy of Lewis University)
Philadelphia – The Commonwealth Court of Pennsylvania has denied Chestnut Hill College's appeal seeking clarification on whether or not the Pennsylvania Human Relations Commission had a right to hear a case regarding the expulsion of an African-American student from the college.
The case stems from a complaint filed with the commission by a former student, Allan-Michael Meads, who says his expulsion from the college in 2012 was excessive punishment and "because of his race." In a 2015 ruling, the commission found there was "probable cause" of racial bias in Meads' complaint, but that case has not advanced.
Meads was expelled weeks before he was set to graduate for allegedly misappropriating funds from a Chestnut Hill production of "A Raisin in the Sun" that he directed.
Pennsylvania courts ruled in 1988 that the Pennsylvania Human Relations Act does not apply to Catholic high schools, and Chestnut Hill, which is sponsored by the Sisters of St. Joseph, wanted clarification on whether or not that law applies to Catholic colleges as well.
"We conclude [Chestnut Hill] College did not identify any religious doctrine so as to trigger entanglement," Commonwealth Court said in the decision dated April 7. "Accordingly, we remand the matter to the [Pennsylvania Human Relations] Commission."
"The College, which was seeking clarification of existing law, is disappointed with the Court's decision and does not agree with the Court's reasoning, however, the College respects the Court's opinion," Chestnut Hill said in its FAQ page on this case on the college's website.
---
Atchison, Kansas – Beginning in the fall 2017 semester, Benedictine College will no longer offer yoga classes, citing spiritual and cultural concerns.
Instead, the college will offer a "lifestyle fitness" course that focuses solely on stretching and breathing, according to Benedictine's student newspaper, The Circuit.
Fr. John Riley, chancellor for the Archdiocese of Kansas City, told The Wichita Eagle in an email that yoga is more than breathing and stretching because of its ties to Hinduism, with the objective being to achieve spiritual purity and divine union.
"It is for these reasons that Catholics are alerted to the dangers of the practice of yoga and are encouraged to look for other exercise alternatives that do not incorporate a spiritual dimension," he said.
In response to the college's announcement, some Benedictine students started an online petition to "bring back yoga." The petition has fewer than 179 signatures as of April 21.
Julie Romano, coordinator for disability services at Benedictine, told the college's student newspaper, The Circuit, that yoga can benefit students mentally in ways other forms of exercise cannot. She was originally scheduled to teach yoga in the fall but is unsure whether or not she will participate in the "lifestyle fitness" alternative.
"I have a moral objection to taking something that people spent thousands of years working on and calling it something else," she said. "I don't see a conflict in yoga and Catholicism, and I don't see why we should call it something else to appease others."
According to World Hinduism, many U.S. Catholic colleges and universities offer yoga classes, including several Jesuit schools, the Catholic University of America, University of Notre Dame, Villanova University and more.
---
Pittsburgh – At a Student Governors Association meeting March 26, leaders of the Duquesne University Lambda Gay Straight Alliance expressed concerns over the opening of a Chick-fil-A Express on campus, claiming that it threatens to put students' "safe place" at risk.
"I think it's imperative the university chooses to do business with organizations that coincide with the (university's) mission and expectations they give students regarding diversity and inclusion," Niko Martini, senator at large, told student newspaper The Duke.
Controversy surrounding Chick-fil-A arose in 2012, when then-chief operating officer Dan Cathy made public comments opposing gay marriage. The Atlanta-based company was also criticized for donating funds to anti-gay marriage organizations, including Exodus International and the Pennsylvania Family Institute. Cathy is now the president and CEO of Chick-fil-A.
Donald Trump Jr. mocked the Duquesne students opposing the Chick-fil-A addition April 13:
Luckily these students wont likely have to tackle issues more stressful than a yummy chicken sandwich in their lives... Oh Wait #triggered https://t.co/NRLtsHBSLn

— Donald Trump Jr. (@DonaldJTrumpJr) April 13, 2017
Founded in 1878, Duquesne University is the only Spiritan institution of post-secondary education in the United States.
---
Notre Dame, Indiana – University of Notre Dame's Center for Civil and Human Rights is set to launch a free online database to search for instruments and documents on Catholic social teaching and international human rights law.
According to a press release, the database, called "Convocate," is "designed to help scholars, students, practitioners, advocates, public officials, diplomats, ministers, pastors and concerned citizens compare documents from Catholic social teaching and international human rights law for the purpose of investigating the convergences and divergences between the two fields."
The April 21 launch is to include a public lecture, demonstration of "Convocate" and a reception on April 21 in the Hesburgh Library.
Notre Dame says development began four years ago and included cooperation from sources from the Vatican, U.S. bishops, the United Nations and the International Labour Organization.
---
Romeoville, Illinois – Lewis University inaugurated David Livingston as its 10th president following Mass on April 7. Livingston previously served as president of Lourdes University in Sylvania, Ohio, as well as various administrative roles at Mercyhurst University in Erie, Pennsylvania. He also taught religious studies in colleges throughout the country.
During his inaugural address, Livingston used four concepts to describe how people can navigate the changing world with a contemporary education: conversation, experiential learning, freedom and master learner.
"My wish for each of our students is that they leave feeling mastery in their subject area and confidence in their ability to make a living, while also knowing that they will enjoy the waves of change that lie ahead because Lewis prepared them with an unquenchable desire to learn," Livingston said. "I am so fortunate, for I have the privilege every day of listening in on this fascinating conversation."
Lewis University is a Lasallian school founded by the Chicago archdiocese in 1932.
---
Seattle – Seattle University's Center for Wisdom and World Affairs is hosting its inaugural Symposium on Homelessness April 25-27, where scholars from across North America and Asia will "explore the religious, spiritual and ethical dimensions in homelessness, in conversation with local faith leaders and other community partners, with the goal of generating more effective faith-based action."
The symposium will include presentations, forums and an interfaith liturgy.
During the symposium, the center will launch the Puget Sound Interfaith Network for Public Theology, which will integrate theological reflection with local faith-based activism with a goal to enhance "interfaith thinking about the religious, spiritual and ethical dimensions of homelessness." Scholars that are part of the network will present their research at a second symposium at Seattle University one year from now.
For more information about the symposium, contact Dean Forbes at forbesd@seattleu.edu or 206-296-6114.
[Shireen Korkzan is an NCR Bertelsen intern. Her email address is skorkzan@ncronline.org.]