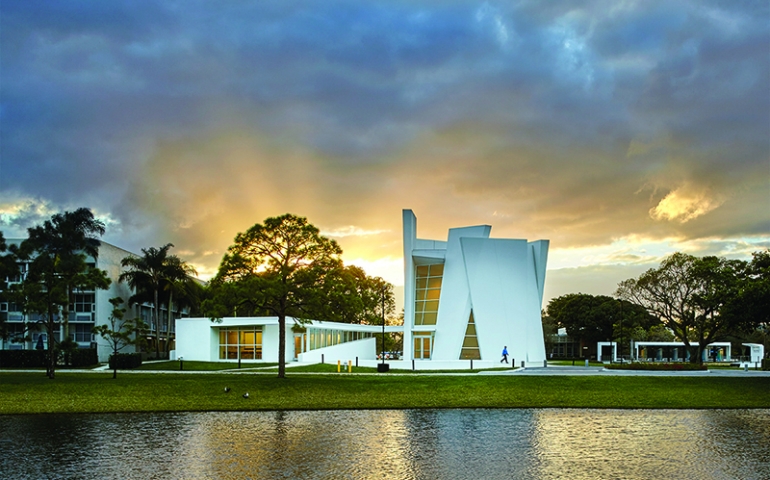 Snyder Sanctuary at Lynn University in Boca Raton, Florida. (Photo courtesy of Robert Benson)
New York — Students at Fordham University are suing the school over denying club status to a local chapter of Students for Justice in Palestine. Fordham denied an application to students interested in forming an official chapter in January, citing the group's "political goals" as contrary to the university's "mission and values," including support for the Boycott, Divestment, and Sanctions movement against Israel.
After Students for Justice in Palestine was given approval from the university's student government, Keith Eldredge, dean of students, vetoed the decision in December 2016. The application process formally started in November 2015.
The Center for Constitutional Rights, cooperating counsel Alan Levine, and Palestine Legal are representing the students. The lawsuit was filed April 26.
"As a Palestinian on campus, I was denied the opportunity to advocate for freedom for my people," said Ahmad Awad, a graduating Fordham student, in a Palestine Legal press release. "Instead of encouraging our human rights advocacy, the university sided with those trying to silence our voices."
Students for Justice in Palestine is an anti-Zionist student activist group that has more than 126 chapters at colleges across the United States, including Catholic institutions.
---
Washington — The Ignatian Solidarity Network will honor Patricia McGuire, president of Trinity Washington University, with the Robert M. Holstein Faith Doing Justice Award on May 10 at Gonzaga College High School.
The award honors a person "who has demonstrated a significant commitment to leadership for social justice grounded in the spirituality of St. Ignatius of Loyola, the founder of the Society of Jesus," according to a press release.
McGuire has been Trinity's president since 1989. At the time, the school was at risk for closing due to low enrollment. She is credited with rebuilding and expanding Trinity by reaching out to women of color as prospective students. Today, more than 2,000 students are enrolled at Trinity, 67 percent African American, 21 percent Hispanic, 6 percent white and 6 percent international.
McGuire is also the recipient of several other awards, including the Carnegie Award for Academic Leadership from the Carnegie Corporation and the Henry Paley Award from the National Association of Independent Colleges and Universities.
---
Catholic colleges join nationwide hunger strike protests against Wendy's
Three Catholic colleges have joined a rolling series of nationwide protests against fast-food chain Wendy's.
Dozens of students and alumni from John Carroll University, Georgetown University and University of Notre Dame have collaborated to participate in three sequential 48-hour fasts this week.
Since March, students from colleges across the country have been participating in hunger strikes to protest Wendy's in solidarity with the Coalition of Immokalee Workers, a cohort of farmworkers in Florida that has been lobbying to improve farmworkers' rights since 1993. Participating colleges in the solidarity fasts include Ohio State University, University of Michigan, New College of Florida, University of South Florida, University of Tampa, Eckerd College and Vanderbilt University.
---
Boca Raton, Florida — Despite a well-documented drop in enthusiasm for organized religion among young people, many are still looking for avenues to spirituality that value dialogue, understanding, empathy and authenticity.
Opened in 2015, Snyder Sanctuary at Lynn University in Boca Raton, Florida, is an architectural answer to facilitate this spiritual search, to help people of all backgrounds find common ground and to inspire them.
The sanctuary, designed by Newman Architects of New Haven, Connecticut, provides a space for sharing, a place for those from different faith traditions, values and cultures to meet and engage in dialogue, and to nurture the Lynn University community.
The design of the sanctuary is itself a meditation on how sacred architecture might bring people together, in community, instead of driving them apart.
---
Gwynedd Valley, Pennsylvania — Gwynedd Mercy University's sixth president will be Deanne Horner D'Emilio, who most recently served as provost and vice president for academic affairs at Carlow University in Pittsburgh.
She will replace Kathleen Owens August 1. Owens will step down July 31 after having served as president for 15 years.
According to a press release, D'Emilio will also serve as a management professor in Gwynedd Mercy's school of business and education.
D'Emilio has also served administrative roles at Mount Aloysius University in Cresson, Pennsylvania. Gwynedd Mercy, Carlow and Mount Aloysius are all Mercy-sponsored institutions of post-secondary education.
---

Mark Nemec with his family (Courtesy of Fairfield University)
Fairfield, Connecticut — Mark Nemec will serve as Fairfield University's ninth president starting July 1. He will also serve as a professor in the politics department in the college of arts and sciences.
According to a press release, Nemec is currently dean of the William B. and Catherine V. Graham School of Continuing Liberal and Professional Studies at the University of Chicago.
[Shireen Korkzan is an NCR Bertelsen intern. Her email address is skorkzan@ncronline.org.]​