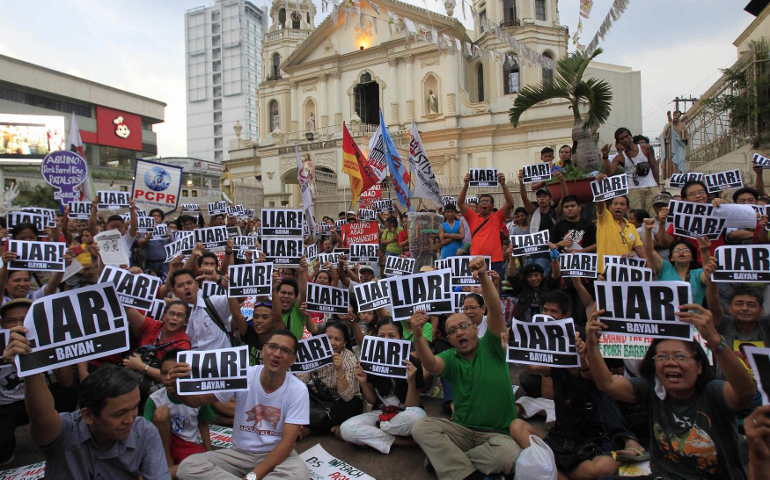 Protesters display placards in front of a Catholic church in Manila, the Philippines, as they watch President Benigno Aquino III address the nation in a live television broadcast July 14. (CNS/Reuters/Romeo Ranoco)
Manila, Philippines — July 22, 2014
A former president of the Catholic Bishops' Conference of the Philippines joined 27 other people in filing a complaint Monday at the House of Representatives seeking President Benigno Aquino III's impeachment over a funds disbursement program that the Supreme Court has ruled as unconstitutional.
Complainant Archbishop Oscar Cruz, a canon lawyer who retired in 2009 as archbishop of Lingayen-Dagupan, serves as judicial vicar of the National Appellate Matrimonial Tribunal and directs the bishops' conference's legal office.
However, bishops' conference president Archbishop Socrates Villegas said Cruz, Villegas' predecessor in Lingayen-Dagupan, is acting "alone, in the exercise of his discretion and as a result of his personal discernment" in filing the complaint.
Villegas in a statement issued shortly after the complaint was filed in the House of Representatives said that the 124-member bishops' conference as the "highest assembly of Catholic bishops in the Philippines neither supports the filing of any impeachment complaint against the President" nor will it "begrudge anyone, member of the clergy, or laity, the exercise of constitutionally and statutorily recognized rights."
Also among those who filed the complaint: Fr. Benjamin Alforque of the Missionaries of the Sacret Heart, a biblical theologian who co-chaired the Justice and Peace Commission of the Association of Major Religious Superiors and the ecumenical group Promotion of Church People's Response.
Complainants accuse Aquino of culpably violating the Constitution by usurping Congress' power of the purse and undermining the principles of separation of powers and the system of checks and balances. The complaint says the president betrayed the public trust by "exacerbating the corrupt pork barrel system, committing tyrannical abuse of his powers, violating his oath of office, and perpetrating multiple counts of technical malversation and corruption of public officials."
The latest impeachment complaint is the first valid complaint out of three filed because it bears the required endorsement of House representatives, reported Rappler, a Philippine-based social news network.
[N.J. Viehland is an NCR correspondent based in the Philippines.]