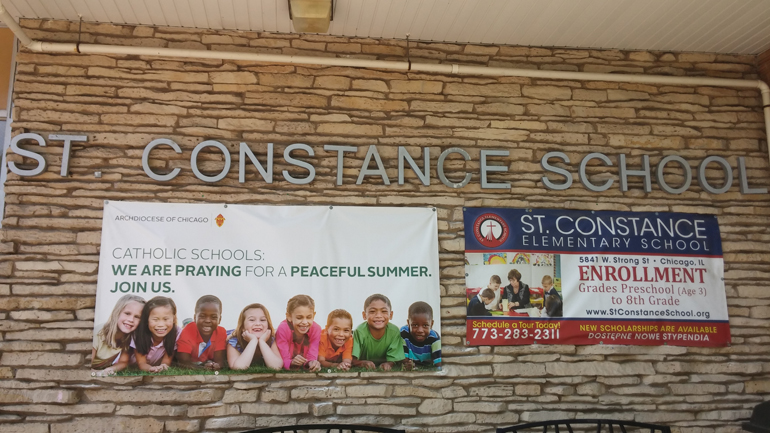 A banner seen outside of St. Constance School in Chicago to promote a peaceful summer after recent violence throughout the nation. (Chicago archdiocese)
Father's Day weekend was a grim reminder to Chicagoans and the nation that violence continues to erupt throughout the city after it marked its 300th murder this year, a reality that has ignited a peace effort among the city's Catholic community.
Chicago archdiocesan schools announced members of its church community would hang banners that read, "We are Praying for a Peaceful Summer. Join Us," around its buildings throughout the summer "in the wake of violence in Orlando and across the country."
"Our schools are unified under a Catholic mission, and are institutions that foster peace, mercy and understanding," said Catholic Schools Superintendent Jim Rigg. "Peace begins within each of us, particularly our children. We hope that all who see these banners take a moment to pray and reflect on how they can promote peace."
The banners will be displayed at the archdiocese's 229 schools as well as the archdiocese's Quiqley Pastoral Center in downtown Chicago.
The city recorded 13 deaths over a 60-hour period from Friday afternoon through Monday morning -- a total of 306 killed this year -- "by shooting, stabbing or other means," according to the Chicago Tribune.
A 3-year-old boy remains in critical condition after he was shot in the right shoulder Sunday evening by an unknown attacker while in a car seat, the site reported. People who were in the car with the boy at the time of the shooting took him to University of Chicago Medical Center where he was later transferred to Comer Children's Hospital.
Among the dead included a 16-year-old boy who was shot Friday evening in the passenger seat of a car driving through an alley on the Southwest side of Chicago. The Chicago Tribune reported that two males "came up and fired shots," at the car.
Around 1,800 people have been shot in Chicago this year -- more than 200 fatally -- the site reported, citing their own records.
Chicago Archbishop Blase Cupich offered the following statement Monday in response to the violence:
"My heart breaks for the victims of the dozens of shootings in Chicago this Father's Day weekend -- the most recent to be wounded or killed since the start of the new year. Thirteen people were shot and killed, and more than 40 others were injured in shootings -- one of the wounded was a three-year-old boy. Another young person, Salvador Suarez, was gunned down about 20 feet from the doors of Holy Cross Church in the Back of the Yards neighborhood during the 1 p.m. Mass. Suarez was killed with a high-powered semi-automatic assault rifle -- not unlike the weapon of war used to murder 49 people in Orlando.
"Our first responsibility in the midst of violence is to prevent it from destroying us," as the Dutch priest Henri Nouwen wrote. This terrible violence is destroying not only those killed and wounded, but all of us. If we want to survive as a community that treasures life, liberty and the pursuit of happiness, we must act now to put an end to this carnage. No doubt there are many causes, but we can start by getting these combat weapons off our streets. Not to act only gives in to the despairing falsehood that there is nothing we can do, which means that violence wins. This is a responsibility that belongs to all of us as citizens, especially to our elected officials. Let them hear our voices. Let us demand action today. Doing nothing is no longer an option."
[Traci Badalucco is an NCR Bertelsen intern. Her email address is tbadalucco@ncronline.org.]