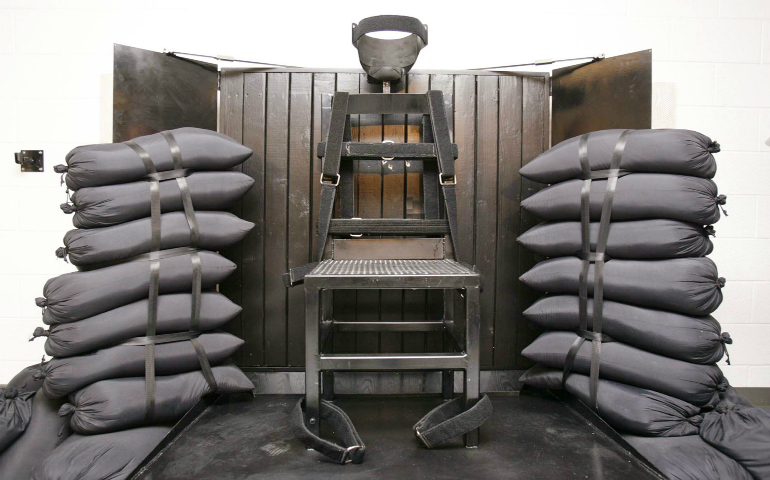 The execution chamber at the state prison in Draper, Utah, is seen after Ronnie Lee Gardner was executed by a firing squad in this June 18, 2010, file photo. (CNS photo/Trent Nelson-Salt Lake Tribune pool via Reuters)
Faith leaders and members of the anti-death penalty group Abolitionist Action Committee (AAC) will convene at the U.S. Supreme Court on Jan. 17 to mark the 40th anniversary of the first modern death penalty execution.
The demonstration, which is organized by the AAC, will start at 10 a.m. and will include the unveiling of a 30-foot long banner and 40 posters listing by year the names of all the men and women executed in the United States since 1977, according to a press release from the AAC.
"We are prayerfully calling on the new president and leaders in the few states where it is still used to stand down on the death penalty," Bill Pelke, spokesman for the ACC, said in the press release.
The demonstration marks 40 years since Utah executed Gary Gilmore, the first execution after the U.S. Supreme Court upheld the death penalty in Gregg v. Georgia — a ruling that signaled the start of the new death penalty law in the U.S.
According to the press release there has been 1,442 executions since Gilmore's. The press release also states that there are five more executions scheduled for this month. Christopher Wilkins was executed in Texas on Jan. 11 and the execution of Ricky Javon Gray is scheduled for the following day, Jan. 18, in Virginia.
Dozens of faith-based and civil rights oriented organizations are expected to attend the demonstration, including the Catholic Mobilizing Network, Center for Action and Contemplation and PICO National Network. The press release states that arrests are expected as the organizations participate in "non-violent civil disobedience." The group, which has hosted the event every five years since 1997, has had 48 arrests associated with the event.
The AAC will also be hosting a program the day before at the Lutheran Church of the Reformation in Washington. The program, titled "Voices of Experience," will feature Derrick Jamison, who was exonerated after being on death row for 20 years, family members of murder victims and Randy Gardner. Gardner's brother was executed in Utah.
"I believed then, and I still believe now, that the death penalty is morally wrong. I never condoned what my brother did, but when the state executes someone, they create yet another family that is damaged and grieving. We don't have to kill to be safe from dangerous criminals and hold them accountable. It is time to abolish the death penalty," Gardner said in the statement.