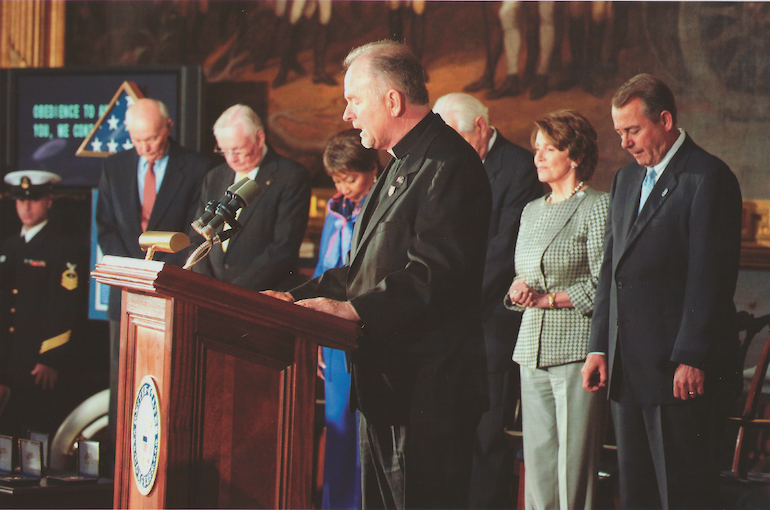 Jesuit Fr. Pat Conroy gives the Apollo 11 invocation.
There's much on Congress' plate for when they resume Monday: dealing with the Islamic State, the immigration issue, the bombing of Iraq and the War Powers Act implications are just some of the issues. But before these conversations begin, Jesuit Fr. Patrick Conroy will invoke a prayer on the House floor -- one that's very much needed, don't you think?
Pat's position as chaplain to the House of Representatives is incredibly unique (and often misunderstood), but the path that led him there is even more intriguing.
"I do not understand the mystery of grace -- only that it meets us where we are and does not leave us where it found us." This Anne Lamott quote sums up Pat's story, one with the unmistakable imprint of grace, an imprint we can find on all of our lives if we look hard enough. Pat's journey reminds me that no matter how well we think we understand our life's direction, God could step in any minute with a plot twist. [1]
Starting in childhood, Pat felt a passion for politics and dreamed of one day becoming a U.S. senator. Personally, I never caught this bug. As a novice, I worked at the McKenna Center, steps away from the Capitol. The energy of the city was palpable, but politics seemed too messy for my tastes. Besides, I already had my eyes set on L.A., a city far more glamorous than D.C.
Anyway, Pat followed the political path, eventually entering Gonzaga University School of Law. But after his first year, he felt God calling him to join the Jesuits. The call was so strong that he was certain he would abandon law and politics altogether.
"I had a feeling life was about something else," he told us.
Alas, part of being a Jesuit means that we do what our superiors and provincial (Jesuit speak for boss) tell us to do. So when Pat entered the Jesuits, his superiors thought it best to send him right back to Gonzaga to finish his law degree. He became a lawyer, representing Native Americans in the Pacific Northwest, and later advocating for Salvadoran refugees. But after a few years, he felt like something was missing in his work and that perhaps law just wasn't for him.
Assuming those D.C. dreams of his youth were misguided and destined to remain unfulfilled, he happily focused his energy on working with students: as a teacher, coach, and campus minister at Jesuit high schools and colleges. Politics, however, remained in the back of his mind -- though more as an annoyance than something life-giving.
"I found when I was praying, I was actually asking God for serenity about politics. Politics didn't give me peace. I felt like I would get too heated about what was happening politically in the world," he said.
It was around the time of these prayers in 2011 that Pat's provincial asked him to apply to the open position for chaplain to the House of Representatives -- a request that came as a complete surprise.
"It didn't add up! I was a high school teacher and a softball coach at the time. That was my resume! But I went to the interview, not out of ambition, but because my provincial asked me to," he said.
After being selected as the first Jesuit chaplain to the House (though not the first Jesuit in congress [2]), he recalled the irony of his recent prayers: "I had asked God for serenity about politics. So where does God put me? The one place in the United States of America I have to let go of my politics."
Indeed, Pat's role is distinctly neutral in an environment where neutrality doesn't exist.
"I get to handle the human being conversations, not the political conversations," he said. "It's an extraordinary opportunity."
In hindsight, Pat says the years he spent working as a teacher, campus minister and coach prepared him for his role today. At Jesuit high schools and colleges, he always made a point of eating with students in the dining hall to be a visible available resource. Today, he views the House floor as the student dining hall equivalent, frequenting it as much as he can. He also participates in the congressional softball and baseball games and uses the representatives' gym. "These are ways for me to be authentically myself, but also to be present to [the representatives]."
With so much cynicism surrounding the perception of American politics today, Pat's really the only person in an official capacity that the representatives can talk to without having to worry about, well, being backstabbed, manipulated, or any of the other tactics "House of Cards" [3] tells us that politicians utilize.
"The public face of politics is not kind and gentle," he said. "But underneath, these people are human beings and it's a privilege to be a sounding board and sometimes ask a question that might help them to see what they're discerning in a different light."
I'm certain Pat is skilled at this kind of discernment work, having done so much of it in his own life. His journey, like all of ours, has had its joys, sorrows, twists, turns and surprises. But it's a reminder for us to stay open and to welcome the possibility of God improving upon our own well-crafted plans. Only in that openness can we get closer to our calling(s), the place Frederick Buechner says, "your deep gladness and the world's deep hunger intersect."
"I always thought I was a happy person. But my close friends say to me, 'You seem so happy now!' The young guy who wanted to be a senator but ended up a high school teacher is now the chaplain to Congress," he said with a look of giddy disbelief. "God didn't forget my bucket list. I did."
Don't miss our video interview with Fr. Pat Conroy, and his moving story of first meeting Congressman John Lewis, leader of the march from Selma to Montgomery, Ala.
_____________________________________________________________________
[1] Don't mind my L.A. vernacular...
[2] Jesuit Fr. Robert Drinan spent five terms as the Massachusetts representative until the Vatican ruled that priests could not hold legislative positions in 1981.
[3] Jesuit trivia: Jesuit Fr. Bill Cain wrote the Season 2, Episode 3 of "House of Cards."