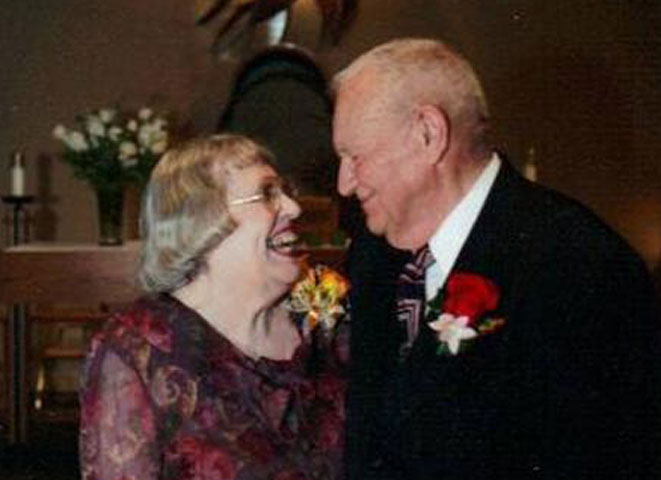 Mary Agnes and Bob Trauscht
Editor's note: Introducing NCRonline's blog series "Reader's Retrospective": A special project that commemorates NCR's 50th anniversary by telling the stories of readers who have been faithfully subscribing to the National Catholic Reporter since its beginning. ​Read about the project's origins here.​​​​​​
---
Mary Agnes Trauscht grew up in a working-class, Irish-Catholic neighborhood in Chicago; her future husband, Bob, was raised in an equally devout Catholic family only a few miles away. They met in 1946 while attending adjoining Catholic colleges in Winona, Minn.
After marrying in 1951, the couple joined a new Chicago-area parish, St. John Fisher, and became involved with its Christian Family Movement (CFM) group.

Eventually involving their five children, the family visited with members of then-segregated black Catholic parishes, donated clothing to St. Labre Indian School in Montana, and invited students from non-Christian backgrounds over for dinner, as a part of a decadelong CFM experience that Mary Agnes calls a "centerpiece" of their lives.

Because such lay-initiated activities were seldom covered by the local Catholic press at that time, according to Mary Agnes, the National Catholic Reporter became a valued resource for Catholics committed to community-oriented change. They appreciated stories "on the church and the pill and the scoop on the Birth Control Commission. … Columnists John Cogley, Bob McClory and Tim Unsworth … gave a Chicago touch that was always appreciated."

Later, the couple coordinated the RCIA (Rite of Christian Initiation of Adults) ministry at St. Theresa, a church located in a Chicago-area suburb that they would attend for the next 45 years. Mary Agnes also edited the church's bulletin, both Mary Agnes and Bob served as eucharistic ministers as they had at St. John Fisher Parish, and Bob served as a lector. Over the years, they also welcomed 11 grandchildren and three great-grandchildren into the family.

Deciding to retire to their "beloved Minnesota" in 2014, Bob unexpectedly died while preparing to move, and so Mary Agnes now lives on her own at Catholic-run Madonna Towers in Rochester, Minn. Even so, she doesn't feel alone; after meeting her neighbor across the hall and striking up a conversation "about something going on in the church," she discovered that they are both NCR subscribers.
A version of this story appeared in the Nov 11-24, 2015 print issue under the headline: NCR a reader's retrospective: Mary Agnes and Bob Trauscht.