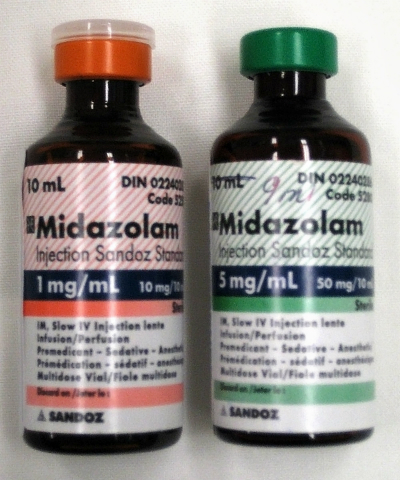 Vials of Injectable midazolam (Wikimedia Commons/James Heilman, MD)
A federal judge in Ohio ruled on Jan. 26 that midazolam — the first injection drug used in the state's three-injection drug protocol for executions — violates death row inmates' Eighth Amendment right against cruel and unusual punishment. The ruling comes a week after death row inmate Ricky Gray was executed in Virginia using the same protocol.
After a five-day evidentiary hearing, Magistrate Judge Michael Merz of the U.S. District Court for the Southern District of Ohio granted a stay of execution for three upcoming cases: Ronald Phillips, scheduled for execution on Feb. 15; Gary Otte, scheduled for execution on March 15; and Raymond Tibbetts, scheduled for execution on April 12.
The ruling comes three years after the execution of Dennis McGuire on Jan. 16, 2014. McGuire was the first inmate in Ohio to be killed with the state's then-new drug protocol of midazolam and hydromorphone.
Ohio Department of Rehabilitation and Correction Director Gary Mohr, who was present during McGuire's execution, testified during the Jan. 26 evidentiary hearing. He spoke specifically about the unusual effects he witnessed during McGuire's execution.
"I saw the stomach first. I saw what looked like a knot in his stomach ... and his stomach was moving. I had not seen that before," Mohr said. "And then I saw his mouth open, and I heard audible sounds. I don't know whether it was like a snore or a snort."
"Typically, after five minutes [from the time the drugs begin to flow], things calm down in an execution in my experience," Alan Johnson, a reporter for The Columbus Dispatch, said during his testimony at the evidentiary hearing. "But after the end of five minutes, roughly, inmate McGuire began coughing, gasping, choking in a way that I had not seen before at any execution. And I remember it because I relived it several times. Frankly, that went on for 12 to 13 minutes."
The court case also acknowledged the deaths of several other death row inmates who were executed using midazolam — Ronald Smith in Alabama, Paul Howell in Florida, Joseph Wood in Arizona, Christopher Brooks in Alabama, Clayton Lockett in Oklahoma, and, most recently, Gray in Virginia. Gray had a pending case against the usage of midazolam leading up to his execution. A stay of execution was denied by the U.S. Supreme Court hours before he was ultimately executed.
Midazolam was also central to another death row inmate's court case that made its way to the U.S. Supreme Court. In June 2015, the court ruled 5-4 against Richard Glossip's assertion that use of the drug was unconstitutional. Glossip is still sitting on death row.
"We are grateful for the carefully considered ruling of Judge Merz and the time he took to evaluate these important issues related to lethal injection in Ohio," Allen Bohnert, an attorney for one of the plaintiffs, said in a press release statement.
[Kristen Whitney Daniels is an NCR Bertelsen intern. Her email address is kdaniels@ncronline.org.]
A version of this story appeared in the May 5-18, 2017 print issue under the headline: Ohio scrutinizes execution drug.