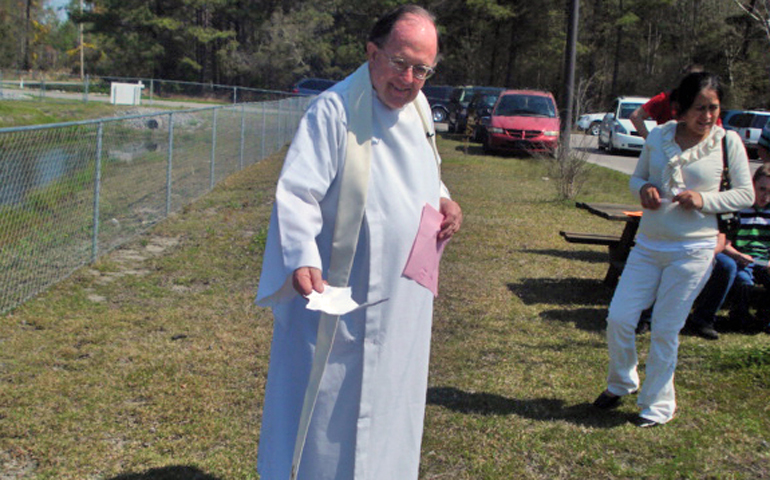 Fr. Rick LaBrecque during an all-parish barbecue and bilingual prayer service in 2005 in Conway, S.C. (Fr. Rick LaBrecque)
Fr. Rick LaBrecque, 75, who retired in September 2011, spent 17 years of his career as pastor at St. James Catholic Church in Conway, S.C. He decided to develop a study this year during a semester-long sabbatical in Collegeville, Minn., that involved his eight siblings' children, who range in age from mid-20s to early 40s.
Of the 27 to whom he sent the questionnaire, 24 responded -- all anonymously. LaBrecque says that all 27 were baptized and raised in the Catholic church. Today, 20 still self-identify as Catholic, four don't have any religious affiliation, and three said they no longer believe in God.
The two-part survey included questions such as, "What would you like to say to Catholic leadership about religious affiliation and practice?" and "What would you say about your experience of the Mass?"
LaBrecque, who comes from a large, East Coast Catholic family, shared his study with NCR. He sat down with us June 9 in Kansas City to speak about his findings. The interview has been edited for length and clarity.
NCR: Why did you decide to do this study?
LaBrecque: I had spent 17 years as pastor of the same church, so I had seen a whole generation grow up. And my personal experience seemed to mirror what I was hearing from others -- that our Catholic young people, after confirmation, and certainly as young adults, just seemed less and less connected to the church.
So I thought it would be interesting to me and maybe useful to take a sampling of people in that age bracket and do a survey to see what has been their faith journey since they were born into a strong Catholic family. And it seemed particularly useful to use my own family since I happen to have a large sampling [that] would have come from the same typical Catholic background.
Some research suggests that when kids go to college, they tend to break away from the church and explore on their own, then come back to the church when they are ready to get married and start a family. Have you seen that trend in your own experience?
I saw it but I wouldn't say it was universal. What I saw that really troubled me was that some of them coming back to the church wanting to be married in the church [ran] into obstacles with some of the church's rules. In my own family, three instances of nieces or nephews ended up having their wedding in a non-Catholic service, because all they wanted was to be able to have it in a spot that was special to them -- not in a parish church.
But I did find, on the other hand, that if [parishes] have a good baptismal preparation that takes into account the reality of the people that are coming, it can be a teachable moment and some have stayed with the church after that.
What is today's reality?
In my opinion, today's reality for the generation we are talking about, is that it's a very secular world for one thing. And church or religion or even faith have been reduced to a very private sort of thing. And the whole idea of being part of a congregation or a community doesn't seem to resonate with the individualistic lifestyle.
In my survey, and I think this is relevant to what you're asking, when I asked, 'When you do go to church, why or what draws you?' I was struck by the answers that it was things like 'It's a nice thing to do as a family,' or 'Fellowship,' or 'Good homilies' or 'Wonderful music.' Nobody said the Eucharist. Nobody said to worship God. Nobody said to be together with my community.
It seems like those of us [from] my generation were raised in an environment where the church was just part of our DNA. And they are being raised in a world where it's peripheral. And if it's something that attracts you, fine. If not, [fine]. We also used to feel we'd go to hell if we didn't go to Sunday Mass, and now everybody knows that's not true. Some of the reasons we were maybe so faithful in the past weren't all that good but at least it got us there.

Fr. Rick LaBrecque's 2016 survey of his nieces and nephews garnered a variety of responses on areas where they hope the Catholic church can change.
What do you think the solution is to bring young people like your nieces and nephews back to the church?
I don't really have an answer that I'm sure of, but I can think of a few things that might help. One is, I don't think we really involve young people in the life of the church in a meaningful enough way. We tend to group together the kids and the teens that will do stuff together. But even some simple things like being in ministries at Sunday mass. Once they outgrow being altar servers, there is nothing for them. You can't make up fake things for them to do, but that they [should] feel more connected in a way that means something to them and that can help them to keep maturing in their sense of faith. We let them go off into the world. And one thing I found in the survey that was interesting, some of them had gone to Catholic school quite a bit even right through university, and some of them little or none, [but] the results were about the same. It wasn't like the ones that went to Catholic school seemed to have a firmer foundation and deeper commitment.
From most of the responses I read, it was clear that being inclusive is very important to your nieces and nephews. And so many of them touched on LGBT issues. Why do you think that is?
And none of them to my knowledge -- one maybe -- [are LGBT]. They just see [LGBT issues] as a human right or a love of God or whatever reality that the church is taking a hard and fast stand on. They don't see how they can agree with that. And I'm sure they all, in today's day and age, have friends that are LGBT and even probably Catholic friends or formerly Catholic friends.
I think they just have a broader awareness of the fact that there are many different types of people in the world and we are all God's children. In a different society and a different age, it may have been more difficult to see that. But with the knowledge we have today and psychology, it becomes an issue of discrimination. They almost are suggesting, I don't know if anybody said it specifically, that taking these kinds of stands is literally going against Catholic values that we have been taught about justice, about equality, about [how] God loves everyone.

Fr. Rick LaBrecque's 2016 survey of his nieces and nephews garnered a variety of responses on areas where they hope the Catholic church can change.
Was there a theme to your results?
I don't know if this was a theme, but it was a common thread that all of them, no matter where they stood now in relation to faith, church, [or] God, still were living and upholding the values that their parents and grandparents had taught based on Catholic faith. But for them, they don't see that connection. But they see they want to live the values that their families did.
Have you seen any examples of a parish that's done a great job attracting younger people?
Just recently I had to go to San Antonio. I have a niece who is a lawyer and her husband is a doctor and they have three little boys. Their second son was having his first Communion and I was invited to go. So I went down and went to their parish. I walked into that place and it was almost like there was an atmosphere that 'This is a good place.' People greeted me at the door, but even so, you walked inside and you felt, 'I feel at home here.'
[The pastor] was the last person to leave church. He was there for anybody who wanted to chat or had some important question. You didn't feel there was any rush to get out or anything. I left there and I said to my niece, 'If anyone were to ask me where can I go and see a parish that if the promise of Vatican II has been completely realized, I'd send them to St. Francis of Assisi in San Antonio.' It was just an overwhelmingly and powerful experience.
Does it make you sad thinking about your nieces' and nephews' responses?
As I said at the end of my report, the positive side, I feel very gratified that they are such good people and maintaining the values and what not [that] our family has always stood for as Catholics. But I feel sad that they've lost the connection between that and the faith and the sacraments and the shared community life as God's people seems to be lost to them. And I feel sad for the church that such good people who can make so much of a difference, are living maybe partially marginalized but also living on the margins.
Do you think that getting some of these younger adults back to the church is going to require changing church doctrine? Or do you think there's a simpler answer?
I don't think there is a simple answer. First of all, I think it's going to require church pastoral practices in many ways like I already hinted. More family-friendly [when you schedule things] and your requirements, etc. But also I think that there needs to be more flexibility in some of the doctrines that are really not base doctrines, but almost like long-standing traditions perhaps flowing from a base doctrine but not necessarily the only conclusion you can draw.
Many people consider Pope Francis to be more progressive. But there are certain issues he's taken clear conservative stands on. For example, he's made it very clear that gay marriage would not be recognized in the Catholic church.
It's very hard from the Scriptures to come up with a definition of marriage as being other than we've always seen it. But you can certainly say the Scripture doesn't say all the individual rules and interpretations of what's sinful and what's not [would] exclude gay people from having any kind of a loving companionship.
If Pope Francis came out today and said, 'I don't see anything wrong with gay marriage,' the rug would be pulled out from under him. You can only do so much at one time. This is a real crisis for the people who sincerely try to follow what they were being told, [like practicing] natural family planning [and having] as many children as you end up with.
Then there's the rest of the world. He has to take into account Africa. Where are they at? South America, [too]. So I think it's a temptation for Americans to see everything in the light of their own [reality], and for a worldwide church, it's not that easy. And I do really think his heart is in the right place and his head is in the right place. And if he's given enough time, I think some of these things will come.
What do you hope to gain from this study?
I think I gained an insight into my own family and into how I think it's representative. I would hope that some of this gets a wider audience. It might have some positive impact on those who are working with young families and young adults in the church today. To perhaps get some thoughts on, for starters, that we really have to make [that generation a priority] before they're all gone.
[Traci Badalucco is an NCR Bertelsen intern. Her email address is tbadalucco@ncronline.org.]