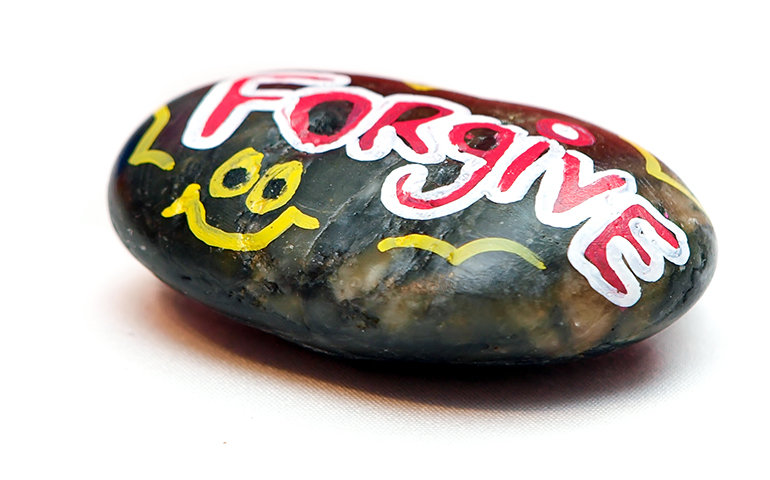 A rock that serves as a talking piece, painted by one of the youth of Precious Blood Ministry of Reconciliation (Juan Acuña)
Editor's note: "Reconciliation in Chicago" is NCRonline's newest blog series, a weekly blog from the Precious Blood Ministry of Reconciliation, a ministry of the Missionaries of the Precious Blood based in Chicago's Back of the Yards neighborhood. Each post will feature hopeful reflections from the ministry's staff and volunteers, as they share their stories about working with youth and families affected by violence and incarceration.
"Reconciliation in Chicago" is published Mondays at the feature series page Reconciliation in Chicago.
---
Being in a ministry that seeks reconciliation and as a student of Fr. Bob Schreiter, a fellow Missionary of the Precious Blood and theologian at Catholic Theological Union in Chicago, I have wrestled often with the question of forgiveness. As a kid, when I or one of my brothers or sisters got into a fight, my mom would often intervene and demand that we stand face to face and apologize to one another. She would then demand that we forgave each other. With her as the supreme negotiator, it seemed simple enough. I haven't found it quite that simple as an adult.
In sacred Scripture we hear the call to forgiveness throughout the Gospels: "Lord, if another member of the church sins against me, how often should I forgive him? As many as seven times?" (Matthew 18:21). Peter receives the answer, "Not seven times, but, I tell you, seventy-seven times" (Matthew 18:22). We hear the teaching of forgiveness when the disciples ask about praying. Jesus says that in their prayer they should ask, "Forgive us our debts, as we also have forgiven our debtors" (Matthew 6:12). And Jesus adds, "For if you forgive others trespasses, your heavenly Father will also forgive you; but if you do not forgive others, neither will your Father forgive your trespasses" (Matthew 6:14-15).
We witness Jesus in the Gospels offering forgiveness often. He grants forgiveness to the paralytic man (Matthew 9:6), to the woman caught in adultery (John 8:1-11), and asks his Father in heaven to forgive those who nailed him to the cross (Luke 23:34). Forgiveness is central to who we are and how we are to live as Christians. The forgiveness offered so generously by our God is to be shared with others.
Interest in forgiveness is not limited to a theological discussion. Psychologists have written much on the power of forgiveness in recovery -- from the unimaginable violence of the Holocaust and the horrors of war to the violence experienced in our personal lives. Forgiveness and reconciliation have become central in the work of peace organizations and those, such as John Paul Lederach, the University of Notre Dame's peace studies professor and conflict negotiator, who have dedicated their lives to peacebuilding. Nelson Mandela taught us the power of forgiveness and reconciliation in the wake of so much violence and hatred in South Africa.
What, then, do we mean by forgiveness? The late Boston College theologian Fr. Raymond Helmick, S.J., in a chapter titled "What is Forgiveness?" (in: Healing God's People by Fr. Thomas A. Kane, CSP, Paulist Press, 2012) said that forgiveness can only be when I accept the human dignity of a person as worthy of love. It doesn't mean that you ignore or deny the harm done, but that the person is not defined solely on the wrong he or she has committed. Seeing the person who has done the harm as more than the act itself is critical to being able to forgive.
On more than one occasion, I have witnessed families being torn apart after losing a child to homicide. After the death of their son, Patricia* and her family were consumed with anger and guilt. That anger and hate was mostly directed outward toward the one who had killed their 17-year-old son, but they also carried a guilt that was directed inward. They held themselves responsible for living in a neighborhood where their son was forced to cross several gang lines on his way to school. The anger and guilt began to smother the love they had as family.
We are reminded by psychologists of the toll anger and hate have on the human person. The violence and trauma become embedded in our bodies, wreaking havoc to our health and our view of the world. Children are particularly vulnerable.
According to noted psychologist Judith Herman, traumatic events call into question basic human relationships. They breach the attachments of family, friendship, love and community. They undermine the belief systems that give meaning to human experience.
Just as violence is a violation of relationships, so, too, recovery happens in relationships. Part of our work with individuals and families who have suffered from violence is to create a place where their feelings -- even hate and anger -- can be brought into the light, where the pain can be expressed without fear of judgment. It became a place where Patricia was able to realize that she was not alone. As she shared her anger and what it was doing to her family, others shared their stories as well.
More than two years later, Patricia still has tears in her eyes as she speaks of her son, Carlos.* But today she is no longer defined merely by his death but has begun to discover a purpose and a new meaning to the pain she carries. She is discovering that in the midst of the pain, there is emerging a new person.
Patricia is beginning to talk more openly about the one who killed her son. She is beginning to see not only the horrific act of murder but someone who, in spite of his crime, is a human person. She is beginning to be able to see beyond the sin to a young man who, too, has a family and a mother — a mother who has lost her child as well.
When we are able to see beyond the sinful act, to a person worthy of love, we make room for the possibility of forgiveness. We need only to recall the life of Nelson Mandela who, perhaps more than anyone in modern times, demonstrated the power of forgiveness. His willingness to see beyond the sin allowed South Africa to begin to move away from the destructive path of apartheid to one in which reconciliation became imaginable. Poet Maya Angelou remarked of Mandela that his willingness to forgive allowed him truly to be free.
Of course there is a risk to being open to forgiveness. It is not an easy option, nor one that can be demanded of anyone other than oneself. But it is a path that leads to freedom, and, ultimately, it is a gift from God.
*Real names changed for privacy reasons.
[Precious Blood Fr. David Kelly is executive director of Precious Blood Ministry of Reconciliation.]
A version of this blog previously appeared on the website of Precious Blood Ministry of Reconciliation. NCRonline presents the blog in collaboration with Precious Blood Ministry of Reconciliation.