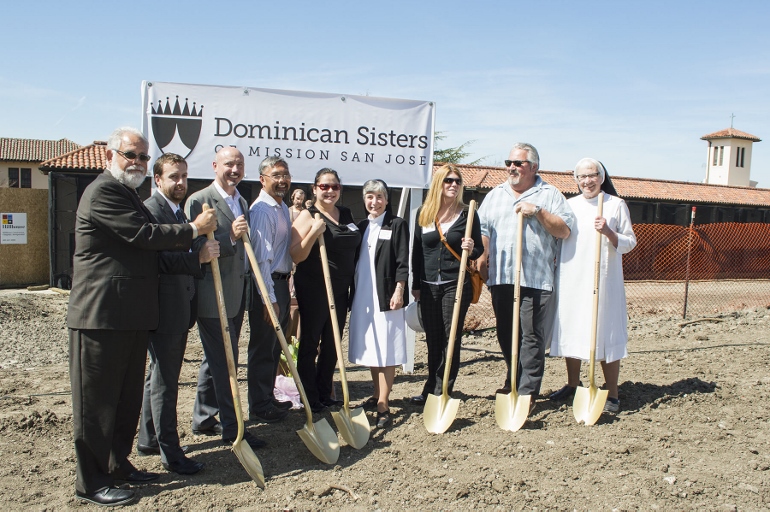 Architects and project engineers turned the earth together March 19 with sisters: pictured from left to right are Sandy Barker and Daren Wagoner of Barker & Wagoner Assoc.; Ken Huesby and Bart Locsin of Hillhouse Construction; Gabriela Silva, Barker & Wagoner; Congregational Prioress Dominican Sr. Gloria Marie Jones; Tina Irvin and John Kellerby, Hillhouse; and Motherhouse Administrator Dominican Sr. Rose Marie Hennessy. (Courtesy of Dominican Sisters of Mission San Jose)
Something new to address aging is taking shape in northern California. Looking toward an innovative model of healthy age-in-place and community hospitality, the Dominican Sisters of Mission San Jose broke ground this week in Fremont, Calif., on a new residence for themselves. This opens the way for their existing Siena building to be re-purposed as a dementia-specific community health and wellness center for the people of Fremont.
The $20 million project includes a 36-unit residence for active retired sisters and a community wellness center that will provide services not only to them but also to the wider community. Additionally the existing Siena building will be renovated to become a day-time memory care unit operated by Alzheimer's Services of the East Bay. The ASEB program will serve adults, veterans and low-income families living in the area. It is expected to open this fall.
[Colleen Dunne is an NCR Bertelsen intern. Her email address is cdunne@ncronline.org, or follow her on Twitter @coldun14.]
Editor's Note: The National Catholic Reporter is embarking on a groundbreaking project to give greater voice to sisters around the world. To learn more about this project or sign up for email alerts visit, http://ncronline.org/sisters.