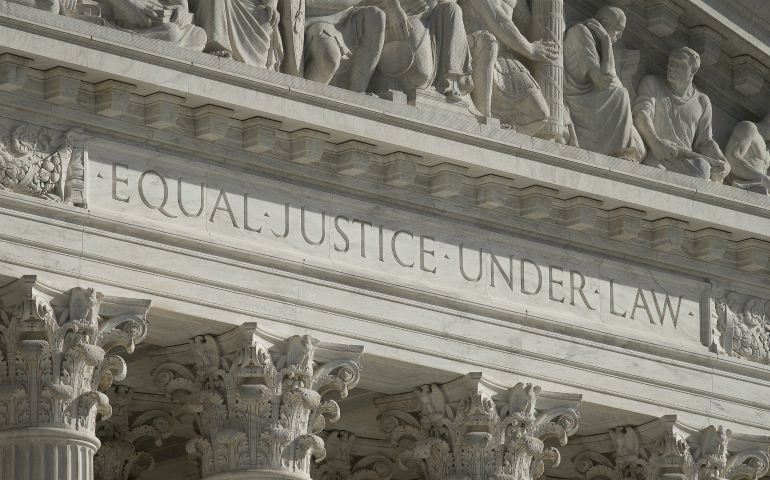 The U.S. Supreme Court in Washington is seen Jan. 31. (CNS photo/Tyler Orsburn)
Editor's Note: Arkansas planned to execute eight people between April 17 and April 27, an unprecedented number of executions by one state in so few days. This set off a flurry of legal proceedings and special appeals, some of which worked in the inmates' favor. Due to the fluid nature of the situation, NCR will be providing a daily round up of the top news.
For previous coverage and background of the situation in Arkansas: Eight Arkansas executions, scheduled for late April, have opposition mobilizing (April 4, 2017); Yesterday's update (April 20, 2017)
---
Arkansas' first execution since 2005
Ledell Lee's execution began roughly 15 minutes before his midnight death warrant expired. He was pronounced dead at 11:56 p.m. He is the first inmate executed in Arkansas in over a decade.
Lee was convicted of killing Debra Reese in 1993. He maintained his innocence throughout.
Lee declined a final meal, instead asking for Communion. He did not make a final statement before his execution.
The execution concluded another day with last minute rulings and appeals to the state and U.S. Supreme Court.
Earlier that day, a county judge ruled to stay the remaining Arkansas executions until a hearing could be held about vecuronium bromide — the second drug in the state's lethal injection protocol. McKesson Corp., the company that sold the state their supply of the drug, claims the state did not inform them that the drugs were to be used in executions.
The state petitioned the Arkansas Supreme Court to stay the county court's ruling. Two other pharmaceutical companies who believe they are the manufacturers of the other drugs in the protocol, asked the court to uphold the earlier ruling instead. The Arkansas Supreme Court ruled in favor of the state, allowing executions to proceed.
The Arkansas Supreme Court also refused to vacate the stay of execution that was ordered for inmate Stacey Johnson. Johnson, who was also scheduled for execution April 20, was granted a stay of execution so that DNA evidence could be tested.
However, similar suits filed by Lee asking for additional DNA testing were denied.
Multiple suits made their way to the U.S. Supreme Court late last night, giving Justice Neil Gorsuch one of his first big rulings. According to Bloomberg, each of the court's four liberal justices voted in favor of at least one of Lee's requests for a stay of execution. The liberal justice's decisions were outweighed by Gorsuch and the four other conservative judges, who voted against an injunction to halt the executions. The U.S. Supreme Court's final ruling came after 10:30 p.m. and cleared the way for Lee's execution.
Justice Stephen Breyer questioned in his dissent the state's decision to execute eight people in the unprecedented time period of 11 days.
"Why these eight? Why now? The apparent reason has nothing to do with the heinousness of their crimes or with the presence (or absence) of mitigating behavior. … Apparently the reason the State decided to proceed with these eight executions is that the 'use by' date of the State's execution drug is about to expire," Breyer wrote.
One of Lee's lawyers from the Innocence Project — which helps to exonerate inmates using DNA evidence — released a statement following his execution. Nina Morrison, a senior staff attorney, said that Lee maintained his innocence since the day he was arrested until 24 years later when he was executed.
"During that time, hundreds of innocent people have been freed from our nation's prisons and death rows by DNA evidence," Morrison said in a written statement. "It is hard to understand how the same government that uses DNA to prosecute crimes every day could execute Mr. Lee without allowing him a simple DNA test. … While reasonable people can disagree on whether death is an appropriate form of punishment, no one should be executed when there is a possibility that person is innocent."
Ethical questions raised
Yesterday it was revealed that the Arkansas Department of Corrections would not allow members of the media to bring a paper or pencil into the viewing room. According to KUAR, Little Rock Arkansas' NPR affiliate, Arkansas Department of Corrections' spokesman Soloman Graves said he didn't think this was a problem. The decision was later reversed, with media witnesses being handed pens and paper.
Questions around Lee's legal counsel were also raised. According to Slate, Lee presented evidence that the judge on his case was having an affair with the assistant prosecutor. A report by the Fair Punishment Project also reports multiple examples of ineffective counsel throughout the 24 years of legal cases.
Next scheduled executions
It is expected that there will be last minute legal filings to try to halt the next scheduled executions. Jack Jones and Marcel Williams are scheduled for execution on April 24 and Kenneth Williams is scheduled for execution April 27.
Jones' sister recently gave an interview where she talked at length about her brother's mental state and how the state of Arkansas will not allow her to be present for his execution.
[Kristen Whitney Daniels is an NCR Bertelsen intern. Her email address is kdaniels@ncronline.org. Follow her on Twitter: @KWhitneyDaniels.]