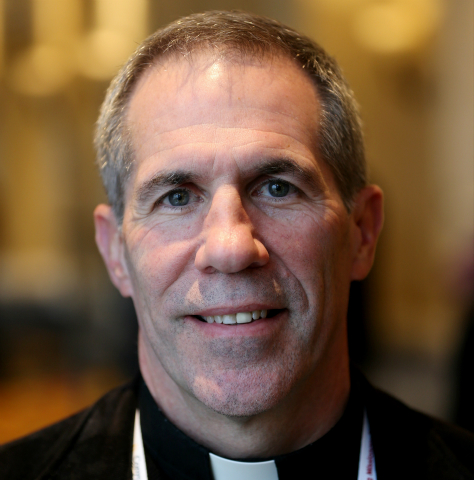 Archbishop Michael Byrnes on Nov. 14 during the U.S. bishops' fall general assembly in Baltimore (CNS/Bob Roller)
A Guam archbishop accused of sexual abuse is now undergoing a Vatican canonical trial, the U.S. prelate Pope Francis appointed to take over leadership of his archdiocese said Monday.
"The trial has started," said Agana Coadjutor Archbishop Michael Byrnes, who was appointed in October to take over daily duties from Archbishop Anthony Apuron.
"It's been initiated," Byrnes continued. "The argument has been exchanged and now it's kind of like in the second phase of investigation, examination."
Byrnes, who had previously served as an auxiliary bishop in Detroit, spoke to reporters Monday just hours after arriving in Guam to take up his new position. His remarks were reported at length by Pacific Daily News.
The Vatican's main spokesman, Greg Burke, did not respond Monday to a request for comment on what Byrnes said.
Byrnes said he was not sure of specifics, but is "pretty sure" the Vatican has set up a tribunal of three judges to oversee Apuron's trial.
The trial is believed to be the Vatican's first of a prelate accused of abuse. A similar trial was organized in 2015 for a Polish archbishop who had been accused of abuse, but the prelate died before the beginning of the proceedings.
Apuron, 70, has been accused of having inappropriate physical contact with at least five young boys in the 1960s and '70s. The allegations emerged in May when one of the boys, now 52, came forward, prompting others to do the same.
Apuron has denied the allegations, and Guam civil authorities have not charged him with any crimes.
Francis originally addressed the allegations against Apuron by appointing an apostolic administrator to step in and take away control of daily operations from the archbishop. The pope then appointed Byrnes as a coadjutor Oct. 31, granting him special faculties that essentially allow him to run the archdiocese in Apuron's place.
A coadjutor bishop is a prelate who is normally appointed by the pope to a diocese with the idea of taking over for the current diocesan leader when he dies or retires. Coadjutor bishops have right of succession, meaning they automatically become diocesan leaders should the previous bishop die or otherwise vacate his office.
Byrnes also said Monday that he had met with Apuron a few weeks ago at the U.S. bishops' annual meeting in Baltimore.
"He came for a visit to speak with me," said the coadjutor. "It was a very cordial, not real deep conversation, but just kind of exchanging our stories, just kind of getting to know each other."
[Joshua J. McElwee is NCR Vatican correspondent. His email address is jmcelwee@ncronline.org. Follow him on Twitter: @joshjmac.]