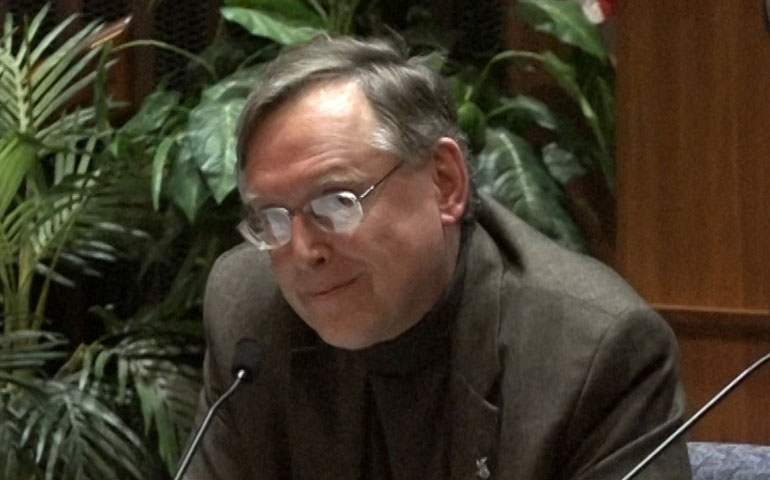 Reinhard Hütter (Photo courtesy of University of Notre Dame)
South Bend, Ind. — December 5, 2015
If accountants, lawyers, bankers or anyone else outside of the academy choose their words poorly, it could cost them their jobs. So what exactly is "academic freedom," and why do professors defend it so zealously?

In answer to the latter question, there are two main reasons, according to Hank Reichman, chair of the Committee on Academic Freedom and Tenure for the American Association of University Professors.

Since its founding a century ago and its 1915 Declaration of Principles on Academic Freedom and Academic Tenure, the association has argued that both public and private schools essentially work for the common good. To do that, professors "need the freedom to explore ideas in their research, teaching and their lives, free of institutional restraint beyond the restraints of their professional disciplines," Reichman said.

Contrary to popular belief, academic freedom isn't a get-out-of-jail-free card. Instead, it guarantees that professors can only be dismissed for cause, ascertained by a hearing of their peers.

So if a biology professor "goes off the deep end" and tells students there's no such thing as evolution, or genes don't exist, that professor will go before a committee, which could decide that behavior is unprofessional, Reichman said. But if a biologist goes in a new research direction that threatens "some of the old truisms of the field," that professor must be protected.
"The greatest discoveries in almost every field of knowledge," Reichman said, "come from people who take risks and are sometimes viewed as troublemakers or pariahs."
The second reason stems from America's lone status in the developed world, where its workers tend to be employed on an "at-will basis," meaning employers can fire them if they no longer want to keep them.
---
Related: Conference discusses modern challenges, threats to academic freedom
---
"Some of the public concern about academic freedom and tenure has often been 'Well, I don't have that kind of protection. If I mouthed off in public and said something really stupid … I'd be fired,' " said Reichman.

"I think the United States should be where the rest of the world is -- that you can't be fired at will, at the whim of your employer," he said.

Reinhard Hütter, professor of Christian theology at Duke Divinity School, distinguished between "negative" and "positive" (or "authentic") academic freedom. The former means that professors are protected from interference and manipulation.

However vital, that pales in comparison to "authentic" academic freedom, which is tied up in the idea of the university itself: the pursuit of truth, particularly theological truth.

"Compared to Catholic universities, secular universities, especially advanced research universities, are like orphaned children who do not know where they come from, nor where they are going," he said. "Only because Christ fully reveals human beings to themselves does divine revelation authorize authentic academic freedom and does the Catholic university display the very idea of a university."

To Michael Murphy, director of Catholic studies at Loyola University Chicago, academic freedom is the "linchpin of healthy human cultures," as well as the unrestricted and unimpeded search for truth.

Academic freedom, and its "Judeo-Christian humanist habits," allowed for the political and cultural freedom that Americans enjoy today, according to Murphy.

"However, few people -- both inside and outside of academe -- realize this and are not conscious of the profound connection," he said. "Few things are more precious than the free traffic and discussion of all thought."
[Menachem Wecker is co-author of the new book Consider No Evil: Two Faith Traditions and the Problem of Academic Freedom in Religious Higher Education.]
A version of this story appeared in the Dec 4-17, 2015 print issue under the headline: What is 'academic freedom'?.