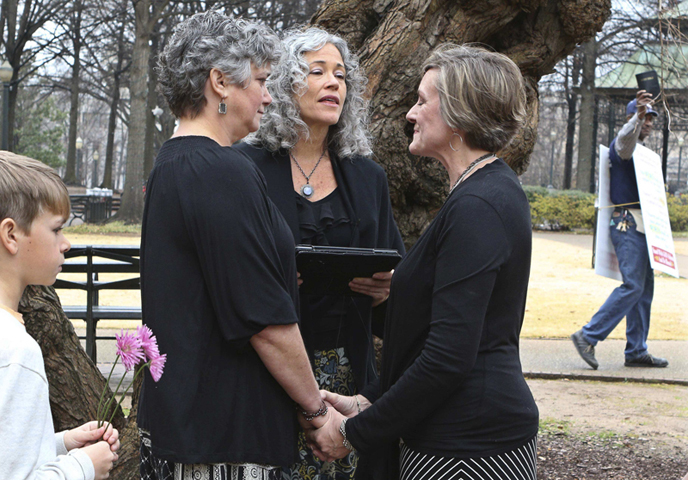 A protester waving a Bible walks past as two women named Donna and Tina get married in a park outside the Jefferson County Courthouse in Birmingham, Ala., on Feb. 9, 2015. (Reuters/Marvin Gentry)
This week, Chief Justice Roy Moore of the Alabama Supreme Court prohibited the issuing of marriage licenses to same-sex couples, despite the decision of the Supreme Court to legalize same-sex marriage in all of the 50 states.
We, who marched from Selma to Montgomery in 1965 to protest the denial of voting rights for blacks and have seen Congress and the Supreme Court whittle away some of the provisions of the Voting Rights Act, ought not oppose the civil rights of LGBT persons and marriage equality.
There is an inconsistency in our commitment to human rights for all if we deny the rights of same-gender-loving persons to marry. They may be trite, but I remind us of the words "None of us are free, until all of us are free."
Opponents of same-sex marriage claim the "tradition" of marriage between a man and a woman as a rationale for their opposition. So did those who resisted racial integration because of the "tradition" of racial segregation.
Faith-based opponents of same-sex marriage claim the Bible as their source for the opposition. So did faith-based opponents of racial integration.
I am beginning to understand why some of my colleagues are drawn to Ethical Culture and Humanism and view the Constitution as being more of a guide to inclusivity than is the Bible.
Many millennials are wondering why so many "people of the Book" resist the inclusion of all people as detailed by the Constitution, Bill of Rights and other founding documents.
They wonder if the Bible is "yesterday" and the Constitution is for today and tomorrow.
Black clergy recognize that the young people of the Black Lives Matter Movement, some of whom are gay and lesbian or gay-affirming, have raised some questions about replicating our approach and have some reservations about the authentic justice commitment of the church.
Why are we in religion so concerned about the "spread of secularism," when we are watering the seeds of a growing secularism in our exclusion of the rights of same-sex couples to marry, and our resistance to immigration from Mexico and Syria?
Some religionists must begin to acknowledge their exclusion of these groups has become an evangelism tool for growing anti-religion attitudes. Each day I am convinced of the truth of the words of James Russell Lowell: "New occasions teach new duties, time makes ancient good uncouth."
Donald Trump, with his theme; "Make America Great Again," is the leader of those who cannot accept the fact that each day we are reminded of "new occasions." Therefore we must make our religion and our politics respond to "the new," while making contemporary the principles of our religion and our politics.
If the "greatness" of the U.S. or of religious institutions is to be found in a retreat to the past, God help us!
I was ordained a deacon in a racially segregated Methodist Church 60 years ago. I was denied admission to Duke Divinity School because of my race. Neither I, nor any of us who are black, believe there was "greatness" in racial segregation worth resurfacing.
I am saddened by my fellow religionists who are drawn to support Trump because he seeks a return to the "good old days." They were not good for blacks, for women, or a host of other Americans.
May all of us, particularly those of us who claim a religious faith, begin to commit ourselves to the idea and practice that "change" must be authentic change, rather than a subtle way to conceal the fact that we have not changed.
[The Rev. Gilbert H. Caldwell contributes to the Truth in Progress website and is co-producing a documentary called "From Selma to Stonewall: Are We There Yet?"]