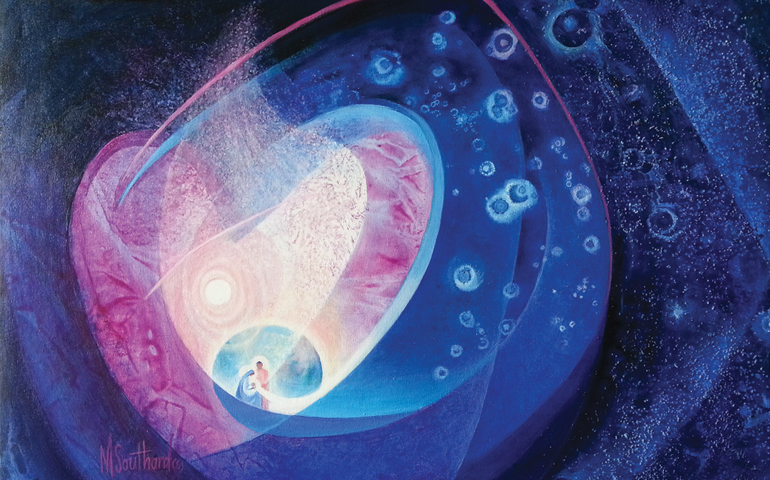 "At The Heart of the Universe," Mary Southard, CSJ / www.MarySouthardArt.Org / LaGrange Park, IL 60526-1721 (Used with permission)
It is June, and every year around this time, my thoughts turn to my dad, who died nine years ago on June 16 (Father's Day weekend) at age 87.
What nudges my memory is the Feast of the Sacred Heart, held this year on June 3. In 2007, it was celebrated on June 15, the eve of Dad's passing. (The feast follows the liturgical year and is always celebrated 19 days after Pentecost.)
In my family, honoring the Sacred Heart was a pretty big deal, mostly because of the framed picture and prayer that always hung in our upstairs hallway. My three sisters and I couldn't quite relate to the sappy-faced Jesus with the gruesome thorn-adorned red heart garishly displayed for all to see.
But we dearly loved the seven names my grandmother Ida had hand-written at the bottom of the prayer. She entrusted her husband, Frank, herself, and her children -- Frankie, Paul (my dad), Ruth, Jimmy and Patty -- to the loving heart of Jesus.
Ida always saw to it that the family said the prayer together whenever anyone left home on a journey. It was especially comforting when Dad was deployed to New Guinea during World War II.
My grandmother was the saint of our family. She had a tough childhood that no one spoke about very much. At a young age, she left a troubled home to find her way in the world. She became Catholic when she married my grandfather and was very devout -- but quietly so
When I was 5, a summer tornado nearly demolished the Schenk family home. Frightened, I asked Grandma how she knew to escape in time. Taking my hand, she said simply that St. Anthony had told her to leave. I don't know if that is how it really happened, but her reply brought instantaneous peace to a worried child's heart. (Did I mention Dad's middle name is Anthony?)
I've long believed the early hardships Ida suffered gave her an unusually open and generous spirit, one she bequeathed to Dad and the rest of her descendants.
The family was blessed because Grandpa Frank owned a grocery store. During the Great Depression, there were always extra plates for guests who joined the family table almost every night. I remember a lot of laughing at Grandma's house. The Schenks are a fun-loving bunch.
As an adult, Dad loved nothing more than to prepare sumptuous meals and invite all to enjoy them with us. He cooked in abundance: mounds of scalloped oysters, heaping bowls of cucumber salad, and thick filets of fish and beef that melted in your mouth.
A World War II veteran and Purple Heart recipient, my father never lost his sense that life itself is a great reason to party. He especially loved inviting those who might not have a holiday table to share in ours.
My dad's positive attitude came from being one of only 13 veterans from his company to live through the Battle of Buna, the bloodiest battle in the Pacific theatre. Family lore says he survived only because Grandma Ida made someone go to Mass and pray for him every single day.
Dad was never one to wear his religion on his sleeve, but his faith ran deep and true. His religion was to act, not to talk about it. While he had an abiding devotion to Mary, we were never a pray-the-rosary-together kind of family, so Dad's behavior the night before I went to college came as a surprise.
I had a hot date that night with a cute guy named Bill. When Bill arrived, it suddenly dawned on my father that this was a family milestone. I was the firstborn and the first to leave home. It would be months before we would be together again as a family.
To my puzzled chagrin, Dad sent me to get the framed picture and prayer to the Sacred Heart. When I returned, he asked everyone to kneel down and pray the prayer together. And good-hearted Bill knelt down and prayed right along with us. And he wasn't even Catholic!
I was beyond embarrassed, but I couldn't get too upset. I saw this for what it was: an expression of my father's love for me and his desire to keep me safe within a love he knew ran even deeper and truer than his own.
This is the true message behind the celebration of the Sacred Heart, I think.
Jesus' great-hearted love is bigger than a mother's love for her son or a father's love for his daughter.
I thought surely Dad would pass into God's waiting arms on the feast of the Sacred Heart. But he delayed so his youngest daughter -- my California sister, Elizabeth -- could make it to his bedside in time to say goodbye.
Family love at its finest.
At my father's funeral, we prayed the Family Prayer to the Sacred Heart:
We consecrate to thee, Jesus of Love, the trials and joys and all the happiness of our family. And we beseech thee to pour out Thy best blessings on all its members, absent and present, living and dead. And when, one after the other, we shall have fallen asleep in Thy blessed rest, Oh Jesus, may all of us in Paradise find again our family united in Thy Sacred Heart. Amen.
I'm blessed to have been born into Ida's family, and I look forward to a huge Schenk family reunion within the greatest love the world has ever known.
[Sister of St. Joseph Christine Schenk served urban families for 18 years as a nurse midwife before co-founding FutureChurch, where she served for 23 years. She holds master's degrees in nursing and theology.]
Editor's note: We can send you an email alert every time Christine Schenk's column, Simply Spirit, is posted. Go to this page and follow directions: Email alert sign-up.