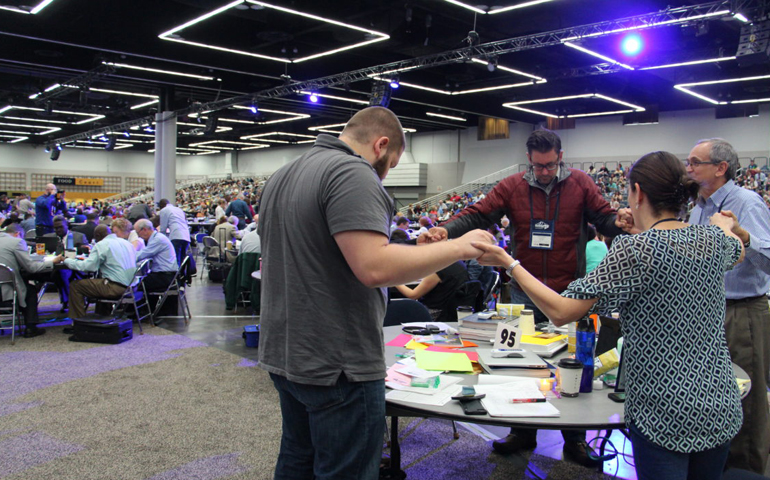 Cutline: Delegates at the 2016 United Methodist General Conference in Portland, Ore., respond in prayer May 18 after hearing from Bishop Bruce Ough. (RNS/Emily McFarlan Miller)
Now that a bit of time has passed since the end of the raucous, strange and, to me, disappointing General Conference of the United Methodist Church, it's worth the time of both Protestants and Catholics to ponder what happened there.
That's because there are lessons about what it might mean for how both branches of Christianity bring about change. Beyond that, there's a question about idolatry.
The Methodists considered many issues when their ruling body gathered in Portland in May, but what received the most attention was the delegates' narrow approval of letting the church's Council of Bishops create a commission to recommend whether to change the denomination's opposition to homosexuality, which it currently declares to be "incompatible with Christian teaching."
All other large Mainline Protestant denominations in the U.S. have changed to allow ordination of otherwise-qualified gays and lesbians as pastors and have allowed pastors to conduct same-sex weddings. But not the Methodists.
Why? Perhaps for the same reason the Catholic church hasn't opened up on this matter: Like Catholics, the Methodists are in a global church, with five million of its 12 million members residing outside the U.S. Many Methodists -- with deep evangelical history -- come from Africa and other places where there's little tolerance for LGBTQ folks. Scripture is read in a way that keeps them locked down, not liberated.
It's hard to imagine that will change quickly, so when the bishops' commission reports its recommendations in a few years, the church will have to confront the same possibility of schism that it has temporarily avoided.
It may well have been worth it to give unity one more try. The Rev. Adam Hamilton, pastor of the largest Methodist church in the U.S. (20,000 members in suburban Kansas City), thought so and helped push through the compromise to let the bishops have time.
Hamilton wants the church more open on LGBTQ matters, but the Holy Spirit will have to do some fast work if the Methodists are to avoid some kind of split.
And if the denomination holds together simply for unity's sake, it's in danger of making unity an idol at the expense of the larger calling of love. When Jesus identified the two greatest commandments, neither one was about unity. Rather, they had to do with love of God, of neighbor, of self.
To interpret Scripture so as to find a warrant for oppressing LGBTQ people strikes me as a serious misuse of the Bible and counter to those two greatest commandments. The Bible, as I've argued elsewhere, shouldn't be used as a weapon in the homosexuality debate because it has essentially nothing to say on the subject.
The views of Christians in the global South must, of course, be respected. There must not be any arrogance from the West about how we're the enlightened ones with all the wisdom. At the same time, we should be true to our well-researched conclusion that the church should be open to LGBTQ people without restrictions once they've been baptized.
So that's the divide. The Presbyterians, Lutherans, Episcopalians, United Church of Christ members and others have made the choice in favor of LGBTQ inclusion, though it took far too long and we should have been leading instead of following. Now American Methodists and Catholics will have to decide how to proceed.
My guess is that changing Methodist or Catholic teaching and doctrine right now will be nearly impossible. So those who favor LGBTQ inclusion will have to figure out whether they can remain in a church that stands against such people and, if not, how they will separate themselves from such a church in a way that will cause the least amount of pain.
Christianity's long, shameful history of teaching that gays and lesbians are abhorrent sinners is coming home to roost in a costly global way. This may not end well or even peaceably.
Bill Tammeus, a Presbyterian elder and former award-winning Faith columnist for The Kansas City Star, writes the daily "Faith Matters" blog for The Star's Web site and a column for The Presbyterian Outlook. His latest book is Jesus, Pope Francis and a Protestant Walk into a Bar: Lessons for the Christian Church. E-mail him at wtammeus@gmail.com.]
Editor's note: We can send you an email alert every time Bill Tammeus' column, "A small c catholic," is posted to NCRonline.org. Go to this page and follow directions: Email alert sign-up.