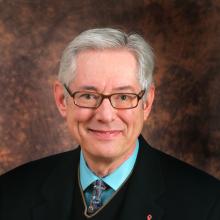 Bill Tammeus, a Presbyterian elder, is a former columnist for The Kansas City Star, where he spent more than 36 years of full-time employment. Since 2004 he has written his daily "Faith Matters" blog for The Star 's website. In addition to his NCR column, he writes columns for The Presbyterian Outlook and Flatland, KCPT-TV's digital magazine.
A graduate of the University of Missouri School of Journalism, Bill was a member of The Star staff that won the 1982 Pulitzer Prize for local reporting. His many other awards include several from the National Society of Newspaper Columnists and the American Academy of Religion, in addition to receiving the 2005 Wilbur Award given each year to the best religion column in the country. He received the David Steele Distinguished Writer Award from the Presbyterian Writers Guild in 2003. He is the author of A Gift of Meaning (2001, University of Missouri Press); They Were Just People: Stories of Rescue in Poland During the Holocaust with Rabbi Jacques Cukierkorn ​(2009, University of Missouri Press); Visitation: A Century of Faith (2009, Rockhill Press); Woodstock: A Story of Middle Americans (2014, AuthorHouse); Jesus, Pope Francis and a Protestant Walk into a Bar with the Rev. Dr. Paul T. Rock (2015; Westminster John Knox Press) and The Value of Doubt: Why Unanswered Questions, Not Unquestioned Answers, Build Faith (2016; Skylight Paths Publishing).
Bill is a member of Second Presbyterian Church in Kansas City, Missouri, and past president of the National Society of Newspaper Columnists. He's married to Marcia Tammeus. Between them they have six children and eight grandchildren.