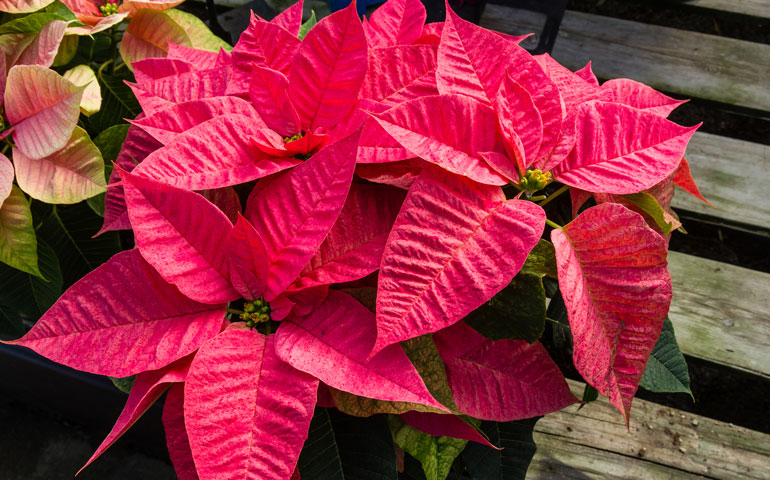 (Dreamstime/Zigzagmtart)
Gift-giving is a Christmastime tradition. But doesn't the joy of receiving turn not on any one gift or a boatload of gifts, but on the true spirit of the gift?
I know a father who gives his son and daughter tickets to a Philadelphia Phillies baseball game every Christmas, and then on that spring day goes with his children to the game; seen with the eye of the soul that is really a gift of bonding. I know a family who devotes the day to dishing out meals at a homeless shelter; that's a special gift of sacrifice. I think of members of a church who bring gifts to the altar for poor children who otherwise would have no Christmas; those are gifts of compassion. And then there's the student who remembers a favorite teacher each Christmas with a book; what a gift of gratitude!
Those gift-giving traditions are at the heart of being made in the image and likeness of love; they connect us to something beyond ourselves, to a deeper, more meaningful union with God and each other.
This Christmas, I celebrated a special gift-giving tradition for the 45th consecutive time. I wrote a poem and bought a poinsettia for a special person.
This tradition traces to one Christmastide when I was delivering poinsettias in a Ford panel truck for my father, a florist in a section of Philadelphia called Paradise -- when my pop was in his tiny shop, he really was in paradise.
Riding up Roosevelt Boulevard in Northeast Philly, I noticed this girl waiting at a bus stop.
We had met as students on the campus of Temple University, had even gone out several times. But we were polar opposites. She spent most of her time in the library studying the French literature of Camus and Sartre; I spent most of my time in the gym trying to play basketball like Cousy and West; I was the starting point guard for Temple. We were as different as the Louvre and Madison Square Garden.
I moved on.
But not on that day.
I stopped the Ford, rolled down the passenger-side window, and shouted, "Need a lift?"
After recognizing me, she said, "Sure," and hopped in. "Are you still playing basketball?" she asked, before noticing the cache of poinsettias in the back of the truck. "I love poinsettias," she said. "Do you have any extras? I'll buy one."
"Yes, I'm still playing basketball, and, no, there aren't any extra poinsettias."
After dropping her off, I watched her as she went into her house. I returned to my pop's shop, picked out a rich, rose-pink poinsettia, and hung a "sold" sign on it. On the card, I wrote a poem. The next day when I was again delivering poinsettias in Northeast Philly, I stopped at the girl's house to give her the poinsettia and the poem. She answered the door. Awkwardly, I said, "These are for you. Maybe we can get together."
Several days after Christmas, I called her, and we got together. She suggested we go for a walk. On the walk, we stopped at a playground near her house and played some one-on-one basketball.
I won.
I married her.
And now for 45 yuletides I have given that French literature student -- Ellie -- a poinsettia and a poem for Christmas.
The poem and poinsettia were my gifts to her. She was my gift from God.
A year ago, before Christmas, Ellie gave me the sacramental gift of unconditional love. You see, I had spent some time in the hospital and couldn't do much for myself. She took patient, loving care of me and nursed me back to strength. It took a long while, but she never moaned or groaned once.
For my poem for Ellie this Christmas, I decided to honor her loving caretaking.
Here is that poem:
I am in
a blessed
place:
next to you,
who
has answered,
willingly,
the call
to care for
the uninvited,
sometimes terrifying
needs
of me.
It is a choice,
isn't it,
to step up,
stand watch,
sacrifice?
I know this:
the caring,
the repairing,
is bound
by the gentle, deep
tones of love.
When I lie
awake, alone,
in the silence,
the darkness,
I cry
and
cry out
gratefully
for
the unsappable strength,
the unsnappable love
that shapes
the heart of you.
Ellie took off the wrapping paper of the framed poem on Christmas morning, and after reading it several times, she turned, a tear in her eye, and said, "Of all them, this is my favorite."
I knew that the first poinsettia from my pop's shop in Paradise marked the beginning of the greatest gift of all.
[B.G. Kelley is the author of the poetry book The World I Feel. He has written for The New York Times, Sports Illustrated, Boston Magazine and US Air Magazine, among others. All of the Soul Seeing columns can be found at NCRonline.org/blogs/soul-seeing.]
A version of this story appeared in the Dec 30, 2016-Jan 12, 2017 print issue under the headline: A poem and a poinsettia from Paradise.