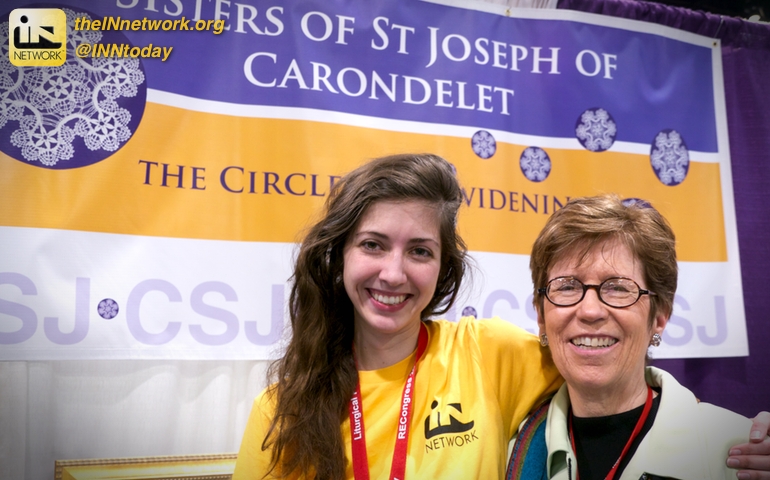 Molly McVie, producer of this week's video & Sister Judy Molosky, CSJ
A priest and nun meet at a bar...no, I'm not starting a joke. This is actually how I met Sister Judy Molosky. We struck up a conversation while I was trying to decide which holiday libation to order at a Christmas party thrown by the Specialty Family Foundation, the folks behind the Believe It Campaign, a fund set up to support inner-city Catholic school students.
"I'm going with the gin and tonic," said a stylish, smiling woman standing beside me.
"Good choice. I think I'll go with the vodka-tonic," I said. We launched into one of those conversations you hope you'll have at a big event, but are actually pretty rare: talk that bypasses the traditional superficial party chatter, and gets you to the place where a foundation for friendship can be laid. Through moments of genuine laughter and sincere connection, we discussed religious life (though I usually have spot-on nun-dar, it admittedly took me longer than usual to realize she was a nun), our ministries, and how we might be able to collaborate.
An L.A. native and former cheerleader (she was archetypal Californian: bleached blonde hair with a love of surfing), Judy joined the Sisters of St. Joseph right out of high school in 1965. She said she was absolutely "smitten" by the example of the sisters.
"They were so modern! Even in their habits. But you could tell they were fun and were genuinely happy living committed lives of service. I felt a strong calling to be a God-seeker incredibly focused on the mission of Jesus....Oh, and at the time I was going with a guy named Tim who wanted 12 children. So, that was very decisive, too."
Sister Judy runs the West Coast branch of the St. Joseph Worker Program, a year-long service opportunity for young women to live simply in community, and grow in the areas of justice, leadership, and spirituality. Our initial meeting did result in a collaboration: this week's video looks at the important work Sister Judy does with young people who come to learn and live out the charism of the Sisters of St. Joseph.
The young women Sister Judy mentors work with the poorest of the poor here in Los Angeles, and they seem to find real joy in the program's lifestyle. Nevertheless, none of the more than 100 alumni have chosen to enter religious life. Despite this, Sister Judy doesn't seem deterred.
"The old way is over. People aren't entering at 17 or 18 years old. So we've widened our tent because people are still hungry to deepen their spirituality and serve as we say, the 'dear neighbor.' We have associates, men and women, who are partners in ministry and eager to spread our charism. They're grateful for our tradition and keep it going. I'd love for some of the women to eventually join us, but whatever vocation they're called to, they leave our program with a framework in place to apply what they've learned wherever they go."
I asked Judy how she feels about the ongoing investigation of women religious in this country.
"It's very disappointing. I remember when Bishop Remi De Roo, the last surviving Bishop from Vatican II, came and spoke to our community. He told us, 'You did what we wanted from Vatican II best. You listened, and you took it exactly where we wanted it to go.' But we are punished for that. We are actually being punished for doing what we were told to do."
As she spoke, her eyes started to well up--a contrast from her usual joyful and energetic demeanor.
"I'll tell you what makes me cry: thinking about the older nuns, the women in their nineties who have given their lives to this church they're currently being beat up by. They've raised up these huge institutions and served the poor doing the work of Jesus. It truly is 'unconscionable,'" she said, choosing the term Sister Elizabeth Johnson used in her address to the LCWR on August 15th.
Sister Judy's words make me think of the passionate women religious who educated me, the nuns I'd seen run hospitals, and the sisters I saw working with the poor and suffering in Cleveland. Growing up, I'd watch these women "preach the gospel at all times, only using words when necessary." They inspired me and were instrumental as I started to discern my call to the Jesuits.
Today, I continue to be inspired by sisters: women like Sister Judy, and my colleague Sister Rose Pacatte, and my mentor since my days as a novice Sister Rosemary Connelly, RSM. They respond to the needs of the times and make Jesus's love real on a daily basis, making me want to be a better priest.
With so much scrutiny on the leadership decisions of the LCWR, I asked Judy if she thought Rome could learn something from the way decisions are made among American women religious.
"They could learn a lot about dialogue and discernment and the problem with decision making from the top. You have to listen to the voices from below, because that's the best way to access the spirit. We were all hoping Pope Francis would step in and end this investigation. But he didn't. My hope is that he'll have a conversion, but I'm disappointed," she said before citing Elizabeth Johnson's remark that though the sisters are far from perfect, they have got "the smell of sheep on them." She told me matter-of-factly that post-Vatican II renewal simply hasn't taken place at the Congregation for the Doctrine of the Faith.
Despite her disappointment, I can't help but notice an innate (far from blind) optimism in Sister Judy. I wanted to know what keeps her going, especially since so many sisters have left religious life in the nearly 45 years since she entered.
"I stay because I'm happy! I'm productive and I get to use my energy and my creativity to support young women in their search to be all they can be for those on the margins. I'm in a supportive and loving community and I get to be with people as they deepen their spirituality." she paused for a moment. "In other words, I get to do fun stuff. I'm so, so happy."
For a sense of that happiness and a true example of faith in action, watch our video about Sister Judy and the St. Joseph Worker program below.