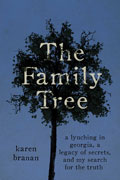 THE FAMILY TREE: A LYNCHING IN GEORGIA, A LEGACY OF SECRETS, AND MY SEARCH FOR THE TRUTH
By Karen Branan
Published by Atria Books, 304 pages, $26
At the end of the 19th century and the beginning of the 20th century, thousands of people were lynched in the United States. More than 450 of those were in the state of Georgia alone.
Journalist Karen Branan never suspected that a lynching had occurred in her hometown of Hamilton, Ga., in 1912. Nor did she think her own family could be involved in that heinous crime. But it did, and they were.
That's the territory of The Family Tree, which offers a compelling story of evil performed by supposedly good, churchgoing people and covered up by some of those same good people.
Growing up in the 1940s and '50s in Hamilton County, Branan had never thought about race riots and racial injustice -- let alone lynching. She had an almost idyllic childhood. She came from an upper-middle-class family -- her father was a physician, her mother a teacher. Some of her ancestors had been wealthy plantation owners.
Then, when Branan was in her 40s, she asked her maternal grandmother to discuss her most vivid memory for an oral history of the family. Sitting beside the 90-year-old woman in her exquisite bedroom with its expensive, antique furniture, Branan was shocked to hear her grandmother's reply: "The hanging."
The old woman said a few more words but little else, and Branan wanted to learn more. This perhaps was when Branan's idea for an oral history became the inspiration for this book, which took 20 years to research and write. She spent months at the Library of Congress. She interviewed countless townspeople, family members, friends and neighbors.
Part memoir, part sociology, part history, Branan's book weaves two stories together -- not always seamlessly. The first describes her own efforts to learn the truth behind the killing of four African-Americans. The second documents the racial climate and the events that occurred after the Civil War and that led to the frequency of lynching.
Branan includes photographs as well as numerous references to documents, letters and memoirs. Reading about the people involved and their relationship to the murder is somewhat confusing. Branan does provide detailed footnotes, a map and a family chart. But there are so many individuals in the narrative that it's hard to keep track of them.
Lynching, as Branan explains, had little connection to black-on-white rape -- or murder -- even though newspaper accounts often portrayed it that way. Lynching was an instrument of terrorism and not a punishment for crimes committed. It was generally a tool whites used to keep blacks in their place -- especially those who were trying to make their way in society after the deprivations of slavery.
In the early 20th century, there was much racial tension in Georgia. The state had one of the highest rates of imprisoning black men, often just to use them as free labor once slavery ended. Georgia also had the dubious honor of being one of the states with the highest number of lynchings.
Branan views the racial prejudice and the lynching at the heart of the narrative as morally wrong actions brought on by a sense of white supremacy with its often-concomitant notion that blacks are less than human. Suggesting that her family, her town and she herself may have been cursed because of the lynching, she references several Bible verses including 1 Samuel: "And I tell him that I am about to punish his house forever, for the iniquity which he knew because his sons were blaspheming God, and he did not restrain them. Therefore I swear to the house of Eli that the iniquity of Eli's house shall not be expiated by sacrifice or offering forever."
The action of the narrative begins with the 1911 murder of Norman Hadley. A ne'er-do-well, Hadley, who was part of the "Moonshine Mafia," had his share of enemies. A white male, he also had a propensity for sexually harassing women -- especially black women. At the time of his murder, he was trying to seduce an attractive, 14-year-old black girl. Her family was trying to protect her from Hadley's unwanted attentions.
After Hadley was found dead, three black men and one black woman were taken to the town jail but were never charged or brought to trial. Dusky Crutchfield, the woman, was taken to jail as a witness and for her own protection -- since the murder had occurred either on her front porch or very near her house.
No connection was found between the four African-Americans and Hadley's murder. After a few days, a white mob, growing impatient, broke into the town jail, removed the four prisoners and took them to a tree, growing near the baptismal font on the front lawn of the black Friendship Baptist Church, where they were hanged. This is just one of many ironies in a book driven by irony.
The very title is ironic since the tree under discussion isn't merely a document listing births, deaths and marriages. It's also the tree on which the four black citizens were lynched while white citizens watched and did nothing. Interestingly, these white townspeople, Branan says, had contributed money for the building of Friendship Baptist. Some of those involved (victims and perpetrators) were Branan's own relatives. She has both black and white cousins.
White money also helped to build the baptismal font. And as Branan reminds readers, the font provided the white townsfolk with a gathering place. It also metaphorically baptized them in blood through their participation in the shedding of this innocent blood.
The final irony is this: Although four African-Americans lost their lives because the mob judged them guilty of Hadley's murder, there was never any evidence against them. And it appears that they were innocent. Later someone signed a deathbed confession acknowledging that he had been the one who murdered Hadley; that person was a white man.
[Diane Scharper teaches English at Towson University. She is a frequent contributor to NCR.]
Advertisement