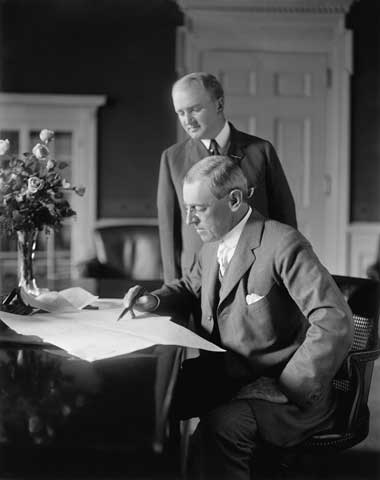 President Woodrow Wilson with his private secretary, Joseph Patrick Tumulty, circa 1915 (Newscom/Everett Collection)
WILSON
By A. Scott Berg
G.P. Putnam's Sons, $22
I could not approach A. Scott Berg's biography of Woodrow Wilson with cold-blooded objectivity. I grew up in Trenton, N.J., where the spirit of Wilson, the former governor, was still alive, and my father, a World War I veteran, had served briefly as President Wilson's guard when he visited Fort Dix after entering the war. James Kerney, the publisher of the Trenton Times, where my father wrote editorials, was Wilson's friend and would report to my dad on their conversations. When the Technicolor biopic "Wilson" opened in 1944, the election year for Franklin Delano Roosevelt's fourth term, the Schroth family sat in that theater as if it were a church.
The reverence was not misplaced. Berg has structured Wilson as a religious epic. The chapter titles are biblical -- "Eden," "Armageddon," "Resurrection" -- as are their opening quotes. "Eden" begins with God telling Abram, "I will make thee a great nation."
In "Gethsemane," near the end in the book, Wilson, his health precarious, struggles in Paris to offer peace terms consistent with democratic ideals, as France and England clasp acquired territories to their bosoms. When French Premier Georges Clemenceau declines to cooperate with Wilson, who has sent 100,000 Americans soldiers to France to die, the president's angry face twitches.
The son of a Presbyterian minister and a mother descended from ministers, "Tommy" Wilson was raised in four Southern cities. His education at Davidson College, Princeton University, the University of Virginia, and Johns Hopkins, plus teaching at Wesleyan University, prepared him to debate, read in depth, research his book Congressional Government, and write even to calligraphic perfection. He and his first real friend bonded on walks where they sat and read Sir Walter Scott to one another. He announced to his father, "I have an intellect and a first-class mind!"
But at 21, his father admonished him to learn self-denial. His character traits, which would present him to the world as one of the great men of history, would sustain him when his world crumbled and eventually drag him to ignominious defeat.
Married in 1888 to Ellen Louise Axson, a minister's daughter and gifted artist, and enjoying three daughters, he became president of Princeton in 1902. His writing and oratorical skills, wedded to ideals like freedom and integrity, would bring a cheering audience of thousands to its feet. His intellectual grasp of both history and political science prepared him to write and pass social legislation.
His conviction that he was an instrument of God's providence polished his certitude and fueled his determination. But when one professor, the closest friend he had ever had, disagreed with his plan to replace exclusive student clubs with more democratic residential quads, Wilson never spoke to him again and never had another very close friend.
The love of his two wives -- Ellen died while he was in the White House and he married Edith Bolling Galt within a year -- gave him that absolute devotion. Meanwhile a small coterie -- his secretary, Joseph Patrick Tumulty, a New Jersey Irish Catholic politician; his doctor, Gary Grayson, who ordered him to play golf every day; and his unofficial foreign policy adviser, Col. Edward House -- clung to him as if they had no other lives.
He loved films and the theater, particularly vaudeville. An early role model was stern-faced cowboy star William S. Hart, who during World War I joined Douglas Fairbanks and George M. Cohan selling war bonds. Although Wilson permitted a small White House showing of what became the racist "The Birth of a Nation," there is no evidence that he praised it, and three years later he wrote that it was "an unfortunate production" that should be "avoided."
Berg's account of Wilson's struggle to avoid war is gut-wrenching. Challenged by Germany's sinking of the Lusitania and plagued by loneliness, he wrote love letters to the widow Edith, whom he had known only two months, pleading with her to marry him.
When Theodore Roosevelt blustered that Wilson was a "coward," Wilson told a Philadelphia audience of 125,000 that peace is an "elevating and healing influence on the world, and strife is not." He blurted, "There is such a thing as a man being too proud to fight."
By 1917, following trouble in Mexico, a string of reform legislation -- child labor laws, workmen's compensation, the eight-hour workday -- and a close-call re-election in 1916, Germany's provocations finally brought Wilson to address Congress and proclaim, "The world must be made safe for democracy."
This was America's new crusade, and to thunderous applause he concluded that, with God's help, "she can do no other."
Later Wilson and Tumulty sat alone in the Cabinet Room and Wilson, utterly drained, poured out his real feelings. "My message today was a message of death for our young men. How strange it seems to applaud that."
Berg kicks the romanticism out of the Great War's image, listing its "innovations": automatic rifles, machine guns, shrapnel, flamethrowers, poison gasses, submarines, tanks and airplanes, plus months living in trenches, behind barbed wire, battles that took hundreds of thousands of lives to gain a few yards. Add to that rats, lice, shell shock, corpses and the Spanish flu that killed 100 million people. Meanwhile, race riots broke out across the country, and Wilson was slow to react.
At war's end, Wilson's determination to personally lead the fight for his Fourteen Points, including the League of Nations, makes painful reading. In a side trip to Rome to meet with Pope Benedict XV, the crowds hailed him as a "god." The league was what the war was about, he argued; to reject it would be to "break the heart of the world."
Meanwhile, Wilson was beginning to collapse, plagued by strokes and paralysis. His hair turned white. His rigidity of mind, wrote Harold Nicolson, proved his undoing. Journalist Ray Stannard Baker wrote: "Yet he is the only great, serious, responsible statesman here."
Knowing it would kill him, Wilson toured 29 cities fighting a Republican Congress, led by Henry Cabot Lodge, that was determined to sink the league. Finally, he wept and admitted he could not go on. Edith recalled, "Only he and his God know the crucifixion that began at that moment."
He withdrew from public life for five months while Edith, Tumulty and Grayson dealt with the outside world. Then he emerged, limping, determined to fight again for the league. Opening his Bible to 2 Corinthians 4:8-9, he read, "We are cast down, yet not destroyed." He died at age 67 on Feb. 3, 1924.
A few years ago, I visited his final home, a large, elegant, brick townhouse on S Street in Washington, D.C. Here Kerney, author of The Political Education of Woodrow Wilson, visited him the year before he died. Kerney sat before the "crushed form," bruised and faded, "still clinging to his rainbow." Wilson was considering running for president again. The liberals of the world, he believed, were waiting for his leadership.
Many still wait today. Meanwhile, Berg has given us a spiritual classic.
[Jesuit Fr. Raymond A. Schroth is literary editor of America.]
A version of this story appeared in the Jan 30-Feb 12, 2015 print issue under the headline: The passion of Woodrow Wilson.