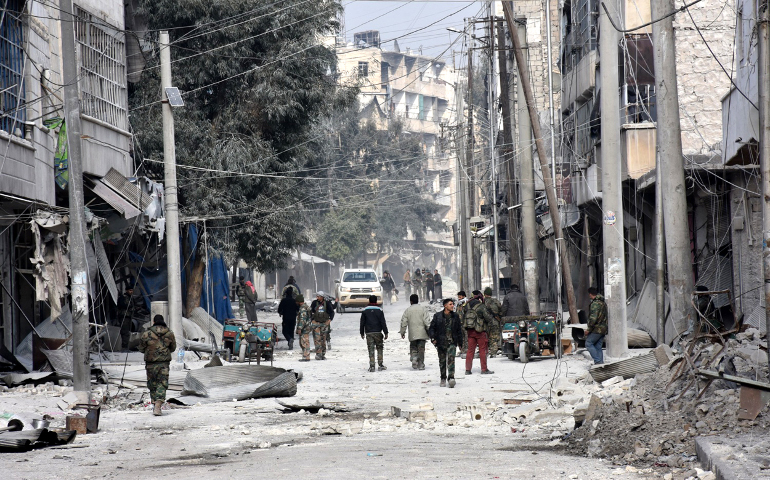 Syrian soldiers patrol a neighborhood in Aleppo Dec. 12 after recapturing it from rebels. (CNS/SANA news agency via EPA)
THE MORNING THEY CAME FOR US: DISPATCHES FROM SYRIA
By Janine di Giovanni
Published by Liveright Publishing Corporation, 224 pages, $25.95
Men have dominated the genre of war literature for centuries, so stories of battle between men have long been the "normative" narratives of war.
But the genre has opened up since World War II, and with it the voices of women, many of them journalists, have expanded what it means to write war literature. One notable example was the work of Martha Gellhorn (1908-98), who covered numerous wars from World War II on, and who was, to many critics, a far better war reporter than Ernest Hemingway, her first husband. To Gellhorn, journalism had to include the stories of the displaced, of women, of those in refugee camps who had suffered loss and trauma.
Continuing this notable, if sometimes unsung, tradition is Janine di Giovanni, who has written a fine account about her experiences covering the war in Syria for Newsweek and Vanity Fair. The Morning They Came for Us: Dispatches from Syria is a strong, vivid, honest, humane and fair book. It is as good an introduction to the Syrian war for American readers as any I know of.
That said, the book does have some stylistic challenges. Parts of the work read as if they were pulled fresh from di Giovanni's laptop — meaning they read as they were composed in the rush of war's experience. While a little more polish may not have hurt, a sense of urgency and freshness — of experience now — comes through in a way that may not have been possible had the book been more finely burnished.
And some may quibble that di Giovanni does not reflect much on geopolitical politics. But I think she made the right decision in focusing on the war's "on-the-ground" realities. "War is the destruction, the skeleton and bare bones of someone else's life," she writes.
Of course, di Giovanni, a New Jersey native, is writing as an outsider — something that she acknowledges fully, knowing she can leave Syria when she wants, returning to her home in Paris. When you realize "that you can walk away and go back to your home with electricity and sliced bread," she writes, "then you begin to feel ashamed to be human."
Di Giovanni would be the first to argue that when the full history of Syria is written, it is Syrians' accounts and not those of outsiders that should take pride of place. Here, it could not hurt to read a recently published Syrian novel about one family's history through the decades and their experience of rage, ruin and fury: Khaled Khalifa's No Knives in the Kitchen of This City reads like a Syrian version of William Faulkner's Mississippi.
Yet, as di Giovanni acknowledges, Syrians are overburdened right now: Journalists, writers, historians — all have fled from the horrors of war and are now trying to start up lives again in Europe, in the United States (though in small numbers), or in refugee camps in places like Lebanon and Jordan.
Of course, some have met worst fates than displacement, though it is not the narratives of death that remain in the reader's memory — it is the stories of torture and rape that resonate most of all. Di Giovanni is a good listener, and she recounts with empathy the stories of those who have been harmed physically and mentally.
She relates the story of Nada, a young volunteer working with the opposition to President Bashar Assad and who was imprisoned for eight months for her efforts. "She felt alone. The psychological torture was more terrifying than the physical abuse," di Giovanni writes, though the author also points out that physical abuse was also unbearable: At one point, Nada's captors tried to force her to drink another prisoner's urine from a bottle.
"I remember every single one of their faces," Nada tells di Giovanni bitterly. "I will look for them. I AM looking for them."
It is to di Giovanni's credit that the experiences of both opposition members and those who remain loyal to Assad — many of them Christians who fear an Islamist-dominated Syria — are both acknowledged and treated fairly.
Di Giovanni's observations of how societies dissolve into war, into civil conflicts are movingly drawn. Denial plays no small part in the process. Attending a Syrian wedding in 2012, di Giovanni recalls the platers of food being served — heaping plates of "lamb, chicken, dates, oranges and honey-drenched sweets" — and the painful awareness that, less than an hour away, residents of the city of Homs were "starving to death, a massacre was going on in Houla, and refugees were crossing the borders of Lebanon, Turkey and Jordan searching for a way to feed their families."
The human capacity for denial is almost limitless, di Giovanni suggests. But a snapping point eventually sets in. And when it does, war imposes its own realities. "Victorian diseases return — polio, typhoid and cholera." Boredom becomes endemic: "War means endless waiting, endless boredom. There is no electricity, so no television. You can't read. You can't see friends. You grow depressed but there is no treatment for it and it makes no sense to complain — everyone is as badly off as you."
Is there any hope in such an environment? Precious little, at least for now. Syria, she writes, "will not return to what it was, not now, not ever. How can Syria ever be what it once was? It has been burnt alive by hatred."
[Chris Herlinger is international correspondent for Global Sisters Report.]
A version of this story appeared in the March 10-23, 2017 print issue under the headline: Covering Syria's war.