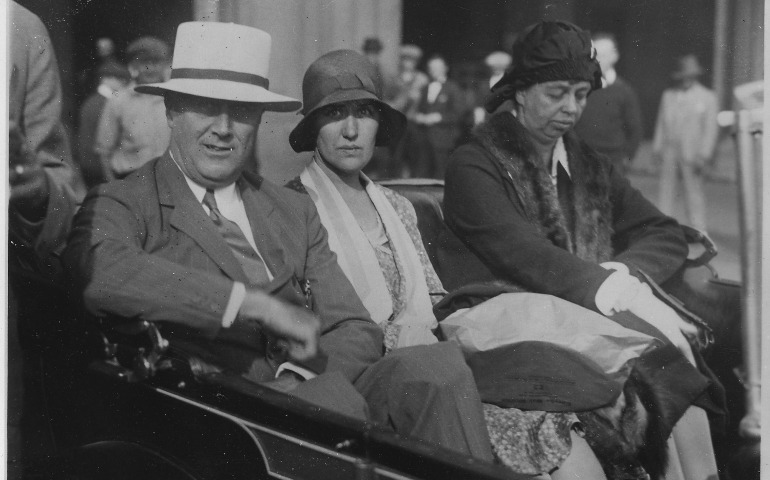 Franklin D. Roosevelt, Missy LeHand and Eleanor Roosevelt in 1929 (National Archives and Records Administration)
THE GATEKEEPER: MISSY LEHAND, FDR, AND THE UNTOLD STORY OF THE PARTNERSHIP THAT DEFINED A PRESIDENCY
By Kathryn Smith
Published by Touchstone, 368 pages, $28
I thank God that I was born in 1933. It means that when I came into the world the new president of the United States was Franklin Delano Roosevelt, and that I had, as a political role model, a great man. Of course, as we age, we learn that greatness and weakness can coexist. In Kathryn Smith's The Gatekeeper, we see both Roosevelt's crippling polio and his secretary's selfless care as occasions for constant pain but also of spiritual triumph.
When Roosevelt, then governor of New York, ran for president in 1932, Walter Lippmann of the New York Herald Tribune described him as "a highly impressionistic person, without a firm grasp of public affairs and without very strong convictions."
Rather than argue with the diagnosis at the height of the Depression, FDR and his advisers brought together a team of experts called "the Brain Trust" to prepare solutions to the economic crisis.
"Weakness," writes Smith, "was transformed into all-around competence."
As one adviser wrote, FDR "had an exceptionally agile mind" that sucked up everything he was taught and sometimes got ahead of his teachers. When he took office, he was ready to serve "the forgotten man."
But FDR was neither the Lone Ranger nor Superman. His leadership, graced with his voice, communicated confidence, but he depended on a handful of aides and advisers. The most important of them was a young woman who had been with him since he ran for vice president in 1921, who had never been to college, but had common sense, intelligence, loyalty and integrity plus love: Marguerite "Missy" Alice LeHand.
Born in 1896, Missy LeHand, a 25-year-old high school graduate with one course on how to be a secretary, also embodied goals of the women's movement: the first woman — and Catholic — secretary to a president. Meanwhile Eleanor Roosevelt, who traveled widely for various social justice causes, became the first "modern" presidential spouse, and Frances Perkins was the first female cabinet member as secretary of labor.
Subtly, LeHand and her assistant, Grace Tully, became a Catholic presence that welcomed New York's Cardinal Francis Spellman and offset the influence of Fr. Charles Coughlin, the anti-FDR Detroit radio priest.
Because FDR slept late and took breakfast in bed, LeHand was the first to see him every morning, and because he often worked until midnight, he saw her at the end of the day, including days that ended with martinis. If you wanted the president to study your proposal or speak to your group, see LeHand.
She came on almost all his trips, including campaign trains and house-boating vacations along the Florida coast. Like several of FDR's advisers, she lived in the White House, became part of the Roosevelt family, and had her own cabin at Warm Springs, Georgia, where FDR established a rehab center for polio victims in his determination not just to overcome his own paralysis but to treat other victims of the disease.
FDR's mounting personal problems made 1940 a tough year. Though re-elected, he became uncharacteristically passive, lacking energy and motivation. This had been preceded by a brief collapse, attributed to a minor heart attack. Next came anemia, in which he had lost eight pints of blood. As usual, LeHand, smoking three packs of cigarettes a day, would stay at his bedside during the crisis.
Then she herself one day screamed and collapsed, the first event in a series of strokes that left her immobile, wheelchair-bound and eventually hospitalized, unable to speak or think clearly. Meanwhile FDR's mother, Sara, died at Hyde Park, New York. As he received the news, FDR's eyes filled, and he asked to be left alone. No one had ever seen President Roosevelt weep.
As Smith writes, "He simultaneously lost the two women who loved him unconditionally: his mother was dead; Missy was the merest shadow of the woman he had known."
FDR's tendency to hide his feelings alienated some friends. Harold Ickes wrote that he had lost his affection for FDR: "He is cold as ice inside." LeHand, concludes Smith, would soon find herself placed into one of FDR's "mental compartments from which she could never escape." She died July 30, 1944. FDR followed her on April 12, 1945.
In 1957, I entered the Jesuits at our novitiate, St. Andrew on Hudson, next to the Roosevelt home in Hyde Park. On long walks, I visited the estate and the grave of FDR and the spot reserved for Eleanor. Many years before, with my family, I had toured the house. There I saw and touched his wheelchair, which was literally just a chair with wheels, no arms. He wanted the American people to see just him, not the symbol of his weakness.
[Jesuit Fr. Raymond A. Schroth is book editor of America.]
A version of this story appeared in the July 14-27, 2017 print issue.