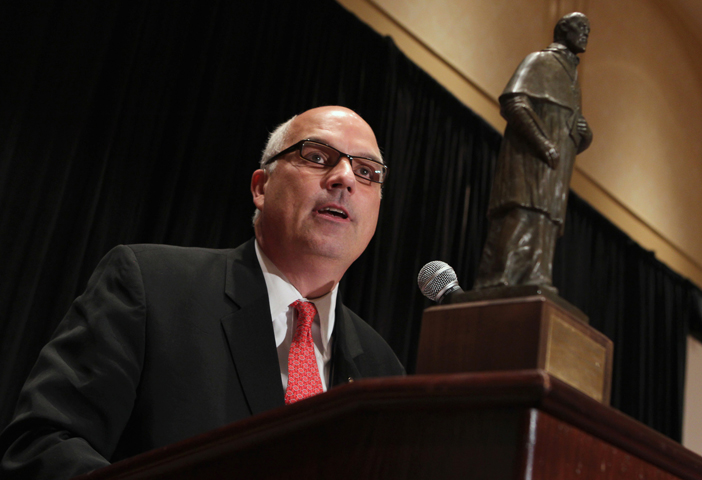 Tony Spence receiving the St. Francis de Sales award in 2010 from the Catholic Press Association, the association's highest honor. (CNS/Nancy Wiechec)
Washington — April 14, 2016
Tony Spence, director and editor-in-chief of Catholic News Service since 2004, unexpectedly resigned from that position Wednesday at the request of a U.S. bishops' conference official.
In recent days Spence had been attacked by conservative Catholic blogs for tweets he had posted about controversial religious freedom bills in North Carolina and Georgia. These sites accused Spence of "promoting the LGBT agenda."
"The far right blogsphere and their troops started coming after me again and it was too much for the USCCB," Spence told NCR in an interview Thursday.
"The secretary general [of the U.S. bishops' conference] asked for my resignation, because the conference had lost confidence in my ability to lead CNS," Spence told NCR.
The abruptness of Spence's departure was surprising and those who know him say Spence feels "shattered."
Catholic News Service is an office of the U.S. Conference of Catholic Bishops and Spence was a member of the conference senior staff. Though part of the bishops' conference, the news service is financially self-supporting by "providing news stories, features and reviews to paying clients that are both secular and religious news outlets," according to a notice on the conference website.
Spence attended a regularly scheduled staff story meeting at 2 p.m. on Wednesday. Sometime later, after meeting with Msgr. J. Brian Bransfield, the general secretary of the bishops' conference, Spence was escorted from the conference office building without being allowed to speak to his newsroom staff.
Staff in the Washington office were told of Spence's leaving shortly after 4 p.m., and James L. Rogers, chief communications officer for the bishops' conference, sent an email memo to all CNS staff "to share news of Tony stepping down as editor-in-chief, effective today."
The memo also said that Rogers would be assuming Spence's administrative duties on an interim basis and that a search for his replacement would begin immediately.
NCR obtained a copy of the memo and in a telephone interview Rogers confirmed that he had sent it.
Spence had "stepped down" is how "I understand it," Rogers told NCR. He said he didn't know what precipitated the resignation and said that it "would be my understanding" that Spence announced his stepping down to the general secretary since that is the person he reports to as a member of senior staff.
Bloggers from websites of The Lepanto Institute, The Church Militant and LifeSiteNews.com posted stories in the last week that accused Spence of issuing "public statements decrying proposed legislation in several states that would protect religious freedom and deny men pretending to be women the 'right' to enter women's bathrooms."
The public statements were postings Spence had made to his Twitter account in early April and March about religious freedom legislation under debate in North Carolina, Georgia and Tennessee and about an article in The Atlantic about gay students at evangelical colleges.
Spence, for example tweeted this on March 24: "LGBT protections get flushed as NC governor signs bill over #bathroomwars."
Spence's departure follows two other high level departures by U.S. bishops' conference staff involved in communications. Sr. Mary Ann Walsh, a longtime media relations manager at the conference, resigned in July 2014. Walsh died on April 28, 2015.
Helen Osman resigned as the conference communication director in summer of 2015, but stayed on as coordinator of Pope Francis' visit to the United States last fall.
Although both departures were voluntary, NCR was told that Walsh and Osman were pressured to resign.
Spence has a long history in Catholic journalism, starting at The Tennessee Register, diocesan newspaper in Nashville, Tenn., some 30 years ago.
In 2010, the Catholic Press Association of the United States and Canada awarded him their highest honor, the St. Francis de Sales Award.
Spence was editor-in-chief and general manager of the Tennessee Register Inc., which publishes the Tennessee Register, newspaper of the Nashville diocese, from 1989 to 1998. Before that, he was associate editor and managing editor at the newspaper. He also served as the diocese's communications director from 1992 to 1998.
He served as Catholic Press Association president from 1994 to 1996 and oversaw the establishment of the Catholic Advertising Network and the Catholic Press Foundation. He also was a co-founder of the Appalachian Press Project of Kentucky and Tennessee, chaired the CPA's liaison committee with CNS in 1997-98 and organized the association's 1998 convention.
He also served on the communications committee for the U.S. Conference of Catholic Bishops and on its subcommittee for planning, which devised the conference's strategic plan for communications, adopted in 1997. In addition, Spence has been a member of the advisory board for the Catholic Communication Campaign.
Immediately before joining CNS, Spence was executive director of Advancement Communications at Vanderbilt University in Nashville, where he oversaw an assortment of publications, as well as a website, some fundraising and speechwriting. He also coordinated much of the university's science and research communication. Before that, he had been director of alumni publications at the university.
From 2006-2011, Spence served as a consultor to the Pontifical Council for Social Communications.
[Dennis Coday is editor of National Catholic Reporter. Tom Roberts, NCR editor at large contributed to this story. Some material also comes from Catholic News Service.]