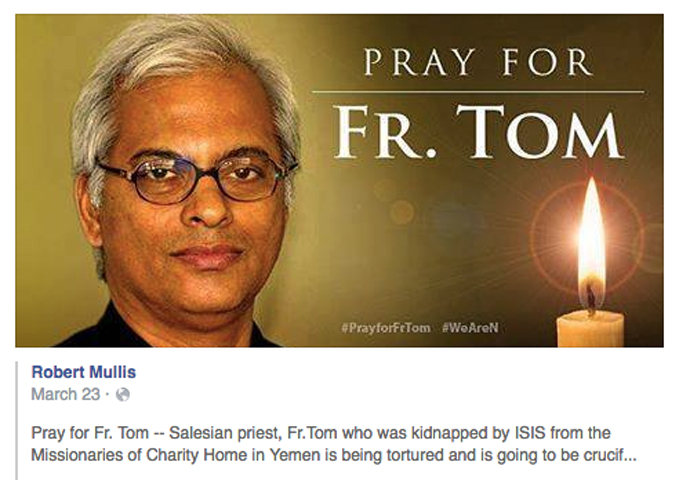 Facebook post asking for prayer for Father Tom Uzhunnalil
A Catholic priest abducted in Yemen in a deadly attack on a nursing home is reportedly alive and could soon be released, contradicting earlier reports that he was crucified on Good Friday.
Fr. Tom Uzhunnalil was captured by gunmen on March 4 in an attack on the Aden complex that left four nuns and eight others dead.
There were subsequent rumors that the Indian priest was to be executed by crucifixion, like Jesus, by his captors, who have aligned themselves with the so-called Islamic State group.
Church officials criticized the viral spread of those rumors, especially by commentators in the West, saying they threatened the priest's safety and undermined efforts to find information about his status.
Bishop Paul Hinder, the apostolic vicar of Southern Arabia, said on May 3 that sources had finally confirmed Uzhunnalil was still alive.
"The last words, which are quite reassuring, I received indirectly about ten days ago. I was told that Fr. Tom is alive, and that his return to freedom could be imminent. But since then nothing has happened. We hope and pray for him," Hinder told the Fides news agency.
Local security agents are said to be involved in negotiations for the priest's release, Fides reported.
After the attack on the Yemen nursing home, operated by the Missionaries of Charity order, Pope Francis described the nuns killed as "today's martyrs."
"These people are victims of an attack by those who killed them but they are also victims of indifference, of this globalization of indifference," the pope also said, in a criticism of the lack of attention the killings had drawn.
An account of the killings by the lone surviving nun, Sr. Sally, was published in March and details how the gunmen sought to destroy all the Christian symbols in the complex.
Uzhunnalil tried to consume all the consecrated hosts in the chapel before he was abducted, according to the eyewitness account.