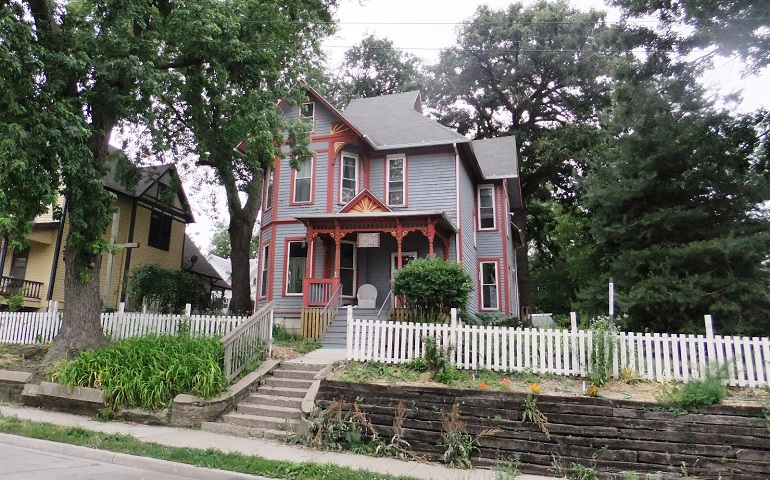 The Des Moines, Iowa, Catholic Worker's Dingman House (Michael Bayly)
In 1976, a young priest-to-be named Frank Cordaro joined a group of mostly young Catholics who wanted to found an intentional community. From that process came the Des Moines, Iowa, Catholic Worker. This Aug. 26-28, Cordaro -- no longer a priest -- and some of his original cohorts will gather in Des Moines to celebrate 40 years of pacifism, soup kitchens and jail sentences.
"The Des Moines Catholic Worker is excited and amazed to be looking back this year at 40 years of community life, hospitality and social justice work in the Riverbend neighborhood of Des Moines," Cordaro wrote in an invitation to the gathering that he sent out on the National Catholic Worker email list that he maintains.
He also said the gathering would "help us to envision our next 40 years."
Forty years ago, with a vote of confidence from then Bishop Maurice Dingman (who died in February 1992) and inspired by Catholic Worker founder Dorothy Day (who died in November 1980), the Des Moines house, with three original community members, took root and flourished.
Today, after serving thousands of meals to the needy and providing hospitality to hundreds of homeless folks, the Des Moines Catholic Worker comprises four houses and nine full-time community members.
While this gathering marks a milestone in Catholic Worker history, there's more to the story. Cordaro, who has been arrested more than 100 times for nonviolent direct action, resulting in six years of jail and prison sentences, is using the anniversary celebration as an opportunity to provoke conversations about a verboten topic.
He has opted out of unwritten Catholic Worker protocol by inviting excommunicated former Maryknoll priest "Fr. Roy Bourgeois" (his priestly title kept in the invitation Cordaro sent out) to deliver a keynote talk titled "The Struggle for Peace, Justice and Equality." Also on the program, the "Rev. Janice Sevre-Duszynska," the also-excommunicated Roman Catholic woman priest with whom Bourgeois concelebrated a Mass in August 2008 that led to his excommunication.
Bourgeois and Sevre-Duszynska, who are among the most outspoken advocates of Catholic women's ordination in the U.S. -- maybe the world -- will speak together on a panel titled "What would a more listening and non-judging U.S. Catholic Church look like for women?"
The events won't be held at the Catholic Worker, but at nearby Trinity United Methodist Church. Sevre-Duszynska will also celebrate Sunday's liturgy in a "lot across the street" from the community's Dingman House.
As expected, Cordaro and the community's decision to shine a spotlight on women's ordination does not sit well with the Des Moines diocese, but it also is not winning Cordaro much praise within the Catholic Worker circles he has traveled in for the past four decades.
Because Cordaro in 2014 invited Sevre-Duszynska to celebrate a Mass at the Des Moines Catholic Worker, Bishop Richard Pates wrote to Cordaro that the diocesan Presbyteral Council had unanimously decided to withdraw the Catholic Worker community's privilege to celebrate Mass.
"The members of the Presbyteral Council have appreciation for the legacy of Dorothy Day and the philosophy of the Catholic Worker Movement she envisioned," Pates wrote to Cordaro. "They are also aware that while she was highly challenging to her fellow Catholics in the social justice arena, she was very faithful to the liturgical traditions of the Church and followed them with great rigor."
While polls show a majority of U.S. Catholics in the pews support the idea of women's ordination, many Catholic Workers are circumspect when it comes to women's ordination and gay marriage. Since Day's death in 1980, Catholics and Catholic Workers have often entered into a postmortem discussion of "What would Dorothy do?" While individual Catholic Workers often claim to be in favor of women's ordination, advocating for it is less common.
Conflicts between freedom and authority
Martha Hennessy, Day's granddaughter, is a member of the New York City Catholic Worker community, based on Manhattan's Lower East Side, where her grandmother began the movement in 1933. Hennessy is among a significant group of Catholic Workers who believe Cordaro is pushing a "secondary issue" (women's ordination) over Day's primary emphasis on eliminating war and poverty.
Hennessy told NCR that Cordaro invited her to the Des Moines Catholic Worker anniversary celebration, "and I declined."
"I think there's a [Catholic Worker] standard he needs to adhere to, which he has not. Dorothy gave up the love of her life, and was celibate from then on out. She gave a personal sacrifice, and that's what we're all called to do. We're not here to please ourselves and our human desires. We have to sacrifice."
Day converted to Catholicism in 1927 at the age of 29. At the time, she was in a common-law marriage with Forster Batterham, with whom she had a child, Hennessy's mother, Tamar. After joining the church, Day separated from Batterham.
Hennessy said her grandmother did not go up against church teachings and doctrine "in any manner."
"She spoke about war and poverty and the interconnectedness of war and poverty, and she was concerned about bishops' lavish lifestyles," Hennessy continued. "But she never questioned or tried to change doctrine, so I just simply try to use that as my guidepost."
Hennessy is not alone in her fidelity to Day's strict adherence to church teaching.
Michael Baxter, a former priest who teaches religious and Catholic studies at Regis University in Denver, said conflicts between freedom and authority dwell within the heart of the Catholic Worker construct. Those tensions exist in both minor and more important matters.
"Who should decide what in the community?" Baxter asked. "What do we do about conflict? Do any of us have the authority to ask guests or workers to leave? If so, when? And how?
"Dorothy wrote of this tension and struggled with it mightily, most famously when it came to pacifism during World War II. There were those in the Catholic Worker who disagreed with her stance and thought she came down too heavily on the authority side of the tension. But she could defend her stance on the basis of the freedom of the laity in temporal matters. But as Dorothy saw it, we do not enjoy the same freedom when it comes to doctrine and liturgical practice -- including who presides at Mass. I think and feel the same way. Not that I oppose women's ordination. On the contrary, I support it, and I especially support the women I know who suffer in the face of what must seem like a senseless and cruel prohibition. But this is not a matter to be decided by me or anyone else acting apart from and contrary to the church."
Baxter said he fears "that the church may become irrelevant to many who long for women's ordination," but he fears even more the church "disintegrating into factions, interest groups, like-minded individuals for whom conversation with Catholic communities of other times and places is dispensed with at will. What I fear, in other words, is schism, our communities becoming separated from the whole, branches severed from the vine. So I think we should hash it out, and then all go to Mass together, presided over, for now, by a man, although, perhaps in the near future, assisted by a woman deacon."
'Maybe it will happen eventually'
Cordaro has a different fear: that in the United States the Catholic church risks irrelevancy not because of internal debates over orthodoxy, but over what he sees as the church's marriage with the state.
"The real and unexamined issue is not the relevance of the church to U.S. society," Cordaro said, "but the U.S.A. Catholic church's institutionally existential issues of whether it is more American than Roman Catholic, more on the side of the god of the U.S. empire -- the side of the rich, the powerful -- than honestly trying to follow the nonviolent Jesus to the cross."
Cordaro believes that if Day had lived to see "the U.S. Catholic church turn into the pro-war, pro-U.S.-empire church it is today, I have no doubt Dorothy would not condemn our efforts" in support of women's ordination.
Some Catholic Workers might believe "we're beyond the time where, 'It's up to Dorothy,' and in some ways I agree with that," Baxter said. "It's not just what Dorothy thought that should determine things. It's just that we should cleave to obedience within the church when at all possible."
Baxter said women's ordination is "not a conscience issue on the same level as war or poverty or any of the other issues that Dorothy was dedicated to."
Regarding women's ordination, Hennessy says she has been told of two comments from her grandmother: "Women are too busy to become priests. They've got too much work to do," and "Maybe it will happen eventually."
Day historian Robert Ellsberg, editor of The Duty of Delight: The Diaries of Dorothy Day, says speculation about what Dorothy would do or say today about contentious issues within church and society "is not really fruitful. If Dorothy Day were alive today she would be 119. One can speculate about whether, had she were born in the 1940s instead of 1897, she might take another position. But then she would not actually be Dorothy Day. By the same token, if St. Augustine had lived in the 21st century, he might not have believed in correcting heretics by force. What does that prove?"
He said that Day never opposed any definitive teaching of the church, and "that undoubtedly is a consideration regarding her canonization -- as it is for every potential saint."
On women's ordination, Ellsberg said, "probably this is an area where Dorothy Day would have been in disagreement with these [Catholic Worker] communities -- not on the merits of the ordination of women (she would have probably welcomed this as opposed to those who are irredeemably opposed) -- but on the question of dissent from the church on a matter dealing with liturgy, canon law, faith or doctrine."
"She was very concerned that the Catholic Worker be above reproach on such matters -- thus allowing her to exercise considerable freedom on social issues," he said.
"No doubt Dorothy Day would have been opposed to this in her day. She was scrupulous about not deviating from the church authorities on such matters," Ellsberg said. "That didn't prevent her from challenging the hierarchy over social issues -- such as picketing St. Patrick's Cathedral in support of the striking gravediggers. But I don't think it is fruitful to invoke her authority one way or the other in the present context. She never confronted such an issue.
"Those who would say either that today she would oppose women's ordination or support it are just using her to stake out territory on an issue she really didn't confront."
[Patrick O'Neill is a longtime NCR contributor and cofounder of the Fr. Charles Mulholland Catholic Worker House in Garner, N.C.]