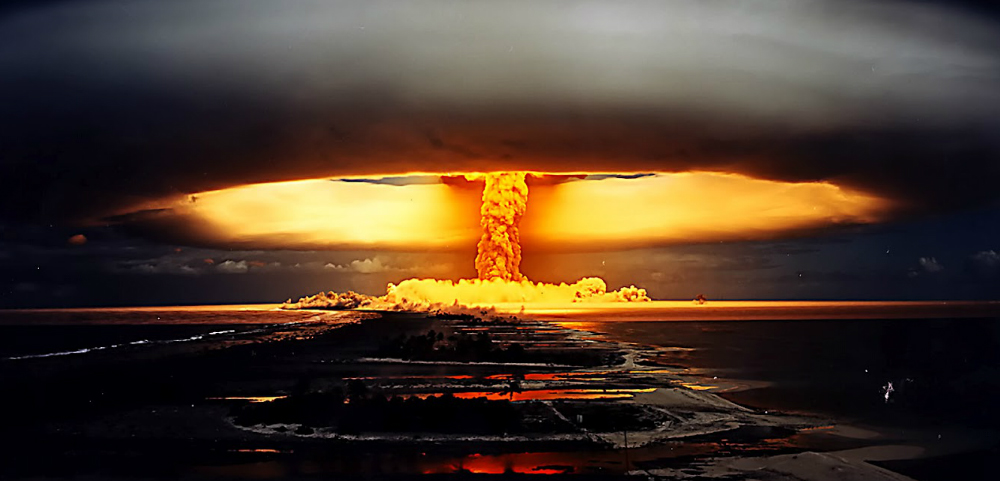 France tests a nuclear weapon in French Polynesia on July 3, 1970. (Flickr/The Official CTBTO Photostream)
In 1970, I was a high school teacher in Endwell, New York, and an upstate New York coordinator for Quaker doctors who brought war-injured Vietnamese children to the United States for medical and surgical treatment — especially napalm burns.
Referring to the harm caused by napalm, Jesuit Fr. Daniel Berrigan in 1968 referred to Vietnam as "the Land of Burning Children."
Last month in a lecture at Gonzaga University, another Jesuit, Cardinal Michael Czerny, described the U.S. military's use of napalm in Vietnam as "an early if terrible lesson in the interconnectedness between human and environmental destruction." Napalm was "all about making their habitat uninhabitable," he said.
My wife, Helene, and I did not love what the U.S. was doing in Vietnam and were frustrated by the failure of our actions to stop the war.
In New York, I was able to line up plastic surgeons, pediatricians, nurses and hospital beds at Wilson Hospital in Johnson City. As we awaited the first Vietnamese children to arrive, President Richard Nixon ordered all military air transport flights canceled.
It was the last straw. In 1972, Helene, I and our four children (ages 2, 5, 8 and 9) emigrated from the U.S. to Australia. We were sent to an immigration camp in New South Wales and after some weeks, I took a job teaching high school at Oak Flats High School in Illawarra in that state.
Australians were becoming concerned about increased radiation from French nuclear testing in the South Pacific. I challenged my students to read the newspapers to learn about the dangers. They found that while nuclear testing in the Pacific was far away, it produced increasing radiation around the world and significant radiation in Australia.
"What are you going to do about this?" I asked the students.
"What can we possibly do?" was their initial response.
We proceeded to study radiation fallout reported in the Daily Australian and Sydney Herald. Students made signs and banners and carried a petition to end French nuclear testing door-to-door through neighborhoods for signatures.
We called the French Consul General in Sydney and asked for an appointment to talk about pollution connected to the radiation from nuclear testing, then alerted television, radio and print media of our plans. Cameras greeted students as they emerged from the bus, and journalists interviewed the students and me, their American teacher.
In the office of the consul general, clerks found space for the crowd of students to show their signs and express their disdain for nuclear testing and its resulting pollution while politely charging the consul general with environmental crimes.
That evening, our action made the top of the Australian Broadcasting Company news.
Within days, Australian dock workers refused to unload ships and university students went on strike. My students may not have actually brought on the other protests, but they surely believed they helped stir up action.
The government of France stopped above-the-ground testing in the Pacific in 1974.
In 2023, young people again may be able to stir up action to pressure an end to nuclear madness that endangers people and planet.
Climate disaster is now lurking closer than ever before. The Russian-Ukraine war has led the Bulletin of Atomic Scientists to move the second hand of their Doomsday Clock to 90 seconds before a total disaster, the closest since the conception of the clock in 1947. Scientists warn that even a limited nuclear exchange could bring on nuclear winter, and billions would die of starvation.
Studies by Stanford University, Oxford and King's College London indicate that Gen Z individuals have a greater sense of the dangers of climate change than other generations and "have a pragmatic attitude about how to approach climate change."
Greta Thunberg and the "Fridays for Future" movement have proven how to rally not only students, but also adults with calls for climate change reduction.
As part of that work, we must continue to work together to abolish nuclear weapons.