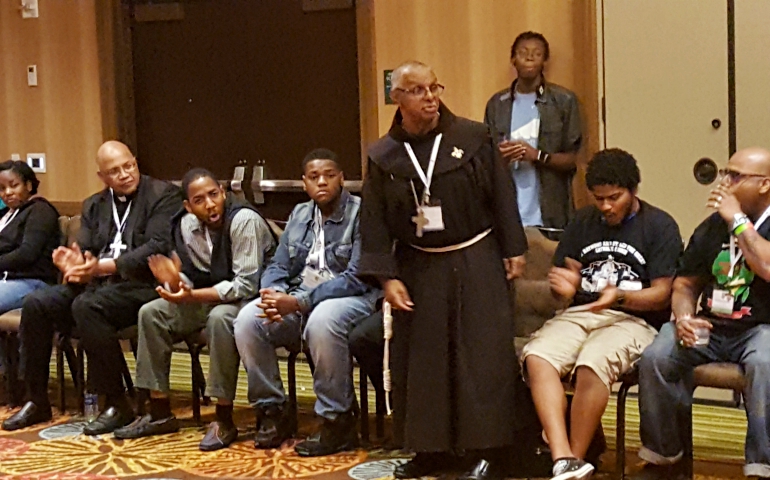 Auxiliary Bishop Fernand Cheri III of New Orleans speaks during a young adult forum at the National Black Catholic Congress in Orlando, Florida, July 6. (NCR photo/Gail DeGeorge)
Orlando, Fla. — July 7, 2017
A standing-room-only crowd of young black Catholics in a frank session that lasted more than two hours told bishops, priests and women and men religious why they stay in the church, what threatens to drive them away and that they want a stronger voice from church officials for the Black Lives Matter movement.*
As the National Black Catholic Congress got underway in Orlando July 6 with more than 2,000 attendees, some 120 participants discussed ways to keep young adult black Catholics engaged in their parishes and the church — and raised criticism of, and an apology for, the church's silence regarding the movement spawned by the killings of unarmed blacks by police. Among the bishops attending Congress XII was Archbishop Christophe Pierre, apostolic nuncio to the United States.
Discussion centered on key themes:
Why young black adult Catholics stay in the church;
Why they leave;
How they live out their faith;
How to foster more vocations;
The state of race relations in the U.S.
"How do we respond as people of faith to issues of race that have always been going on in society but especially in light of the Black Lives Matter movement? And in a lot of the police killings, a lot of people feel that the church has been almost silent in its response," Stacy Allen, one of the facilitators, said toward the end of the session.
"The church is very vocal on a myriad of issues -- immigration for instance -- which are important," Allen said. "But specifically on the issues of race, especially from the perspective of a young adult black Catholic, what should the Catholic response be?"
That prompted Auxiliary Bishop Fernand Cheri III of New Orleans to stand. With a bow to those in the room, he said, "To the black youth, I apologize to you as a leader of the church because I feel we have abandoned you in the Black Lives Matter movement and I apologize.
"Partly, I didn't understand it, and by the time I did understand it, it was too late — the moment was gone," he said. "I'm very proud of you — you stood up and said enough is enough. As a leader, I want to say that to you — thank you."
He then went on to tell of challenges in his own journey as a priest and a bishop, his outreach to bring young people, and starting choirs in parishes. "You're going to struggle and you're going to persevere," he said.
He counseled that young black adults reach out to each other and others within their parishes and church communities.
"No one knows how to best minister to you as young people — we're all learning this together," he said. "One of the reasons we have faltered when it comes to vocations from our community because when it comes to being church, we just don't have the community working at it together and that's the failure."
Many at the session spoke of the need to address a lack of programs for young adults and meaningful engagement and leadership opportunities within parishes and the larger church. Young adults want more than to be tapped to set up tables, take out trash, run kids' programs and generally do things that older parishioners don't want to do, participants said.
Too many parishes have youth programs that end at high school — and nothing for those who come back after college with talents and skills and a willingness to get involved, participants said. It's particularly difficult for young black Catholics not in large metropolitan areas like Chicago, Atlanta or Washington with black churches.
"People leave because there's just no community," said one young woman from Lansing, Michigan.
While a participant from New Orleans said the reason she stays Catholic is the strength of her parish community, she has encountered resistance in other parishes. "One reason young adults are leaving is that sometimes it feels like the church does not want us," she said.
She says she's tried to volunteer and has been told "no because of age, or no because they don't say it, but because I'm a young adult, and they think I'm too young to know about that, or no because that's 'too black' and that might be fine for your church in New Orleans but not here," she said.
The rejection is like "asking for a hug and someone is crossing their arms," she said, recounting how she and a young Asian woman were "shut down" in a parish in San Francisco when trying to introduce new programs. "That's why people leave, because they don't feel wanted. And if you don't feel wanted, you leave."
Applause, laughter and murmurs of recognition swept through the room as participants from New York, California, Louisiana, Texas and elsewhere shared their experiences and ideas.
"We as young adults don't want programs, we want a relationship," said a participant. "We don't want things to do — we have enough to do. We want a place to belong. Successful young adult ministries are where they feel invested to make change within their parishes."
One mistake is to mix up "youth" programs with "young adult" programs without recognizing the huge differences between them, some participants noted. One mentioned having a young adult "meet and greet" to get ideas for programs they want — and then implementing them.
Another mentioned having eucharistic adoration on Monday evenings rather than Fridays to not interfere with happy hour. One priest mentioned having the sacrament of reconciliation available on Sundays when people are already at church.
Participants from Nigeria and other African nations shared their experiences of encountering cultural differences assimilating into U.S. parishes, the lack of welcome, and some of the strong communal faith traditions they know from their homelands.
"You feel like you don't belong," said one participant. "It is hard as an African to belong to the Catholic Church in the United States."
Programs focused on prayer and spiritual, not just social, needs are important, participants said.
In an interview afterward, Allen, who is from the Galveston-Houston Diocese, expanded on the issue of race relations and the lack of support for the Black Lives Matter movement by the church.
"It's been painful that a faith that I love so much and I dedicate quite a lot of time to feels like it hasn't seen my own humanity, hasn't seen my own pain," said Allen, who is an attorney and serves in her parish counsel, youth ministry and catechism programs.
"As someone who mentors young people too, I see those stories and I worry about if they're going to be the next hashtag. So with something so dominating the news cycle, and I think the American psyche, for our church to be so silent — it just questions whether people like me even matter — if we are even seen within the faith and if we belong," Allen said.
"Because of my faith and the holy Eucharist, there's no way I am going to leave, but I wish that the church would on a national level create a think tank or a group that really tries to address black Catholics in the church and what is our space."
Cheri in an interview said bishops haven't been more supportive because they haven't really understood the Black Lives Matter movement, relying more on media reports than talking with black people within their dioceses.
"One of the primary teachings of the church is the value of human life and human dignity, and if Black Lives Matter is not a matter of human dignity, something is wrong," he said.
"We [bishops] speak out for many things and we stand for many things and I think we stand for life. I'm not saying I'm against police — it's not a question of that, it's not a question of for and against. It's about life at all levels and all times," he said.
The National Black Catholic Congress, held every five years, continues through Sunday morning, July 9.
[Gail DeGeorge is editor of Global Sisters Report.]
*A sentence was updated to specify that both men and women religious were present.