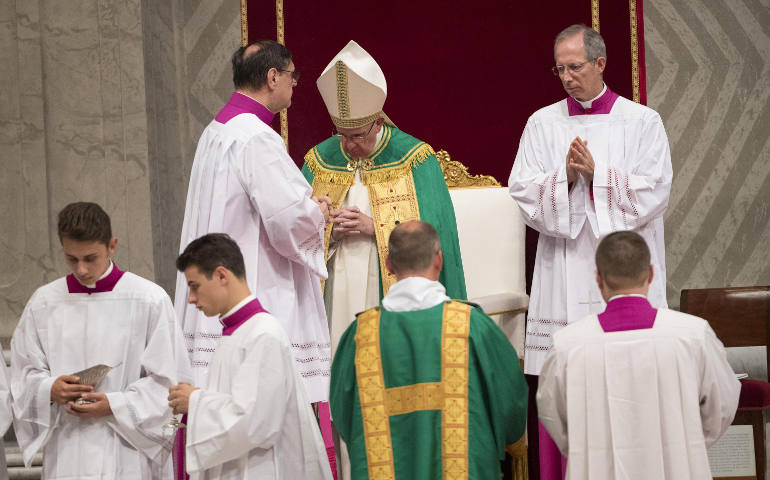 Pope Francis leads vespers for the Day of Prayer for the Care of Creation in St. Peter's Basilica at the Vatican Sept. 1. (CNS photo/Maurizio Brambatti, EPA)
Vatican City — September 1, 2016
Pope Francis has suggested that Christians around the world add two new items to the traditional fourteen spiritual and corporal works of mercy in a push for "simple daily gestures" to combat ecological destruction and the continued warming of the planet.
In a message for the World Day of Prayer for the Care of Creation, celebrated Thursday, the pontiff says members of the faith community should consider adding "care for our common home" to the traditional set of works first described by Jesus as part of the criteria used to determine who will go to Heaven.
The pope also calls on individuals in the various countries of the world to push their governments to make good on recent international agreements aimed at halting the warming of the atmosphere and encouraging sustainable development.
Repeating his call from his June 2015 ecological encyclical Laudato Si', Francis opens the letter stating: "Global warming continues, due in part to human activity: 2015 was the warmest year on record, and 2016 will likely be warmer still."
"This is leading to ever more severe droughts, floods, fires and extreme weather events," the pope continues. "Climate change is also contributing to the heart-rending refugee crisis. The world's poor, though least responsible for climate change, are most vulnerable and already suffering its impact."
"Human beings are deeply connected with all of creation," he states. "When we mistreat nature, we also mistreat human beings."
Asking that the continuing Jubilee year of mercy might summon a "profound interior conversion" among individuals for better treatment of the environment, Francis says it is time for humanity to "repent of the harm we are doing to our common home."
"Examining our consciences, repentance and confession to our Father who is rich in mercy lead to a firm purpose of amendment," says the pontiff. "This in turn must translate into concrete ways of thinking and acting that are more respectful of creation."
"Economics and politics, society and culture cannot be dominated by thinking only of the short-term and immediate financial or electoral gains," he states. "Instead, they urgently need to be redirected to the common good, which includes sustainability and care for creation."
---
More: "Season of Creation marks month of eco-contemplation for Christians" (Sept. 1, 2016)
---
In the final part of Thursday's message, the pope quotes from a meditation he gave in June to priests in Rome for the mercy Jubilee in which he reflected on the meaning of the works of mercy.
The works, normally enumerated as seven corporal and seven spiritual directives, were first taken from Jesus' words in Matthew's Gospel, when he says the ones who enter Heaven will be those who have given food to the hungry and drink to the thirsty, and have clothed the naked and sheltered the homeless.
"If we look at the works of mercy as a whole, we see that the object of mercy is human life itself and everything it embraces," the pontiff says in his letter.
"Obviously 'human life itself and everything it embraces' includes care for our common home," says Francis, adding: "So let me propose a complement to the two traditional sets of seven: may the works of mercy also include care for our common home."
"As a spiritual work of mercy, care for our common home calls for a 'grateful contemplation of God's world' which 'allows us to discover in each thing a teaching which God wishes to hand on to us,'" says the pope.
"As a corporal work of mercy, care for our common home requires 'simple daily gestures which break with the logic of violence, exploitation and selfishness' and 'makes itself felt in every action that seeks to build a better world,'" he continues.
Earlier in the letter, Francis says he is "gratified" by the December 2015 approval of the Paris Agreement, which seeks to reduce greenhouse gas emissions globally starting in 2020 and was negotiated among 195 countries.
While 180 countries have now signed the agreement, only 23 have ratified it, far short of the threshold at which it will enter into force.
The pontiff states: "Now governments are obliged to honor the commitments they made …. It is up to citizens to insist that this happen, and indeed to advocate for even more ambitious goals."
At a Vatican press conference presenting Francis' message Thursday, Cardinal Peter Turkson said the pontiff is calling people around the world to "take a long and hard look at our lifestyles" and to recognize our individual and institutional failings.
Turkson, who currently leads the Pontifical Council for Justice and Peace, said the pope did not discuss the idea for new works of mercy with him beforehand.
Bishop Brian Farrell, the secretary of the Pontifical Council for Promoting Christian Unity, said he thinks other Christian denominations will "immediately understand the value of a work of mercy towards creation."
An American author who has published a new book exploring Renaissance master Caravaggio's famous depiction of the works of mercy also presented at the press conference. He said Francis' new work of mercy "is the highest work of mercy because it embraces all the others."
"A modern work of mercy for our modern epoch," Terrence Ward called it.
"To give polluted water to someone who is thirsty doesn't make sense: Clean the water up first," said Ward. "[Francis] is enlarging our perspective and sensitizing us to really meditate on what that means."
Francis ends Thursday's message with a short prayer, part of which is addressed to the God of mercy and asks that we "may receive your forgiveness and convey your mercy throughout our common home."
The annual World Day of Prayer for the Care of Creation is held each Sept. 1 and is a new celebration in the Catholic church, instituted by Francis for the first time last year.
The pontiff decided to add the annual prayer day to the Catholic calendar to align the Roman church with the Eastern Orthodox, who have celebrated the day since the late Ecumenical Patriarch of Constantinople, Demetrios I, created it in 1989.
[Joshua J. McElwee is NCR Vatican correspondent. His email address is jmcelwee@ncronline.org. Follow him on Twitter: @joshjmac.]