A version of this story appeared in the June 16-29, 2017 print issue.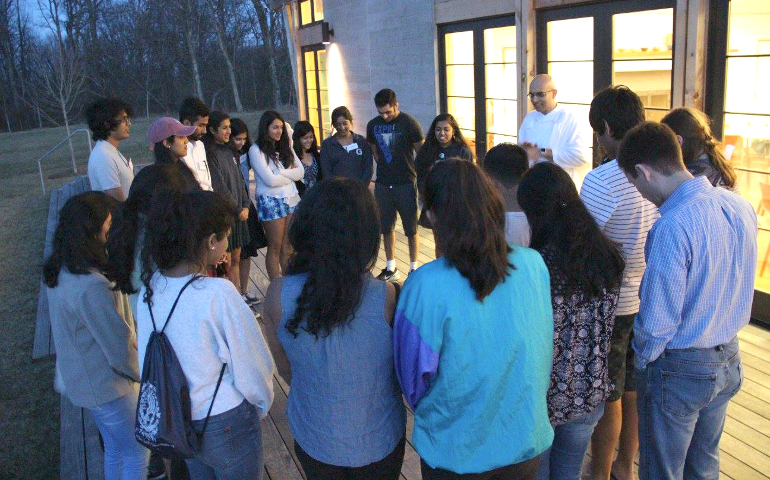 Brahmachari Vrajvihari Sharan offers a prayer before a meal on a "Hindu Life" retreat during the spring 2017 semester. (Courtesy of Hindu Life at Georgetown University)
For Brahmachari Vrajvihari Sharan, his first year at Georgetown University was much like that of any usual student's — new classes, navigating interpersonal relations and adjusting to life in a dorm.
However, Sharan's first year at Jesuit-run Georgetown wasn't spent as a student. In August 2016, he was named the school's first full-time director for Hindu life.
As the director of Hindu life within Georgetown's Campus Ministry, Sharan serves the roughly 300 students who identify as Hindu — about 0.6 percent of Georgetown students — although he said there are "many other people" with Hindu backgrounds who chose not to identify with a religion at the school. A 2015 Pew Research Study estimates that 0.7 percent of the U.S. population identifies as Hindu.
Before coming to Georgetown, Sharan taught ancient religions at Cardiff University in Wales. He had studied Hinduism in India, completing his ritual training at the Vishwanath Sanyas Ashram in Varanasi and New Delhi, India. A priest-monk, Sharan explains that he went on to become a monk while retaining his capabilities as a priest.
After teaching in the United Kingdom for some time, Sharan started searching for positions in the U.S. When the opportunity at Georgetown presented itself, he was "happy" to see a religious institution where "people are encouraged to explore with respect any views that do not align with their own," although he did have some initial concerns about the Catholic institution.
"I approached the appointment with some trepidation, especially when it comes to, I'm going to say this very frankly, the experience Hindus have had with Christians over the centuries and millennia, [which] has not always been positive," Sharan said. "However, coming to Georgetown and seeing that they're not actually lip-service interfaith panderers, [I see] they're actually very interested in being faithful to the pope's call on the Vatican II edicts that call for a focus on interfaith and developing interfaith understanding."
Most of his job is what you'd expect from a campus chaplain — supporting the students of their religious tradition. He is responsible for leading a weekly prayer service called arati. During major Hindu festivals, he plans appropriate celebrations. He serves the needs of the university's Hindu Students Association. For students who are "ready for it," he also offers spiritual direction.