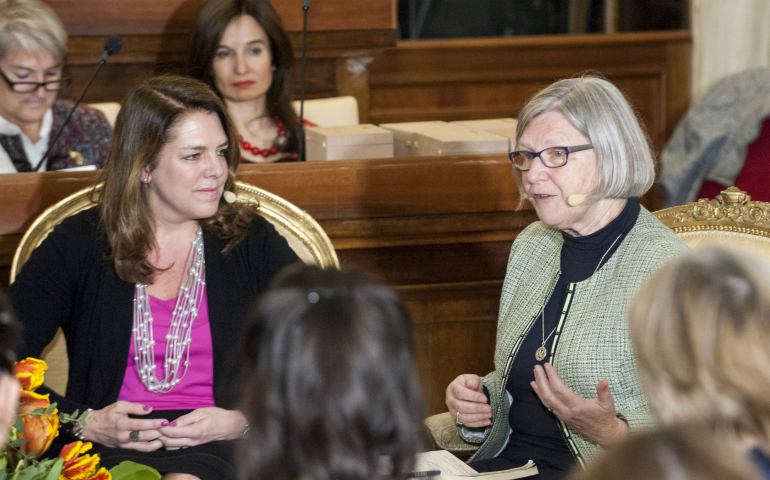 Kerry Alys Robinson, left, and Social Service Sr. Simone Campbell speak during the Voices of Faith gathering March 8 at the Vatican. (CNS photo/Massimiliano Migliorato, Catholic Press Photo)
Vatican City — March 9, 2017
The new leader of the global Jesuit order has said the Catholic church should recognize that women are still not allowed to have a full participatory role in the church's structures.
Jesuit Fr. Arturo Sosa Abascal, a Venezuelan who was elected the superior general of the Society of Jesus in October, said March 8 that while Pope Francis has acknowledged that women play a "fundamental role" in passing on the faith they are not yet fully included in church governance.
"Pope Francis has been quite outspoken about women making decisions and holding responsibility in the church," said Sosa, speaking at the annual Voices of Faith event for International Women's Day at the Vatican's Casina Pio IV.
"He has also created a study commission on the women's diaconate to explore the history and role of women in this church structure," Sosa continued. "But if we are honest, we acknowledge that the fullness of women's participation in the church has not yet arrived."
"That inclusion … remains stymied in many forms," said the priest, calling for a new type of ecclesiology — or theology of the structures of the church — that "should push the church to become the People of God as we proclaimed [in] the Second Vatican Council."
Voices of Faith is an annual story-telling event presenting women's voices from around the world, organized by the Liechtenstein-based charitable trust Fidel Götz Foundation and held each year at the Vatican since 2014. The event is web-streamed around the world.
Among speakers this year were a Rwandan woman who survived her country's genocide, two sisters who fled war-torn Syria and now live in Belgium and a Burundese woman who survived mass killings in her country.
A panel discussion also included U.S. Social Service Sr. Simone Campbell, British peace activist Scilla Elworthy and Indian activist Flavia Agnes.
Sosa spoke at the beginning of the event, which had been given the theme "Stirring the waters making the impossible possible." Before talking about women's roles in the church, he spoke of his experience working with women on the Venezuelan-Colombian border, which is sometimes a place of conflict.
Sosa mentioned a program at the border run by Jesuit Refugee Service, which brings women from the two countries together to do art projects so they can share their experiences and create support networks.
"Reconciliation requires courage, and too often, even [in] 2017, women's courage, women's resilience is unrecognized and undervalued," said the priest.
"I cannot put enough emphasis on this need for collaboration between women and men," said Sosa. "I believe that only together we can achieve what today seems impossible: a humanity reconciled in justice, living in peace in our common house … where there is room for everyone because we realize we are sisters and brothers, sons and daughters of the same God."
The Jesuit leader also mentioned Francis' frequent critique of clericalism, calling efforts for partnership between men and women an antidote to an overly clerical system.
"The opposite of clericalism is collaboration, working together as baptized daughters and sons of God," said Sosa.

Marguerite Barankitse of Burundi at Voices of Faith, March 8 at the Vatican (CNS photo/Massimiliano Migliorato, Catholic Press Photo)
The event concluded with a brief presentation from Marie Dennis, co-president of the global peace group Pax Christi International. Dennis spoke of a conference her group co-hosted at the Vatican in 2016 to reevaluate the church's long-held just war teaching and to promote active nonviolent strategies.
"Central to the church's process to studying and promoting active nonviolence must be the full participation of women," said Dennis, calling for "women who are theologians to help develop a new moral framework for Catholic social thought on war and peace, a rich theology of nonviolence."
"What if Catholics were formed from the beginning of life to understand and appreciate the power of active nonviolence and the connection of nonviolence to the heart of the Gospel?" she asked. "What if women were central to articulating and implementing this shift?"
"Now more than ever, it is time to put active nonviolence into practice," said Dennis. "No one knows how to do that better than the women in any society."
[Joshua J. McElwee is NCR Vatican correspondent. His email address is jmcelwee@ncronline.org. Follow him on Twitter: @joshjmac.]