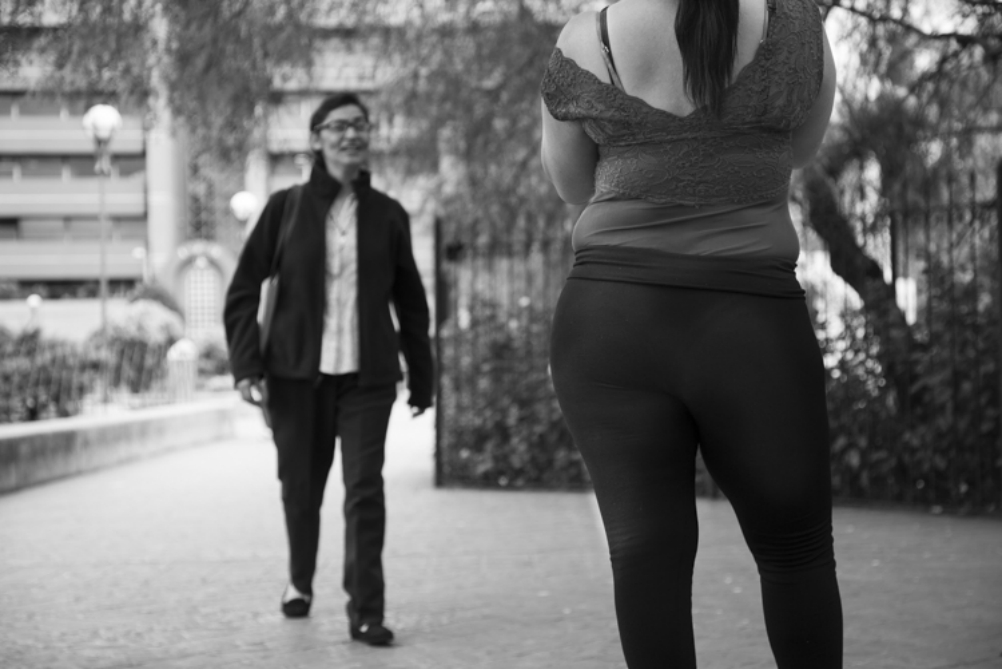 Sr. Angélica Segoviano, an Oblate of the Most Holy Redeemer, visits Wendy Cadina a few times a month at the park where Cadina loiters to sell sex. They talk about Cadina's life and children, and Segoviano sometimes talks about job opportunities outside of prostitution. (Courtesy of Lisa Kristine)
Guatemala City — June 27, 2019
A few blocks from the public square in Guatemala City, the area along the city's abandoned, weed-covered train tracks has become its red-light district, La Línea.
The area operates with tacit impunity: Gangs control various sections of the neighborhood, which is ripe for drug deals and prostitution, with the confidence of local police officers. Door after door lines the strip, each leading into tiny bedrooms where young women sell themselves for about 70 quetzals, about $9, an hour.
Though common knowledge warns against anyone wandering into the district — even driving by is considered dangerous — Sr. Angélica Segoviano, an Oblate of the Most Holy Redeemer, has gained daily access by establishing trust with the women she visits. The gangs that control the turf allow her unsupervised access, thinking she's lecturing the women on sexually transmitted diseases.
Around half (51%) of trafficking victims in Central America are girls younger than 18, according to a 2016 United Nations report, with sexual exploitation constituting 57% of trafficking crimes. Gangs, crime families and drug traffickers tend to run the sex trafficking rings.
"The women have to wait for clients without any security or assurances because anything goes in this part of the city," Segoviano said. They rent their beds for about $6.50 a day in addition to a "protection fee" that gang members demand; failure to pay can cost their lives.
It takes time before the women on La Línea open up to Segoviano about their lives and worries, their initial suspicion born of the fact that some have gone years without anyone simply asking how they're doing, she said. A common thread among the women is a history of sexual abuse, often by a family member; many have told Segoviano that she is the first person in their lives to believe them when they say they've been raped or abused.