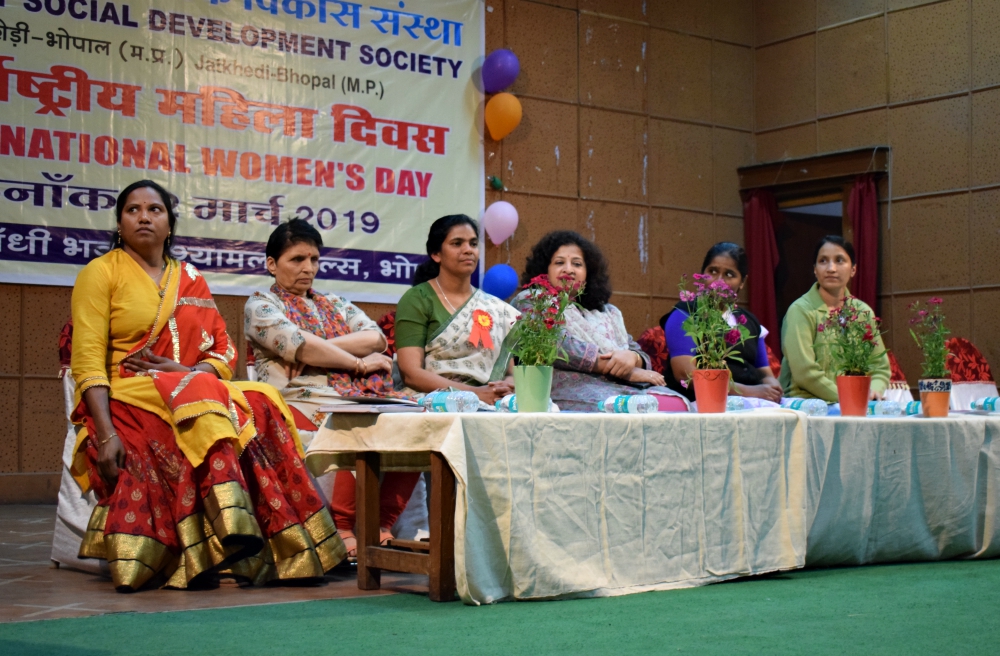 Holy Spirit Sr. Lizy Thomas (third from left) shares the stage with other women at an International Women's Day celebration in Bhopal, central India. (Saji Thomas)
Bhopal, India — March 12, 2019
Weeks after Pope Francis' open admission of the issue of clergy abuse of nuns, reaction to his remarks remains muted among Catholics in India, where a progressive group of religious had raised the problem three years ago.
They urge the pope not to stop with identifying the problem but to act firmly against abusers, especially in India, where a bishop has been accused of rape by a former superior general of a diocesan congregation.
"Pope Francis gives some hope, but nothing is percolating down," lamented Holy Spirit Sr. Julie George, one of the 75 signatories of a "letter of concern" the Forum of Religious for Justice and Peace sent to all bishops and major superiors in India in February 2016.
The letter brought to light for the first time in India the prevalence of sexual violence against religious women by priests. It bemoaned that the problem went unaddressed, allowing its perpetrators to go unpunished. "This cannot be tolerated anymore," asserted the forum, which said it was forced to write the letter as its analysis of current challenges to religious life revealed issues that needed urgent attention by church leaders.
However, the letter seems to have had little impact in the past three years. The forum and other groups such as Save Our Sisters Action Council allege that Indian church leaders have ignored the nun's complaints against Bishop Franco Mulakkal of Jalandhar.
George, a lawyer, accuses the Indian bishops of ignoring the pope's call to show compassion to the victims of clergy abuse. "Instead, they side with the accused and even try to silence every voice of dissent against them," she told Global Sisters Report.